Rihanna and her adorable baby boy enjoyed their first Easter together earlier this week.  
On April 11, the proud mom uploaded multiple photos to Instagram of her son playing in the grass while celebrating the religious holiday. 
In the first photo, her baby boy — whose name she has not publicly revealed — became slightly distracted during his Easter egg hunt. The infant, who was surrounded by multiple rabbits, sat in his playpen as he attempted to take a bite out of a blue egg. He also had a gray stuffed bunny in his lap.  
"Eastuh!!!" the mogul cheered in the caption.
She also uploaded a second series of photos to Instagram that showed the infant holding Adam Wallace's book "How to Catch the Easter Bunny."  Her son flipped through the pages in a couple pictures and gently patted a rabbit in another. 
"Look at heeeeee!!!!" she simply wrote in the caption. 
The 35-year-old singer constantly gushes about her son, whom she shares with A$AP Rocky, on social media.  
On April 1, she shared a cute video of her holding the baby boy as he appeared to watch a show on television, preventing her from exercising. 
"Look who don't want mommy to workout," Rihanna said in the caption before adding a shrugging emoji. 
Rihanna and A$AP Rocky welcomed their first child together in May 2022. During her unforgettable halftime show at the Super Bowl in February, the singer patted her stomach, revealing her second pregnancy.
After her performance, Rihanna's reps confirmed to NBC News that the couple are expecting their second child.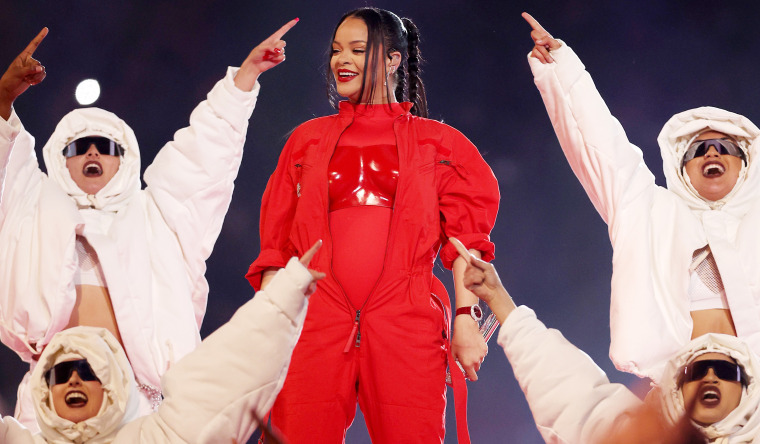 It seems like her son is already preparing for a sibling rivalry. 
Before she wowed at the 2023 Oscars with her song "Lift Me Up," Rihanna revealed her son would not make an appearance at the ceremony.
She posted a picture of him tearfully staring at the camera on March 5. The "Stay" singer also included a clip of her son watching the music video for "Lift Me Up" in the post. 
"My son when he found out his sibling is going to the Oscars and not him," she joked in the caption.