Pink would drop everything for her family.
In an intimate conversation about parenting on "The Drew Barrymore Show," the "Never Gonna Not Dance Again" singer, 43, opened up about an emotional discussion she had with her daughter, Willow, 11, about missing each other during her upcoming tour.
"Willow and I had a really teary conversation," Pink began. 
Then, in a sweet moment, she turned and appeared to address her daughter in the crowd, saying, "Is it OK if I talk about you?" 
Then, seeming to get Willow's blessing, she turned back to Barrymore and continued her story. 
"Willow and I had a really teary conversation about this tour because she has needs now," she said.
In June, Pink will kick off a global tour for her latest album, "Trustfall."
Pink, who also shares a son, Jameson, 6, with husband Carey Hart, has traditionally brought her family with her on the road.
However, it sounds like things may be changing as Willow gets older, and may not always be able to join her mom because of things she wants to do at home.
"Willow and I talk about almost everything — we have a great relationship, and I told her, I said, 'I know you have things that you want to do,'" Pink said.
Pink said she also told Willow that while her career means a lot to her, "'that doesn't mean that it means more than your childhood, or what you mean to me.
"'I'll walk away tomorrow. If that's what you want, I'll walk away tomorrow,'" she continued, recalling her heartfelt words to Willow. "'But this time, it means that we're going to have to miss each other a little bit occasionally.' And I've never been away from them."
Pink also opened up about how she's encouraging her children to push boundaries and question her authority.
"I don't want my kids to think that perfection is a real thing," she said.
"You don't have to be as wild as we were, please!" she joked as a side note to Barrymore, who has been candid about her own turbulent younger years.
"It's developmentally correct for kids to try stuff," Pink continued. "I told Willow the other day, 'You need to, like, try talking back to me.'
"And she was like, 'What?' And I was like, 'Well, just try it at home, with me, because I'm going to love you no matter what. You're such a rule follower. Like, just walk over here and just go "NO!" and just see what it feels like.'"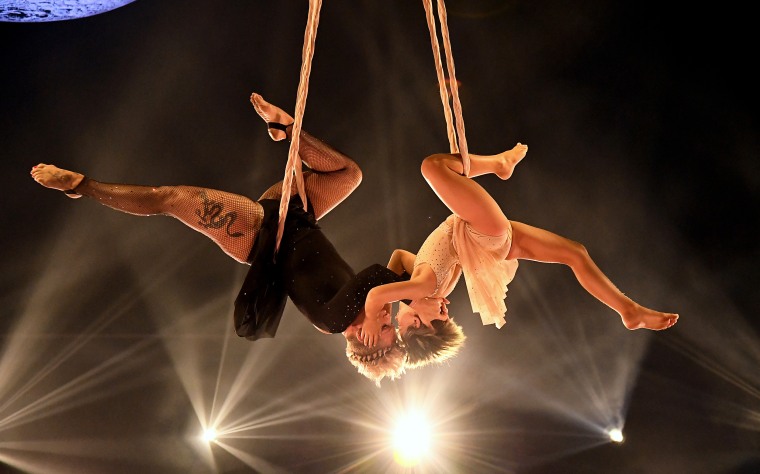 While Pink seems to be hinting that she and Willow may be apart for some of her future tour dates, the "Trustfall" singer confirmed earlier this month on TODAY that her son and daughter will be traveling with her for at least part of the tour, which launches in the U.K. on June 7, and in the U.S. on July 26 in Cincinnati.
In fact, Willow will have a real job on her mom's tour, for which she will earn minimum wage.
"We just had to go over minimum wage and it's different state to state," Pink explained on TODAY.
Pink added that she is helping Willow improve her negotiation skills.
"I said it's about $22.50 a show depending how long I go, if I run over," Pink said. "She goes, 'I'll take $20. it's easier to do the math.' I'm like, 'That's not how you negotiate for yourself.' I'm like, 'You'll take $25 so it's easier math.'"