Paris Hilton's baby boy, Phoenix, will have a fun nickname to call his grandma and Paris Hilton's mom, Kathy Hilton, when he gets older.
During a Thursday, March 16, appearance on "Watch What Happens Live with Andy Cohen," Paris Hilton talked about her life with her almost two-month-old son and said that he can call grandma Kathy Hilton "Kiki."
Hilton explained that her mom "doesn't know that's the name for something else," likely referring to the pop culture definition of the term — a social gathering of friends for the purpose of gossiping — which originated in Black Gay American social circles.
"Alright, well, she'll find out at some point," Cohen laughed.
Cohen then asked Hilton what's the "best baby gift" she's ever received from her famous friends, and she said it had to be the giant stuffed alpaca that she got from the Kardashians in February.
"Kim and Kourtney and Kris sent me this giant alpaca," she said. "It's not a real one, but it's just so cool. I have it in the front of my house now. It's the cutest thing. I like hug it every day."
The alpaca is only one cool gift that Paris Hilton has received. On the show, she also said that she likes to dress her son in "bougie designer baby clothes" and push him in the same Dior stroller that Cardi B has, which her husband, Carter Reum, bought for her.
"It's just so sick," Hilton said.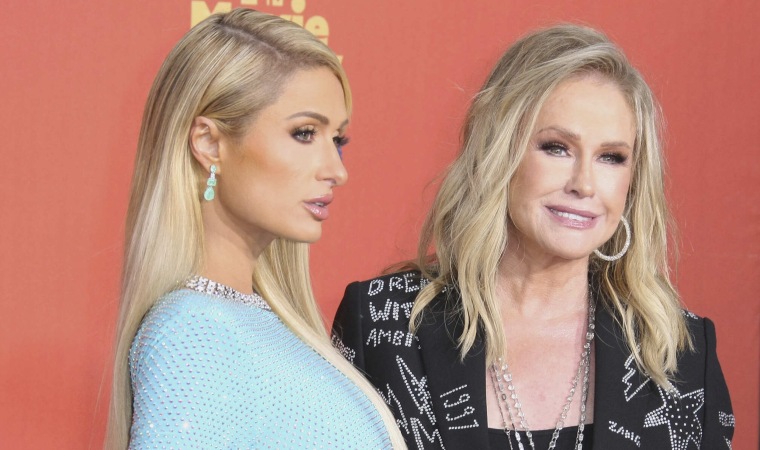 As a new mother, the model and actor was asked if there were any misconceptions about motherhood that she encountered. Hilton said there weren't, adding that she had a "feeling of love" when she looked into her baby's eyes.
"They say when you see your baby for the first time, you don't really know how it is until you actually experience it," she said. "And it's one of the most magical feelings in the world. I'm so in love with my little angel."
Hilton also addressed whether she'd let Phoenix check out some of her past TV appearances, specifically "The Simple Life."
"Definitely," she said with a smile.