"Power" actor Naturi Naughton-Lewis and husband Two Lewis will be adding to their family in 2023.
On Wednesday, Feb. 8, People revealed that the couple are expecting their first child together.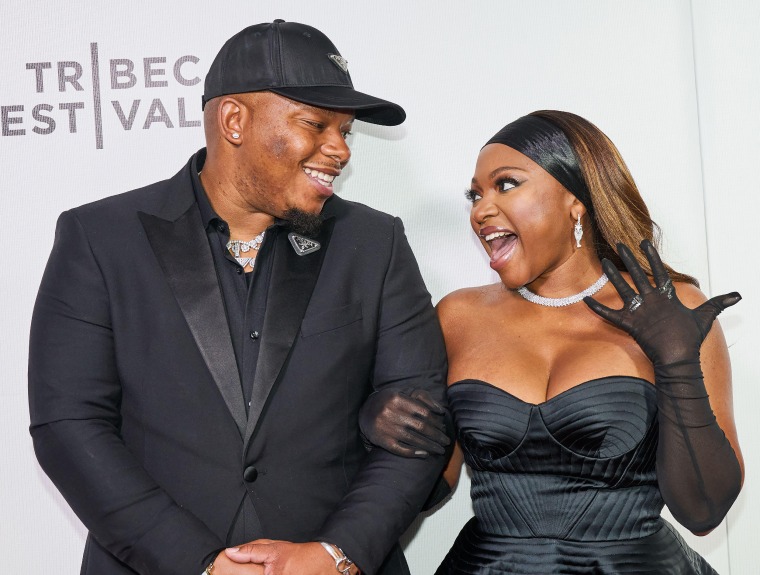 This will be Naughton-Lewis's second time becoming a parent as she is also a mom to 5-year-old daughter Zuri. 
The former 3LW singer spoke about her pregnancy news in an interview with the publication. 
"I am looking forward to seeing this baby's cute little face and how it will be the perfect blend between my husband and me," she said.
Naughton-Lewis added that Zuri can't wait to become a big sister. 
"My daughter is especially happy to be getting a younger sibling, so I'm excited to share this joy as a family," she told the publication. 
Her pregnancy announcement comes less than a year after she tied the knot with her husband in Atlanta. 
"When I found out, I was shooting a movie and still on a high from my wedding, so it felt like the perfect way to start a new chapter with my hubby!" she shared. "I wrapped my two pregnancy tests in pretty tissue paper and put it in a cute little gift bag and told him I had a belated birthday gift for him."
She added, "It was such a special moment."
Naughton-Lewis said the newlyweds have been searching for a doula, reading and looking at baby apps as she prepares to give birth later this year. 
The "Queens" star said she expects her pregnancy to be different "this time around." 
"We look forward to bonding in a new way and actually applying our wedding vows on this journey to parenthood," she explained. "This is Two's first baby, so he's extra excited to create another human. Even through the many challenges that can occur with pregnancy, we want to push ourselves to be the best partners and the best parents we can be!"
Lewis, who manages his wife's former "Power" co-star Omari Hardwick, married the musician in an extravagant ceremony in April 2022.
She uploaded multiple photos from their special day to Instagram, including a few pictures that the couple took with Hardwick. 
In one slideshow, both Hardwick and Lewis gave the glowing bride a kiss on the cheek. 
"What can I say … I got good taste!" she joked in the caption before thanking the actor for his support. 
A second Instagram slideshow featured pictures with Zuri and showed multiple snaps of Lewis dancing with the adorable child. 
"We are a Familyyyyyy" Naughton-Lewis cheered in the caption with two purple heart emoji.
"To My Baby Zuri, my beautiful brown skinned girl… you deserve ALL THIS LOVE!" she continued. "Never settle! @twolewis_ thank you for loving me & my #Zuri in the most beautiful way! Her bar is now set." 
In a 2020 interview with People, the 38-year-old singer opened up about being a single mom. She shares her daughter with her ex, whom she simply referred to as Ben in the article. 
"It's hard work. It is a challenging balance," she said at the time. "When I come home after shooting a long day, it's almost like taking off the luggage of that and then I go straight into Mommy." 
She then explained why she loves being a mom. 
"I am just Mommy. I'm not Tasha. I'm not Naturi Naughton," she said. "I just get to be mommy and that actually is really liberating because that little girl just sees me as just perfection."