Matthew McConaughey's son, Levi, 15, is showing support for his father.
On Thursday, Sept. 14, Levi posted a picture of himself reading his dad's new book, "Just Because," on his Instagram.
He penned the caption, "It has been so cool to watch my dad these past few years. Working on new projects and watching them succeed. He's been writing and creating and to see his first book #GreenlightsBook was awesome! Now he's on to his second book, #JustBecauseBook and im really excited about it. Can't wait to see what he does next…"
McConaughey shares Levi, along with daughter Vida and son Livingston, with his wife Camila Alves McConaughey. The pair got married in 2012.
In the comments, Alves McConaughey, wrote, "❤️❤️Well said my love… looking forward to 'what' next too!!!""
Read on to learn more about McConaughey and Alves McConaughey's three kids.
Levi Alves McConaughey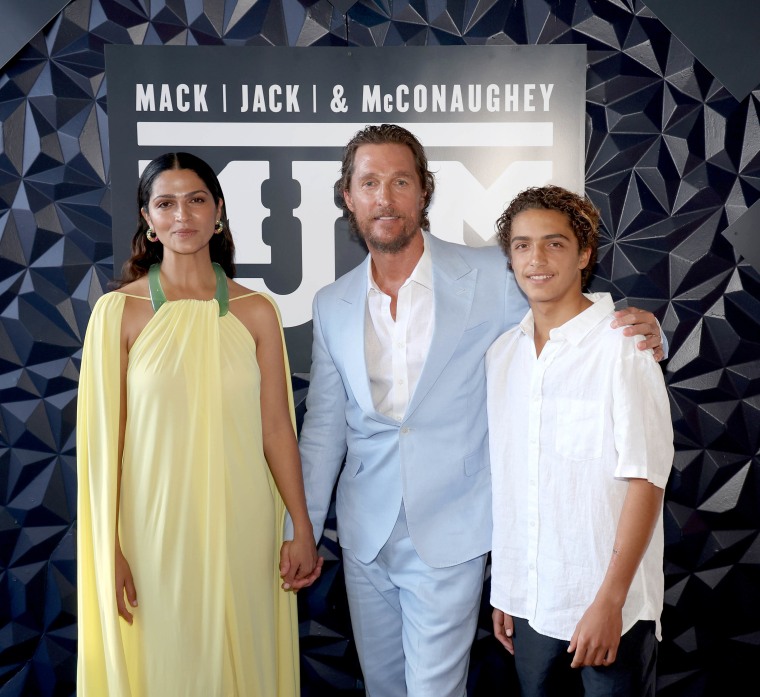 In July 2008, the couple welcomed their first child, son Levi.
In a September interview with TODAY.com, McConaughey talked about his son and revealed the "big lesson" he's learned from Levi.
"My eldest child teaches me daily about consideration. He's extremely considerate," McConaughey said.
In an October 2020 interview with People, McConaughey shared that his son is really into music.
"Basically he came out of the womb knowing a minor from major key on the piano," McConaughey said. "In the last six months, he really got into listening to composers, and he now can listen to a movie and tell you, 'Oh, that's Hans Zimmer,' or 'That's John Williams,' which is really cool."
Other than music, Levi adores surfing. Over on his Instagram, the teen shares posts of himself riding the waves. In March 2023, McConaughey shared a picture of Levi's "surf souvenirs," which showcased his back bandaged up.
In July, McConaughey and Alves McConaughey revealed in an Instagram video that they let their son create an Instagram account when he turned 15.
"Yes, we are allowing you, Levi, today on your 15th birthday, to join the social media universe," McConaughey said in the clip.
Vida Alves McConaughey
In January 2010, McConaughey welcomed his daughter, Vida, with Alves McConaughey.
McConaughey told TODAY.com in his September interview that he learned "leniency and forgiveness" from his daughter.
"She'll put you in jail, but she'll also give you the key to get out of the cell when she puts you in," he joked.
In December 2020, fans got to see a glimpse of Vida's personality when she joined her dad on Amy Jo Martin's "Why Not Now?" podcast. When McConaughey was asked, "What's one lesson you find yourself learning over and over?" he turned to his daughter for help after he found himself a little stumped.
Once she gave it some thought, Vida answered the question for her dad and said, "Trusting, I guess, when you correct us. A lot of times you correct us and then you come back and you explain why you corrected us, but usually, we're just like…"
"'We got it the first time,'" McConaughey said while completing his daughter's sentence.
However, that same month, Alves McConaughey shared a moment when Vida and Levi took a picture of their dad for a magazine, showing that McConaughey does trust his kids.
"Because of quarantine we couldn't do normal photoshoots so our kids have become the professional photographers for Matthew's latest magazine covers!" Alves McConaughey wrote on Instagram when she shared a behind-the-scenes look of their kids taking a photo of their dad.
"It's amazing to see what they have done! Very proud!!" she added.
Livingston Alves McConaughey
Livingston is the baby of the family. In December 2012, McConaughey and Alves McConaughey welcomed their third child, son Livingston.
During his September interview with TODAY.com, McConaughey said he adores how Livingston is determined to achieve his goals in life by having a "tunnel vision focus on achievement."
"He gets extremely focused," the "Magic Mike" star said. "And when I see that look in his eye, I already know that today he's going to play great or he's going to nail this, and he does."
On Livingston's 10th birthday, his mom posted a picture of him blowing out the candles on his birthday cake.
"Nothing fancy…just us…December 28th it was Livingston's birthday!!!" she wrote. "All he wanted to do is go to Altitude the trampoline place in Austin and an ice cream cake! May your heart my son keep it's simplicity as you grow in this complicated world!! You challenge me and teach me daily for that I am grateful! What a blessing you are! 💚💛💚💛💚💛💚💛💚💛💚💛."