Matt Damon's 16-year-old daughter is an expert at making fun of her dad.
During an April 7 appearance on "Late Night with Seth Meyers," Damon said that when it comes to his kids watching his movies, his daughter, Isabella, prefers to watch his less-praised work.
"My 16-year-old likes to give me a hard time and she is very clear about not wanting to see anything that I'm in if she thinks it might be good," he said.
But, if Damon gets a negative review for a film, then Isabella wants to watch it, he said.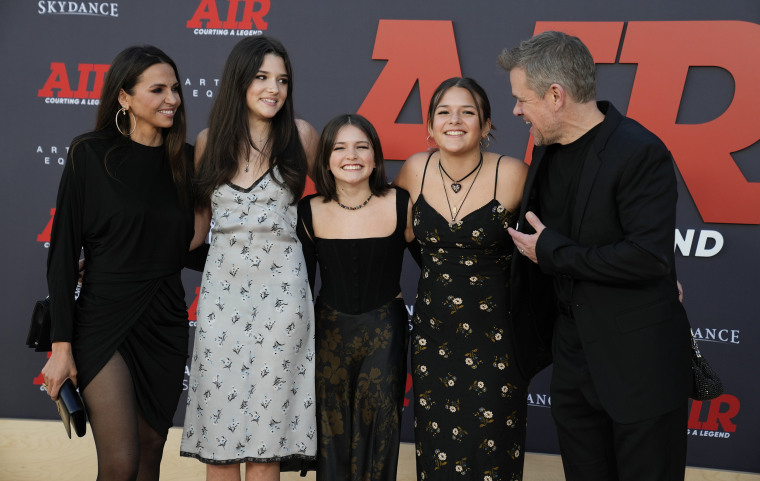 "Oh my God," Meyers responded. "That is the most ice-cold 16-year-old thing I've ever heard."
For example, one movie Damon starred in that was, in his words, "not very good," was 2016's "The Great Wall."
The sci-fi film is about a group of European mercenaries who encounter a secret army that maintains and defends the Great Wall of China against a horde of monstrous creatures.
"My daughter was talking to one of her friends, and she was talking about this movie," Damon recalled to Meyers. "She kept calling it, 'The Wall.' And I was finally like, 'Isabella, that movie is called, 'The Great Wall.'"
"She was like, 'Dad, there is nothing great about that movie,'" Damon said.
Meyers immediately burst into laughter.
The "Departed" star has four daughters. He shares Isabella, Gia, 14, and Stella, 12, with his wife, Luciana Barroso. He is also a proud dad to Alexia, who is Barroso's daughter from a previous marriage.
In March, the family made a red carpet appearance together when they attended the premiere of Damon's movie "Air" in Los Angeles. Gia was not in attendance.
Damon rarely attends events with his children, but he is one proud father to his four girls. In 2019, he debuted a new tattoo by artist Winter Stone on his arm, with the names of each of his daughters written in cursive alongside his wife's nickname, Lucy.