If you ask Kevin Jonas what his family will look like in a couple of years, the singer says that he and his wife, Danielle, will likely be adding ... "more dogs."
"I would love another one," Danielle says, turning to look at her husband of 13 years during a conversation with TODAY.com. Danielle isn't referring to a puppy. The mom of daughters Alena, 9, and Valentina, 6, wants to have a third child.
"There's been a lot ... a lot going on with that," Danielle, 36, reveals. "But I would love another (baby). I love kids."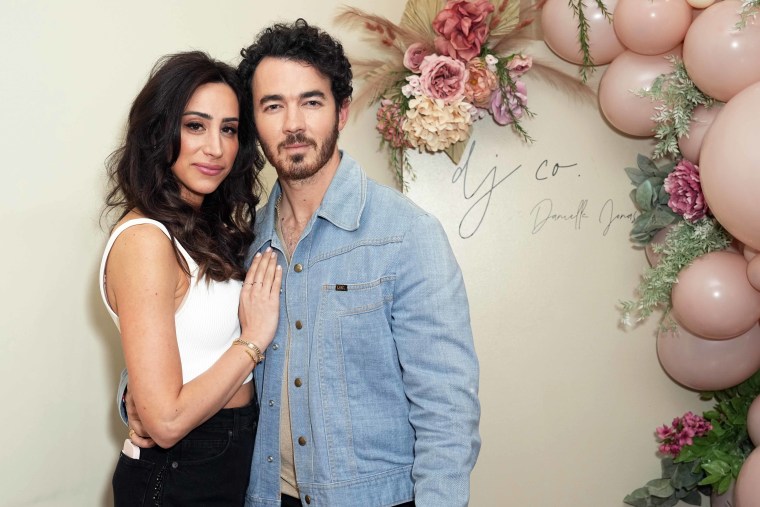 "You never know," Kevin, 35, says, shifting in his seat. The pop star has a lot on his mind these days.
The Jonas Brothers, consisting of Kevin and two of his younger siblings, Joe, 33, and Nick, 30, just launched their highly anticipated worldwide "The Tour," which is slated to wrap in June 2024. It's going to be a busy nine months for everyone involved.
While busy, the family always stays in touch in an active group text chain with the brothers and their spouses. Joe is married to "Game of Thrones" alumna Sophie Turner, 27. The couple welcomed daughter Willa in 2020 and another baby girl in 2022, whose name they have not publicly shared. Nick and Priyanka Chopra, 41, tied the knot in 2018 and share 19-month-old daughter, Malti. Danielle lovingly refers to Chopra as "Pri."
Their text chain — aptly named "The Jonas Family Chat" — is essentially a "daily roundup of of children pictures," according to Kevin. 
Joe is the most active on the text chain, according to Danielle and Kevin.
"He's very good at capturing moments," Kevin says, complimenting Joe's photography skills.
Who takes the longest to respond? Well, that depends on who you ask.
"I think it's me and Sophie," Danielle says. 
"I don't know, but it's definitely you," Kevin says, pointing to Danielle. "I've never seen anything like it. Danielle will legitimately put her phone and come back to it nine hours later. I'm like, 'How are you able to function?'" 
"I hate phones," Danielle confesses.
Danielle is however, always happy to take a call from her brothers-in-law and sisters-in-law. She remembers bonding with Chopra for the first time at Chopra's bridal shower. 
"We talked a lot and it felt almost like she was an older sister," Danielle says. 
Danielle also recalls how Joe included her when he was designing Turner's engagement ring in 2017. She has pictures of him going through the process.
"Joe invited me to see her diamond … and he sent me drawings, and that made me feel so special," she says. "After they got engaged, I sent Sophie all the stuff so she would have it to look back on."
Danielle and Kevin will celebrate their 14-year wedding anniversary in December. The duo first met on vacation with their families in 2007, and 16 years later, they still give each other butterflies.
"It's sappy to say, but I still feel like I'm falling in love with him," Danielle gushes. 
Kevin's face lights up.
"Same," he says.
It's clear Kevin adores his wife. He was there for support while she opened up to TODAY.com about her partnership with Sanofi and Regeneron to educate on Dupixent as a treatment option for moderate-to-severe eczema. Eczema is an inflammatory skin condition that causes a variety of symptoms, including itchiness, dry skin, rashes, scaly patches and blisters, according to the National Eczema Association.
"Many people don't realize how serious moderate-to-severe eczema can be. Some may dismiss it as a simple rash, but it can be much more than that," Dr. Annabelle Garcia, a board-certified dermatologist, who partnered with Sanofi and Regeneron, tells TODAY.com. Symptoms can be debilitating, with intense itch and rashes, often covering different areas of the body, or sensitive areas of the body.  
Danielle experienced discomfort from scalp eczema.
"The kids wanted to play with her hair, but the redness and itchiness made it uncomfortable," Kevin shares. "It was so hard to see."
"I felt like I couldn't be a mom," Danielle says.
Danielle, a former hairstylist, notes that her hair was always her "thing" and she felt like that was being taken away from her because of her eczema. But she's now back to her old self.
"I can take a shower without it being (uncomfortable). I can brush my hair and not feel discomfort," she says, noting that she cried tears of joy when she finally found a remedy.
More about Kevin and Danielle Jonas' kids
Alena Rose Jonas, 9
Proud dad Kevin live-tweeted the birth of his first child, who was born on Feb. 2, 2014.
"Babyjonas is on the way!!," Kevin wrote, in part, after Danielle went into labor.
"Here we go we're pushing!!! #babyjonas," the singer added later that day.
Alena — pronounced Uh-lee-nuh— is now 9, and loves to bake and craft, according to her parents.
"She has big feelings," Kevin told TODAY.com during a joint interview with Danielle in Aug. 2023.
"Huge feelings," Danielle noted. "She has a huge heart. I worry about her heart sometimes."
Alena has officially entered the preteen years, Kevin said, recalling how the fourth grader insisted on changing before he took her to an event as his plus-one.
"She came downstairs, and she looked like a teenager," Danielle told TODAY.com at the time. "I was videotaping it because I was like, 'Oh my God.'"
Alena is a huge fan of her dad's band. When the Jonas Brothers reunited to record new music in 2019, after splitting four years earlier, Alena prematurely announced the news to her kindergarten class. 
"She's so proud … she (told) her entire school that the Jonas Brothers were coming back," Kevin shared on "The Tonight Show" in 2019.
"We were trying to keep it a secret for basically a year," Nick said. "We were making this documentary, making the album. And we're like, 'We got this on lock. No one's gonna tell.' Kevin comes home and says, 'Guys, Alena told her whole class.' Luckily, those 5-year-olds … they're tight-lipped."
In a 2021 interview with People, Kevin described Alena as "so responsible," and remembered how she declined an offer to attend a Jonas Brothers concert because she didn't want to miss school.
"I don't know if I would've had the same response as an almost 8-year-old," Kevin told the publication. 
Valentina Angelina Jonas, 6
Kevin and Danielle welcomed their second child, a daughter named Valentina Angelina, on Oct. 27, 2016.
"Having another baby is literally like having five," Danielle told TODAY that year. "One is asking you for one thing and then you're going to the next one and it's just — it is insane but I do — I love it."
"You forget everything that happened with the first one," Kevin added. "Like at first, I was like, 'How do I swaddle a baby again? Can I hold her like this?' It's like your brain is kind of melting. When you're in the hospital, you're like, 'They really shouldn't let us go home yet.'"
The couple chose the middle name Angelina after Danielle's mother, Angela Deleasa. Her sister Alena's middle name, Rose, is in honor of Danielle's late grandmother.
"Valentina is sassy," Danielle told TODAY.com in August 2023. "We're in trouble with her."
"She's every boy's best friend," Kevin explained. "She's a total firecracker. It's great."
In 2019 on "The Late late Show," Kevin opened up about Valentina's close relationship with his brother Nick Jonas. At the time, Nick was dating his now-wife, Priyanka Chopra, and Valentina was jealous of their relationship.
"She's very connected to Nick," Kevin said. "When she met Priyanka, Priyanka put her hand around his shoulder … and every time her hand would go around and (Nick) was holding Valentina, she would just push it off."
"She's very territorial," Nick joked.
Valentina, like her big sister, Alena, loves to watch the Jonas Brothers perform.
"Oh my gosh, they're so proud of them," Danielle gushed to E! News in 2019. "They'll be by the stage and they'll be waving to them and if they don't get a wave, they'll look at me and say, 'Why are they not waving?' I'll say, 'They're looking at a lot of people right now but they love you.'"