Kelly Clarkson's daughter River Rose has officially made her debut on the deluxe version of her mother's album, "Chemistry."
On Sept. 21, Clarkson released the song that her daughter is featured on titled "You Don't Make Me Cry," and in the background, you can hear River Rose singing backup vocals for her mom while Clarkson belts out the lyrics.
"I'd rather be alone than blue / Know it ain't easy, but watch me / Walk the high road without you," Clarkson sings.
At the end of the song, River Rose adorably says, "The end."
River Rose's singing debut on "Chemistry" comes after Clarkson teased the bop on Instagram.
On the social media platform, she noted that River Rose's participation in the song was four years in the making.
"Thanks for all the love for my song "roses," she wrote, referring to another song on her deluxe album, which officially released on Sept. 22. "I can't wait for y'all to hear the other songs on the deluxe, especially River Rose's feature."
She then shared her daughter's journey in helping with the song, adding, "She was 5yrs old when she was layin down tracks for 'you don't make me cry' ❤️ #chemistry."
The Grammy-winner first confirmed that River Rose was one of the featured artists on the deluxe version of "Chemistry" on social media Aug. 17. The extended album includes five new songs, remixes and a few other special artists, according to a press release.
This isn't River Rose's first time stepping into her mom's shoes. River Rose and younger brother Remington "Remy" Alexander, 7, appeared onstage with their mom during one of her performances in Las Vegas for her residency in August. The siblings hugged each other in a photo taken back stage before joining Clarkson in front of the cheering crowd.
River Rose sang a duet of "Heartbeat Song" with her mom while Remington showed off his moves as Clarkson performed "Whole Lotta Woman," according to Entertainment Weekly.
The 41-year-old musician has repeatedly opened up about how being a mom impacts her music and songwriting. "Chemistry" addresses her relationship with ex-husband Brandon Blackstock. The former couple, who share joint custody of River Rose and Remy, finalized their divorce in March 2022. 
While speaking about how their breakup affected the album, Clarkson has also shared how her children played a role in her choosing to leave off some songs she wrote for "Chemistry."
"There is a point where you have kids that you go, 'Hmm, what's appropriate?'" she said during an appearance on TODAY in June. "There's that line for me, and my line was 'What's already there? What have people already talked about?'"
She continued, "There's plenty that I will never talk about because you shouldn't and that's a personal thing between me and my ex and also me and my children, that relationship."
Read on to learn more about Clarkson and Blackstock's two children and how the "Breakaway" singer has been helping them adjust to changes in their lives since the divorce. 
River Rose
In July 2014, Clarkson announced on X, formerly known as Twitter, that she had given birth to her first child. 
"Our baby girl River Rose Blackstock arrived on June 12th! Thank you everyone for all of your well wishes! Brandon and I are on cloud 9!!" she gushed.  
Throughout the years, Clarkson has made a few public appearances with her daughter and spoken about her on "The Kelly Clarkson Show."
River Rose briefly took over her mom's show in 2020, when she was just 5 years old. 
"Hi everybody," she said in a clip while swirling a wine glass filled with orange juice. 
She mentioned a "sickness going around," referring to the COVID-19 pandemic, before assuring viewers that things were going to be "OK." 
"I hope you're doing fine, and I love you. Bye!" she said and blew a kiss to the camera.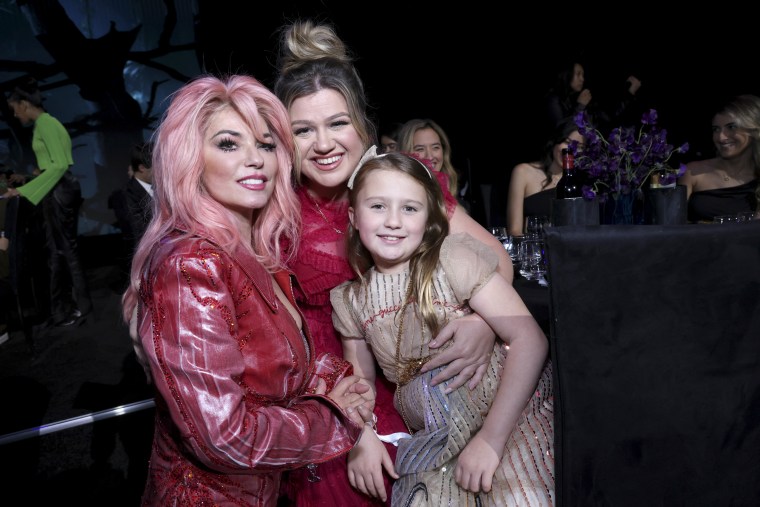 Clarkson brought River Rose with her to the 2022 People's Choice Awards in December. 
River Rose spent the night snapping pictures with Mariska Hargitay and Shania Twain. 
She applauded her mom as she accepted the award for daytime TV show. 
"This is awesome. I'm having a date night with my daughter, River Rose," Clarkson said on stage during her speech. 
The mom of two is currently building a new life for her family in New York City. In the fall, Clarkson and her children will relocate from Los Angeles to the Big Apple for her talk show. 
The powerhouse vocalist shared on an episode of "Las Culturistas" podcast in June that River Rose wasn't as excited as her brother about the big move. 
"My daughter, I'm still winning over," she said. "It's not New York, it's the fact that she just has friends (in Los Angeles)."
Clarkson continued, "I'm like 'I can't promise you it's going to be fine, baby. It might be hard at first.' I get that, too. I was like, 'So, I'm not going to lie to you, but can't poo-poo on it until we try it.'"
Remington 'Remy' Alexander
Clarkson revealed to a crowd of fans at a Los Angeles concert in August 2015 that she was pregnant with her second child. 
She celebrated his arrival on X in April 2016. 
"Our little baby boy has arrived!!" she cheered in a tweet. "Remington Alexander Blackstock was born 4/12/16 & he is healthy & we couldn't be happier or more in love!"
Clarkson also shared adorable photos of the newborn on Instagram, including one of Blackstock holding their son. 
"Meet Remy, our newest addition to the family!" she captioned the snap. She added the hashtags "charmfordays" and "watchoutladies." 
Like his sister, Remy has attended a few Hollywood events with his mom. 
In September 2022, the siblings watched Clarkson receive a star on the Hollywood Walk of Fame.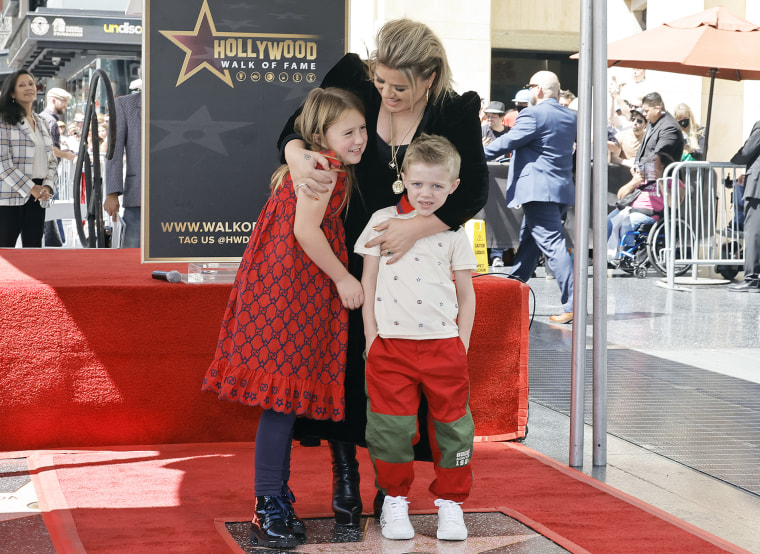 He missed the 2022 People's Choice Awards a few months later, but his mom gave him a shout out on stage.
"Remy, I know you're at home. You're not feeling well. We love you baby," she said. 
She spoke at length about the 7-year-old on the "Las Culturistas" podcast when discussing his reaction to leaving Los Angeles for New York City.
"So, my son is very excited," she shared. 
While River Rose was worrying about leaving her friends behind, Remy was looking forward to a new chapter. 
"My son is like, 'My friends will be fine, let's go.' He loves New York. And literally, I don't know why," Clarkson said.
She said her son couldn't wait to say goodbye to Los Angeles. "Remy was like 'deuces,'" she joked. "He's very excited. He loves the walking around. He loves the chaotic energy (of NYC)."