President Joe Biden is publicly acknowledging one of his seven grandchildren for the first time.
His son Hunter Biden fathered a child named Navy with an Arkansas woman named Lunden Roberts in 2018. The two parents were embroiled in a paternity and child support lawsuit until June 2023, when they settled.
Hunter Biden had initially denied that he was the father. However, Roberts said in court filings that a paternity test "established with scientific certainty" that he was.
In a statement on July 28, 2023, Joe Biden referenced Navy for the first time.
"Our son Hunter and Navy's mother, Lunden, are working together to foster a relationship that is in the best interests of their daughter, preserving her privacy as much as possible going forward," the president said in the statement. "This is not a political issue, it's a family matter. Jill and I only want what is best for all of our grandchildren, including Navy."
A source familiar with the situation told NBC News on July 28 that the Bidens "are — and have been — giving Hunter and Lunden the space and time to figure things out."
Navy joins a cadre of six other Biden grandchildren, some of whom are in the public eye and others who are not.
So who is in the next generation of Bidens? Here's a breakdown, from oldest to youngest.
Naomi Biden
Naomi, 29, is the daughter of Biden's son Hunter Biden and his first wife, Kathleen, whom he divorced in 2017.
Naomi is named after Joe Biden's 1-year-old daughter with his first wife, Neilia, both of whom were killed in a 1972 car accident that his sons, Beau and Hunter, survived as young boys.
Naomi is the unofficial documentarian of the grandchildren, often sharing photos of them together on Instagram.
She graduated from Columbia Law School in May 2020 after earning her undergraduate degree at the University of Pennsylvania, where her father was also a graduate. Joe Biden gave a keynote speech at the Columbia Law School virtual graduation.
She would go on to get married on the White House's South Lawn on Nov. 19, 2022 to Peter Neal.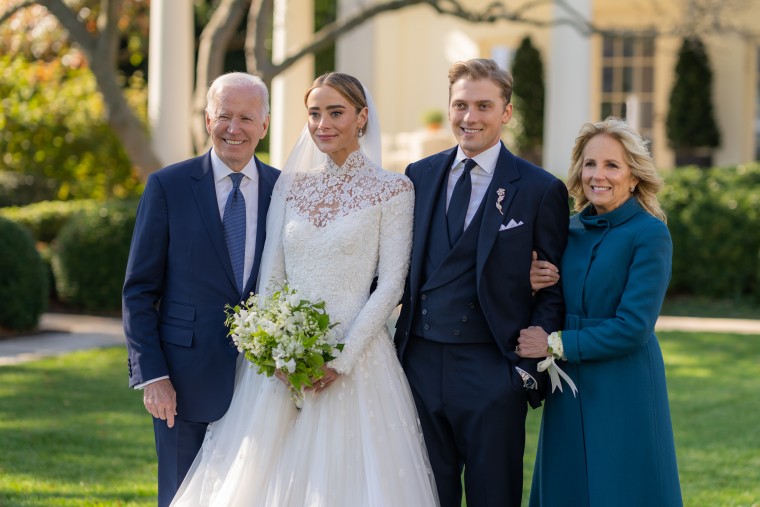 "Congratulations Naomi and Peter! We love you," the official Twitter account of first lady Jill Biden tweeted of the event.
Finnegan Biden
Finnegan, 22, is Naomi's younger sister, the second-oldest of Hunter Biden's children with ex-wife Kathleen. She is named after Biden's mother, Catherine Eugenia "Jean" Finnegan, who died at 92 in 2010.
Finnegan has followed in her older sister's footsteps in attending the University of Pennsylvania and graduated in May 2021.
She joined her grandmother Jill Biden at King Charles III's coronation in May 2023.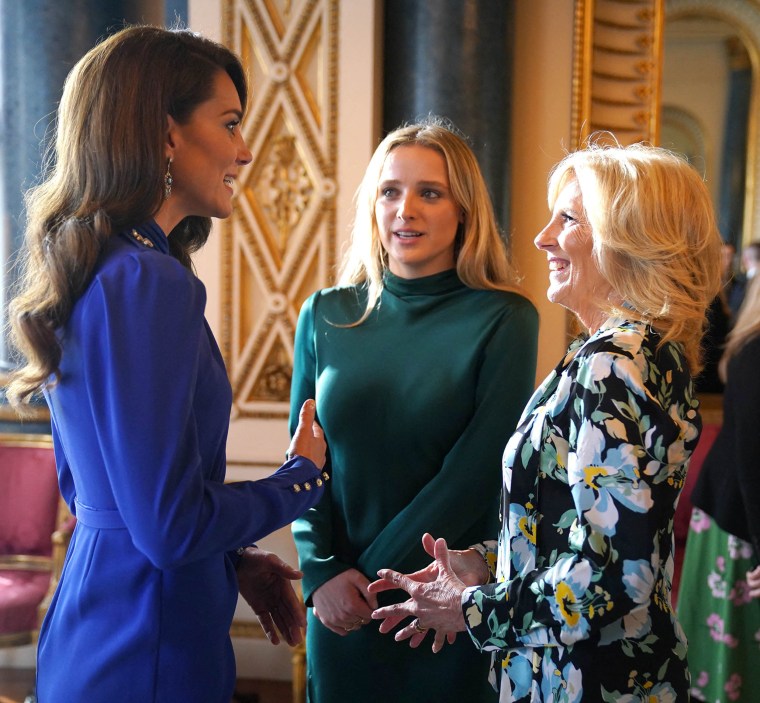 Maisy Biden
Maisy is the youngest of Hunter Biden's three daughters with his former wife.
She attended Sidwell Friends School in Washington, D.C., where she played multiple sports and became close friends with Sasha Obama, the younger daughter of former President Barack Obama and first lady Michelle Obama.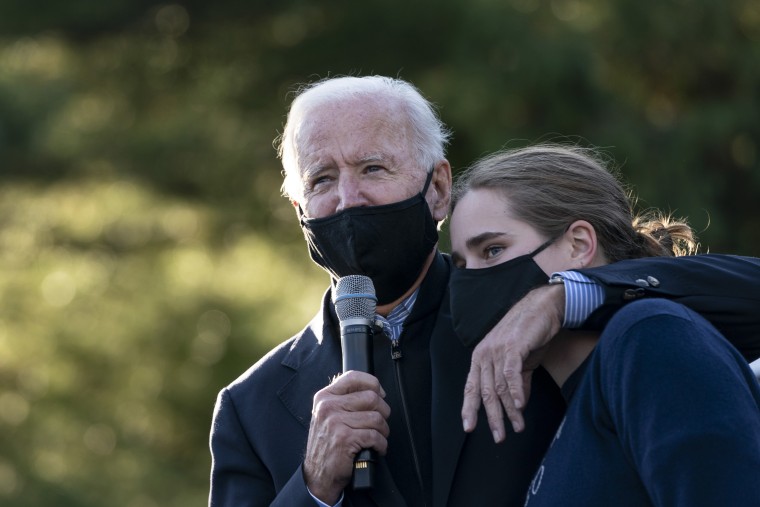 The girls were basketball teammates growing up on a squad that was once coached by President Obama, according to the Chicago Tribune.
"Her best friend is Sasha Obama," Biden said during a 2019 rally in Iowa. "Barack and Jill and the whole family, we had a whole get-together (for their high school graduation)."
Both Maisy Biden and Sasha Obama graduated high school in 2019.
Maisy Biden went on to follow in her older sisters' footsteps by attending University of Pennsylvania and graduated in May 2023.
Natalie Biden
Natalie, 18, is the older child of Biden's late son, Beau Biden, and his widow, Hallie. Beau died of brain cancer at 46 in 2015.
In a candid conversation with Jenna Bush Hager in 2021, Natalie Biden opened up about her favorite holiday to spend with her famous family.
"Thanksgiving is, I think, all of our favorite holiday," Natalie said. "Maisy and I and my grandpa and my uncle and my dad, we used to do the polar bear plunge in Nantucket in November."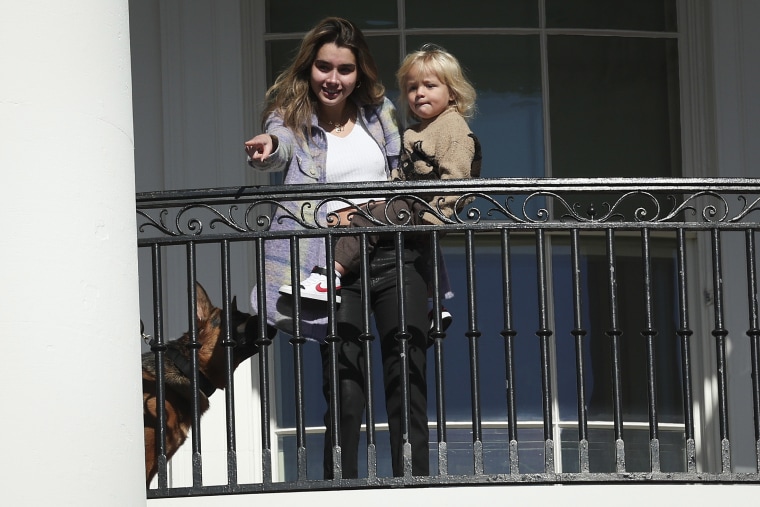 "And it was always crazy because they would have to bring all the divers and swimmers and Secret Service for my pop, and it's me and Natalie and him holding hands like sprinting into the water," Maisy Biden added.
Natalie Biden graduated from high school in Delaware in May 2023. The Associated Press reports she will attend the University of Pennsylvania in the fall.
Robert Hunter Biden II
Robert Hunter, 17, who is named after his uncle, is the younger child of Beau and Hallie Biden.
He hasn't been in the public eye much, but popped up in the video of the grandchildren reciting the Pledge of Allegiance that was shown during the August 2020 Democratic National convention.
Navy Roberts
Navy is the daughter of Hunter Biden and Alabama woman Lunden Roberts. She was born on Aug. 28, 2018, according to a post by Roberts to Instagram.
As mentioned above, the two parents settled a settled a child support dispute in June 2023.
In a statement on July 28, 2023, President Joe Biden publicly acknowledged Navy for the first time.
Beau Biden
The youngest of the grandchildren was born when Hunter Biden and his second wife, Melissa Cohen, welcomed Beau in 2020.
The younger Beau Biden made his first public appearance at the age of 8 months old during the January 2021 inauguration of his famous grandfather. Baby Beau Biden was held by his parents as they walked an abbreviated parade route amid the coronavirus pandemic.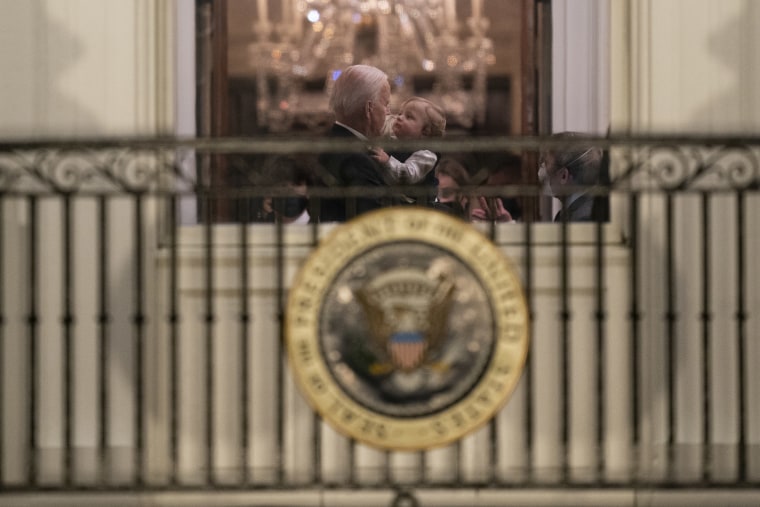 Later that day, the president was pictured sharing a sweet moment with Beau, holding him and giving him a kiss after a full day of inauguration ceremonies.