Jennifer Garner and Sheryl Lee Ralph recently realized they take similar approaches to co-parenting with their exes. 
The two actors sat down for a wide-ranging discussion as part of an episode of Variety's "Actors on Actors" series posted June 10. 
As they interviewed each other, Garner, 51, and Ralph, 66, pointed out their many similarities. 
"We have so many things in common," the "Abbott Elementary" star told Garner. "With all the celebrity and all of that, I feel like I have a very normal life, and I think you have that similar sort of vibe. And we love our kids."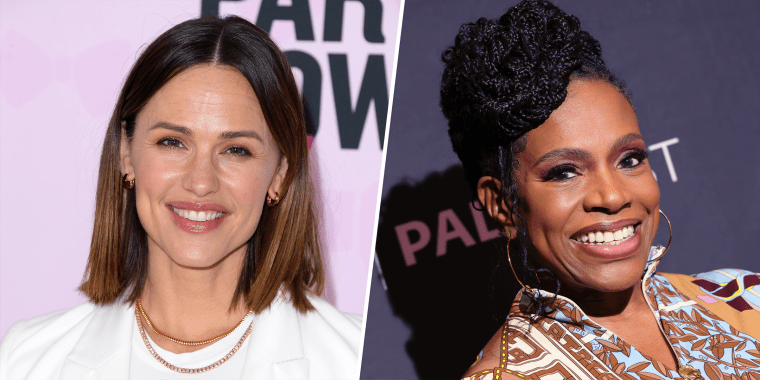 The "Alias" actor agreed and said, "And all the mess of parenting. It's a gift."
"And both of us having gone through divorce," Ralph added.
Speaking about their past marriages, Ralph said, "You did something that I did as well —maintain a healthy relationship with my ex for the health and well-being of my children."
She said it can be challenging at times to navigate co-parenting with an ex, especially in the public eye. The "Moesha" actor applauded herself and Garner for succeeding and working with their exes to support their children. 
"When I look at my kids, when I see you and your kids, I was like, 'Girl, we did that,'" Ralph said. 
Garner playfully corrected her and replied, "We're doing it!" before the pair shared a fist bump.
Ralph married Eric Maurice in 1990. After keeping their romance slightly hidden from the public, she introduced her French fiancé to the world in August 1990 and gushed about him in an interview with Jet magazine at the time. 
They called it quits in 2001. The exes share 31-year-old son and actor Etienne Maurice and 28-year-old daughter and stylist Ivy-Victoria Maurice. 
The siblings recently showed support for their mom by attending Essence's 16th Annual Black Women in Hollywood Awards in March. They posed by her side at the event. 
The Broadway star is currently married to state senator Vincent Hughes, who represents the 7th District in Pennsylvania.
Meanwhile, Garner shares her three children — Violet, 17, Seraphina, 14, and Samuel, 11 — with ex-husband Ben Affleck. The former couple tied the knot in 2005. They announced their separation in 2015 and finalized the divorce in 2018. 
Garner portrayed a stepmother who has a strained relationship with her stepdaughter in the Apple TV+ show "The Last Thing He Told Me." She explained in an April interview with InStyle why it was challenging taking on the role.
"It was very difficult for me to play a character who's not maternal at all," she said. 
During an appearance on TODAY in April, she further spoke about how the series, which she called "a story about motherhood," differed from her real life relationship with her children. 
"My teens are pretty great, so I can't really toss them in there," she said. "It's a different scenario, different friction, but I am familiar with being deeply embarrassing, yes."
During their "Actors on Actors" sit-down, Ralph and Garner discussed the other similarities between them, like how they both started in theater before moving to film and television. 
They later compared Garner's role as a struggling stepmom in her Apple TV+ series to Ralph's nurturing character, Barbara Howard, in the hit ABC comedy. 
The "13 Going on 30" star revealed she has a personal connection to "Abbott Elementary" and Ralph's character. 
"My mom taught remedial English at West Virginia State College," Garner shared. "She always said, 'There should be a sitcom of what happens in the teachers' lounge.' She loves 'Abbott Elementary.' She says, 'This is us.'"