The Kelce family just expanded their team!
On Friday, Feb. 24, Jason Kelce and his wife, Kylie, announced the arrival of their third child, a baby girl.
In the Instagram post, the Philadelphia Eagles center and now-mother-of-three shared that daughter Bennett Llewellyn Kelce was born on Thursday, Feb. 23.
"Yesterday little lady #3 joined us. Bennett Llewellyn Kelce," the caption reads, with the photo showing their newborn fast asleep in a floral onesie and matching headband.
The post added that she was "8lbs. 5oz. and 21 inches long."
Little Bennett joins her big sisters Wyatt, 3, and Elliotte, 23 months.
Shortly after they made the birth announcement, Kylie Kelce shared a collage of her three daughters as newborns.
"I know that they all just look squishy at this stage," she wrote on her Instagram story. "But I really feel like Bennett is pretty much a clean split."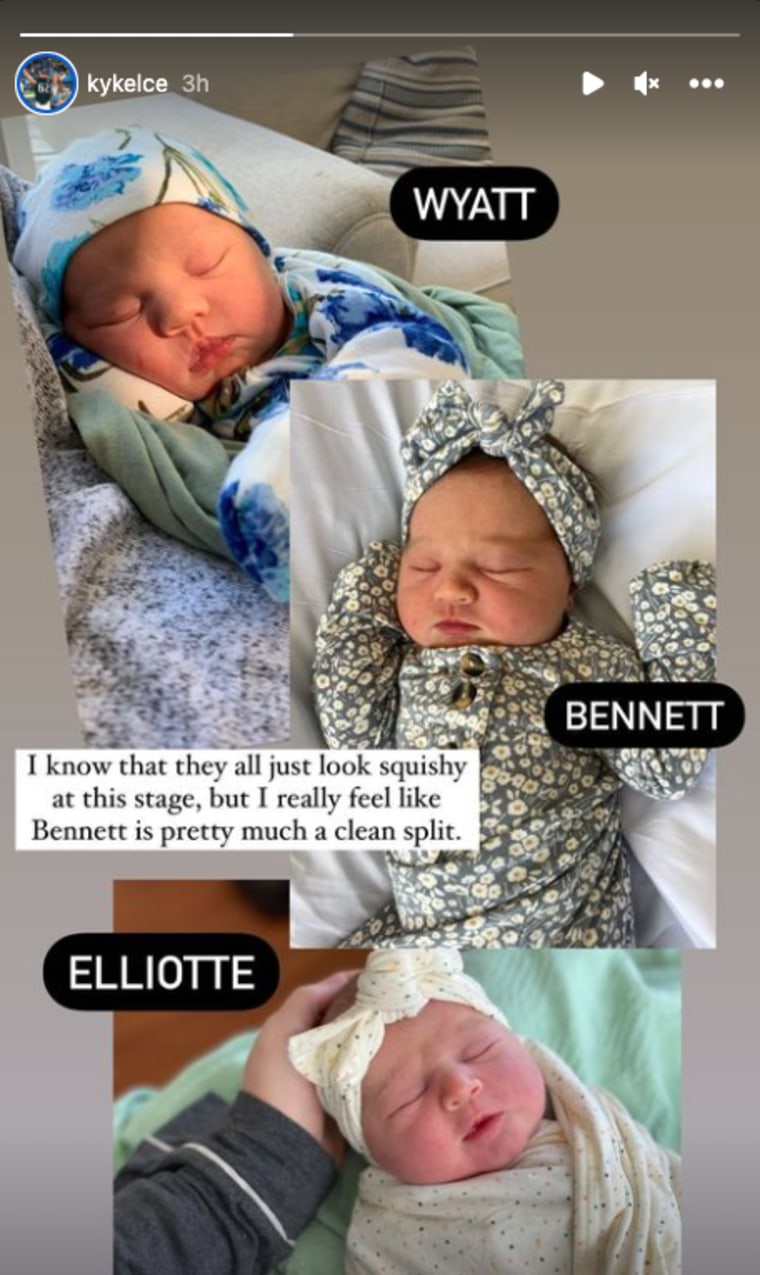 The NFL star faced off against his brother, Kansas City Chiefs tight end Travis Kelce, during the Feb 12 Super Bowl game. Travis Kelce and his team would end up victorious in the end.
Jason and Kylie Kelce had a plan in case she went into labor and delivered her baby that day. At the time, the expectant mother was 38 weeks pregnant and brought her OB-GYN to the game — just to be safe.
In an interview with People, she said, "We don't have a name, but my husband keeps making the joke that if she does come while we're out there that we'll name her Super, which is one of the most absurd things I've ever heard of in life."
While she did not go into labor that day, she celebrated her husband's "incredible run" by posting photos from the Super Bowl.
"What an incredible run. Wasn't the outcome we wanted… but at least I didn't go into labor at the game (even though I was in amazing hands with my OB dream team)," she captioned her slideshow. "Scroll to see the moment Wyatt cues 'all of the lights'."
Jason and Kylie Kelce have been married since 2018. They announced that they were expecting their third child together in September 2022 with a photo of their daughters wearing "big sister" sweatshirts.