She may be on top of the world with a brand new Academy Award brandishing her mantle, but Jamie Lee Curtis still took a moment to wish someone in the TODAY family well.
The "Everything Everywhere All at Once" star sent teddy bears to Hoda Kotb's daughters, Haley, 6, and Hope, 3, after Hope had fell ill.
"I was opening packages in my apartment last night, all the Amazon stuff that you get," Hoda told Curtis when she appeared on TODAY on March 14. "And, Jamie Lee, I opened the package, and inside I saw two teddy bears and a beautiful 'my hand in yours' that you had given to my girls. And she said, 'I know it was scary. This is for your girls.' From you."
Hoda said she was blown away that Curtis took time to remember her family.
"And I thought to myself, in the middle of her shining moment in her life, she is sending something to me and my kids. And I can't tell you how touched and how beautiful I thought that was," she said. "And I just wanted to say thank you."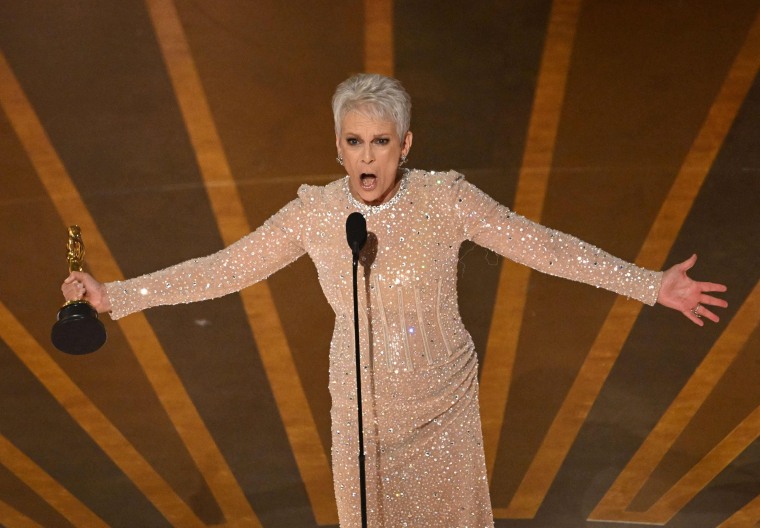 Curtis, a mother of two children with husband Christopher Guest, said she completely understood Hoda's concern as a parent.
"Listen, I get it. It's the hardest thing in the world. There's nothing scarier in the world than a sick kid," she said.
"And that's why I made my hand in yours and that's why I support Children's Hospital Los Angeles, as you support your children's hospital. This is what we do. This is what they do, 365 days a year, 24 hours a day. They show up for your family, so I was simply showing up for yours in the way I could."
Hoda returned to TODAY on March 6 after stepping away for a few weeks while Hope was in the hospital.
"My youngest, Hope, was in the ICU for a few days and in the hospital for a little more than a week," Hoda told TODAY co-anchor Savannah Guthrie during her first show back. "I'm so grateful she's home. She is back home. I was waiting for that day to come. And we are watching her closely. I'm just so happy.
"You know what I realized, too, Savannah? When your child is ill, the amount of gratitude you can have for people who helped you out."
Hoda has not been shy about her appreciation for those who rallied around her family, mentioning a necklace that she received from a friend.
"I'm wearing this little thing that a friend of mine sent to me, and she said, 'I'm going to take it off my neck and I'm going to send it to you. It's worn down because I rub it all the time, and it says, 'God's got this,'" Hoda told Jenna Bush Hager on TODAY with Hoda & Jenna the day she came back to the show.
"So she said, 'If I ever see you not wearing it, I'm coming to get you,'" Hoda said with a laugh.
Hoda also heard all the warm wishes from others, too.
"Thank you …for all of your beautiful words and prayers. I have read them all. You have no idea how much it means to me and my family," she wrote on Instagram on March 7. "I am so profoundly touched."