Ellen Pompeo brought an unexpected guest with her to attend Michael Kors' showing of his 2023 fall/winter collection at New York Fashion Week. 
The "Grey's Anatomy" star arrived at the event on Feb. 15 holding hands with her 8-year-old daughter, Sienna. The pair posed for pictures before heading inside to watch the runway show. 
Pompeo wowed in a matching ensemble that included a nude turtleneck, clutch, fringe skirt, pumps and statement belt. Her adorable daughter chose to wear a bomber jacket, skirt and Doc Martin boots, all in black.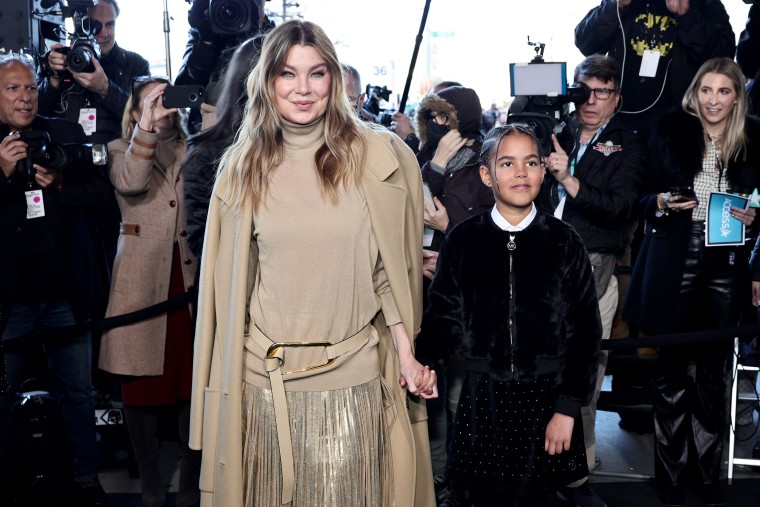 The mother-and-daughter duo spoke to Entertainment Tonight at the event after chatting with Lea Michele, who currently plays Fanny Brice on Broadway.  
"(Sienna's) favorite movie is 'Funny Girl,' so this is a big deal for us," Pompeo told the outlet. The 8-year-old added that the NYFW event was only her second time attending a fashion show. 
The 53-year-old actor shares Sienna, 13-year-old Stella and 6-year-old Eli with her husband and music producer Chris Ivery, whom she has been married to since 2007.
The family of five rarely makes public appearances together, but last July they all traveled to Sicily, Italy, for the Dolce & Gabbana alta moda women's show, according to E! News. 
Pompeo sparkled in a pink satin suit at the Italian event while her husband complimented her look in a tailored navy suit. 
Stella wore a blue and pink floral set while younger sister Stella donned a pink dress. Eli matched his dad in a baby blue blazer and shorts. 
At the time, Pompeo shared multiple pictures of her family in Italy on Instagram and tagged the Italian fashion house. 
Her appearance with Sienna at NYFW comes just one week before "Grey's Anatomy" fans will bid farewell to her character Meredith Grey, for now.  
"For the record, it's not really my final," Pompeo told ET at the fashion show. "It's a little bit of a trick they're playing on people."
"It is my final episode for a while," she added.
After 19 seasons, Pompeo, who is also a co-executive producer on the long-running ABC medical drama, will slowly depart the show during its midseason premiere on Feb. 23. 
In a teaser released from the episode, Meredith reminisces and says, "This is where I learned to be a doctor. This is the place where I found my family, the place where I fell in love."
She adds, "Sometimes change is good. Sometimes change is everything." 
Pompeo's reduced role on the show was first announced in August 2022. According to Deadline, her character is set to return for the Season 19 finale later this year. 
In an emotional Instagram post in November, she assured fans she won't be gone for good. 
"I love you madly and appreciate you right back," she wrote. "This isn't your first time on the rollercoaster… you know the show must go on and I'll definitely be back to visit."