The Beckhams turned a red carpet into a family affair!
On Oct. 3, David and Victoria Beckham attended the U.K. premiere of the new Netflix documentary, "Beckham," which explores the soccer star's rise to fame.
On the red carpet, they were joined by their kids, Brooklyn (24), Romeo (21), Cruz (18) and Harper (12), who were all dressed to the nines.
For the event, Romeo Beckham brought along his girlfriend, Mia Regan, and Brooklyn Beckham posed for pictures with his wife, Nicola Peltz.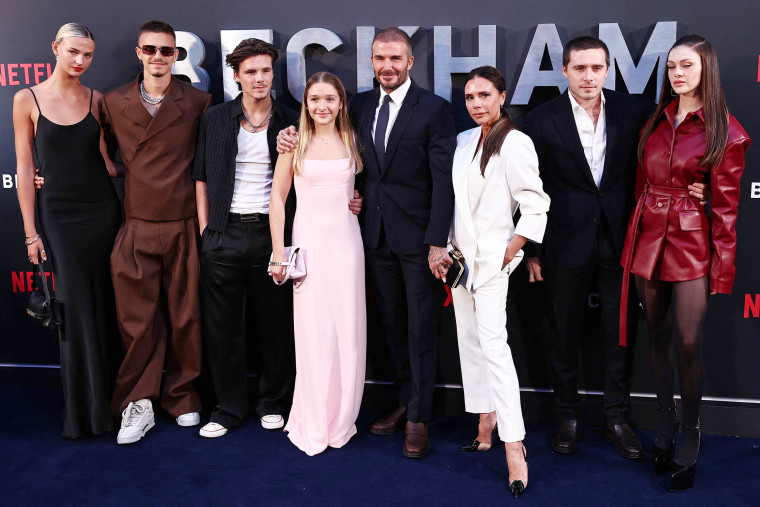 Read on to learn more about David and Victoria Beckham's kids.
Brooklyn Joseph Peltz Beckham
On March 4, 1999, David Beckham and Victoria Beckham welcomed their first child, son Brooklyn Beckham, together. Like his father, Brooklyn Beckham took an interest in soccer at an early age, but by the time he was 16, he was released by the Arsenal Club as a youth prospect.
"My dad wasn't sad, because he was like, I just want you to be happy," Brooklyn Beckham told Variety about his dad's feelings at the time. "But of course I was sad. It was my whole life since I was literally 2."
After giving up soccer, Brooklyn Beckham then started to focus his efforts on different hobbies like modeling, cooking and photography.
"I love taking pictures of my wife. I still have all my film cameras, but now it's just more of a fun thing to do. They were kind of all hobbies. I was still trying to find that one thing I would literally die for, and I found that with cooking," he told the outlet.
In 2022, Brooklyn Beckham got married to his girlfriend, Nicola Peltz, in an oceanfront wedding at Peltz's family home in Palm Beach, Florida.
In honor of the occasion, Brooklyn Beckham's parents gave him a shout-out on Instagram.
Victoria Beckham shared a post on April 10, writing, "Congratulations Mr and Mrs Beckham X Welcome to the family💕💕💕💕 x."
In David Beckham's post shared on April 11, he called himself a "proud" father and said, "Congratulations Bust on a lifetime of happiness, we will always be by your side ❤️."
The former Spice Girls member also recalled her son's nuptials on TODAY in October 2022. While speaking with Hoda Kotb and Savannah Guthrie, she said, "It was a beautiful wedding."
"As a mother, to see my son so happy means so much. What more can you ask for?" Victoria Beckham continued.
Romeo James Beckham
On Sept. 1, 2002, David Beckham and Victoria Beckham welcomed their second child, son Romeo.
After taking an interest in modeling, Romeo Beckham shared a picture of the first cover shoot he did for L'Uomo Vogue in January 2021.
In September 2021, Romeo Beckham made his professional soccer debut on Fort Lauderdale CF, now known as Inter MiamiCF II, an affiliate team of Inter Miami CF that is co-owned by his father.
"Follow your dreams 🤍," Romeo captioned a post of himself on the field.
As for his personal life, Romeo has been dating model Mia Regan. Over on his Instagram, he often shares photos of them together, including a July post of them sharing an intimate moment
"Crazy how lucky I am with this person :) @mimimoocher ♥️," he captioned the snapshot.
The couple made their first joint red carpet appearance at the British Fashion Awards in November 2021.
Cruz David Beckham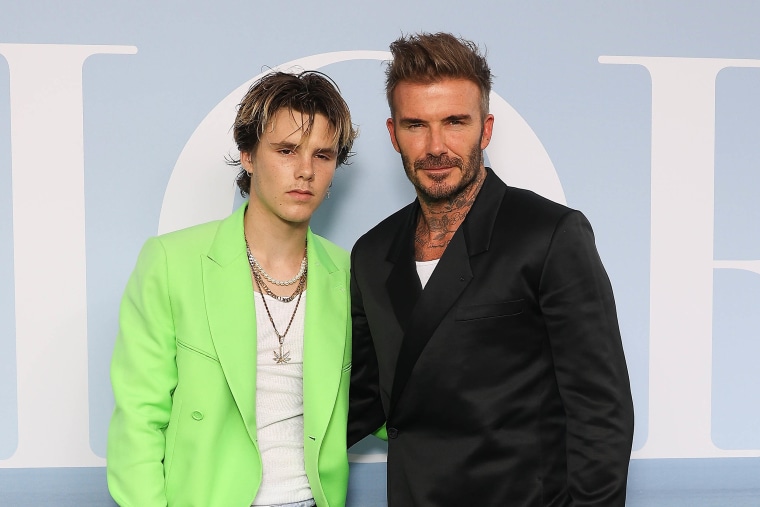 On February 20, 2005, David and Victoria Beckham welcomed their third child, son Cruz.
Following in his mother's footsteps, Cruz Beckham has taken an interest in music. In 2016, he released his song "If Every Day Was Christmas," and the music video featured some of his family members.
On his Instagram, fans can see Cruz Beckham frequently rocking out on the guitar.
In February 2023, Cruz Beckham turned 18 years old. In honor of his birthday, his parents gave him a shout-out on Instagram.
David Beckham wrote, "Happy 18th Birthday to our baby boy ❤️ to the most amazing boy with the most amazing energy and the biggest heart x we are so proud of you and we love you so much Cruzie ❤️ ."
Victoria Beckham shared in her own post, "Happy Birthday Cruzie!! We all love you so much and are so proud of the incredible young man you have become 🙏🏼 You are our everything. Happy 18th superstar ⭐️ 💫 🌟 ❤️."
Harper Seven Beckham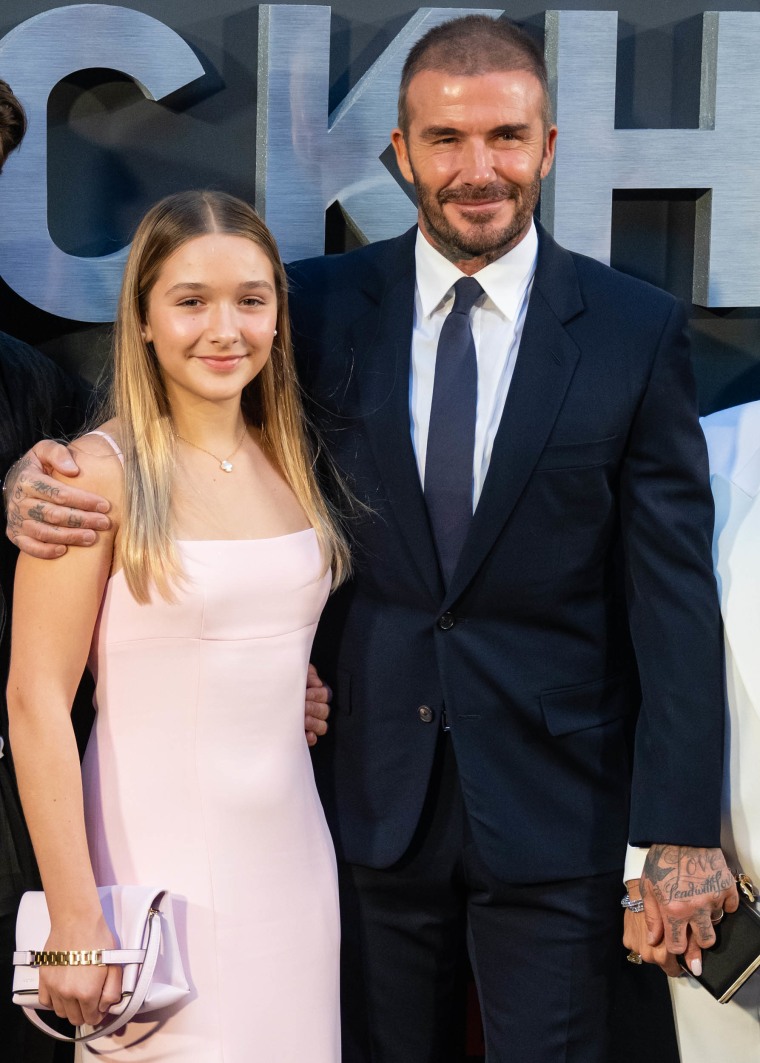 In July 2011, David and Victoria Beckham welcomed their only daughter, Harper.
The Guardian reported that David Beckham revealed why they named their daughter Harper in a Facebook video.
"Victoria's favorite book is 'To Kill A Mockingbird,'" David Beckham explained, saying that their daughter's name comes from the author of the book, Harper Lee. "It's a very strong, passionate book."
As for Seven, David Beckham said that he and Victoria Beckham were fans of the number because of the "seven wonders of the world" and "seven colors of the rainbow."
"In many cultures, it is a lucky number," the soccer star added.
Harper Beckham is also friends with Drew Barrymore's daughters, Olive and Frankie.
"I have to say that Harper's always loved playing with your girls because they're such adorable little girls," Victoria Beckham said on "The Drew Barrymore Show" in October. "And Harper has really enjoyed getting to know your girls."
On social media, Victoria and David Beckham occasionally share pictures of Harper.
In January 2022, David Beckham posted a picture of himself with a serious expression, writing, "Roses are red🌹 Harper seven mentions she has a crush & this is daddy's face 🤬🤬🤬 but it's ok she said daddy you are my only valentine ❤️."
In August, Victoria Beckham shared a cute pic of her daughter applying a little bit of makeup to David Beckham's face.