Charlize Theron had a special date by her side during Paris Fashion Week.
On Sept. 26, the actor and her daughter Jackson sat front row at the Dior fashion show held at Jardin des Tuileries.
Theron was dressed in a white button-up shirt with a gold beaded maxi skirt. Her short hair was pulled back in a sleek low pony.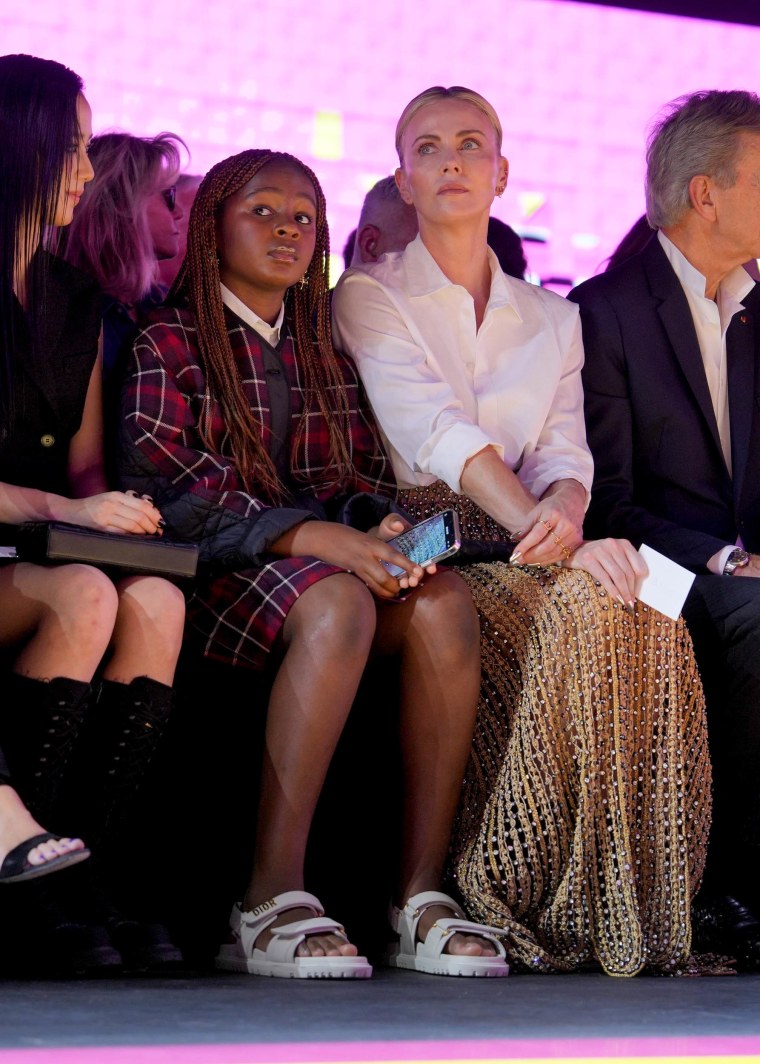 As for Jackson, she was also stylishly dressed in a plaid jacket and matching skirt. She paired the look with white Dior sandals.
Theron's eldest daughter was also seen taking photos of the models and runway during the fashion show.
The actor is a regular at the Christian Dior shows. For nearly 20 years, she has been the face of the brand's classic J'Adore perfume.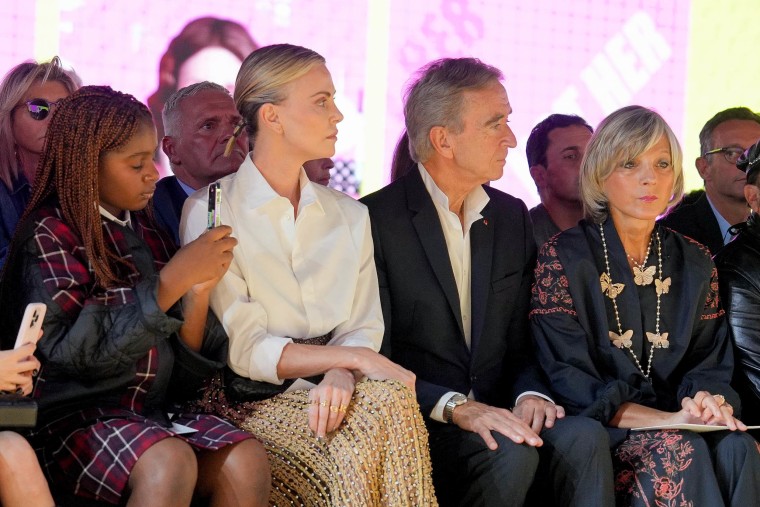 Theron, who is also mother to daughter August, rarely shares photos or makes appearances with her kids. However, on Aug. 8, she shared how Jackson and August are huge Swifties when she posted a cute video of them rocking out at a Taylor Swift concert during the singer's Eras Tour.
While Swift performed her 2014 hit song "Shake It Off" on stage, you could see Theron and her girls singing in the stands, dancing along to the catchy song.
Theron, who just turned 48 years old on Aug. 7, captioned the video, "Thank you for the best birthday ever @taylorswift!!! We had such a great f---ing time 💃."
In 2012, Theron adopted Jackson. Then in 2015, she adopted her second daughter, August.
While speaking with Chelsea Handler in a May 2018 interview for Elle, Theron revealed why she wanted to adopt.
"I was always aware that there are so many children in this world who don't have families,'' she said. "Adoption is a very personal thing — I know people whom I love dearly who don't feel that they could raise another child as their own. I respect that.
"But for me — and I can't be the only person out there — I never saw a difference in raising an adopted child versus my own biological child," she continued. "I don't feel like I'm missing out on something. This was always my first choice, even when I was in a relationship. I was very honest with my partners that I was open to having my own biological kids but that adoption had to be a part of my life. I felt that strongly about it."
Read on to learn more about Theron's two daughters.
Jackson Theron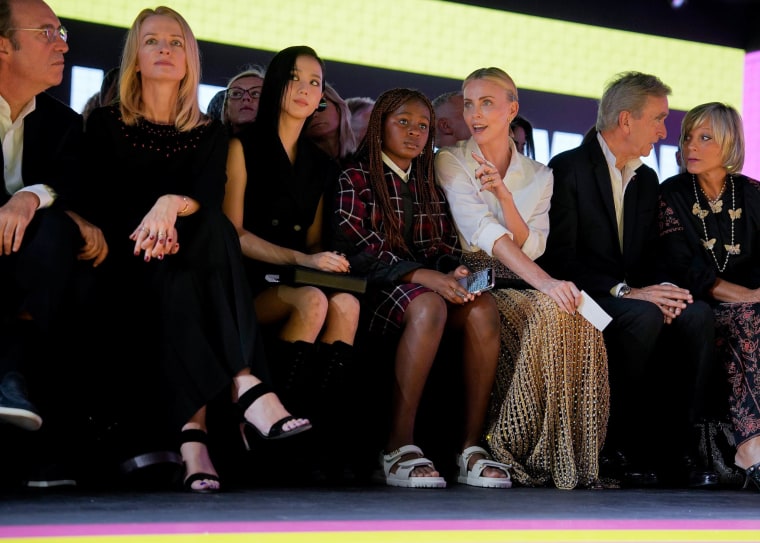 In 2012, Theron adopted her first daughter, Jackson.
In an Instagram post shared in May 2020, Theron reflected on becoming a mom shortly before she started filming her post-apocalyptic film "Mad Max: Fury Road," which hit theaters in 2015.
"I became a mom right before we started shooting," she penned the caption alongside a sweet picture of her holding Jackson on set. "At least my child will forever have the fun fact of 'I spent most of the first year of my life in a war rig'… "
In a 2020 interview with W Magazine's "Five Things" podcast, Theron recalled what the adoption process was like, saying it was "really rough" because multiple adoptions had fallen through.
"Jax I think was the eighth baby that came around," she said. "So a lot of them fell through. A lot of them were high risk pregnancies. You get emotionally attached and then it doesn't turn out the way you're hoping and you get crushed."
"It was probably the lowest part of my life going through that adoption period," Theron added.
However, once she met Jackson, their connection was instantaneous.
"I remember vividly seeing Jackson through a window," she said. "I got out of the car, and I saw her through the window. Somebody was holding her, and my heart just jumped out of my body and I almost couldn't catch it."
As Jackson has gotten older, Theron says that she's become increasingly aware of her mother's profession.
In December 2022, Theron told The Hollywood Reporter that Jackson was embarrassed to see her mother barely wearing any clothes in a Dior ad that she saw in an airport.
"She's just like, 'Oh my God, you're on a f---ing wall with no shirt, Mom. This is so embarrassing. Put a shirt on!' And I'm like, 'That will pay for your college!'"
August Theron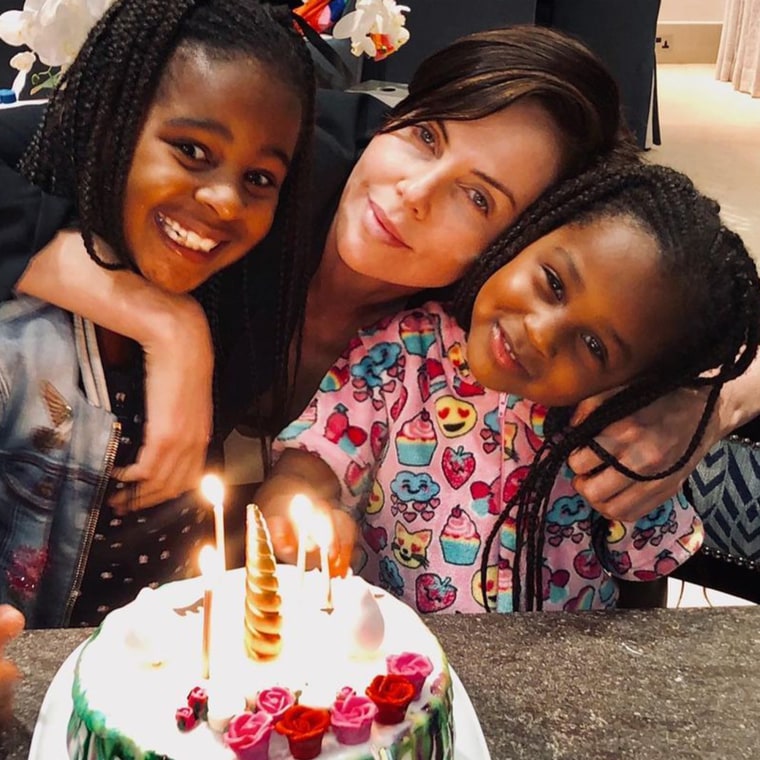 In 2015, Theron adopted her second daughter, August.
While speaking with Handler for her Elle feature in May 2018, Theron noted that she took a different approach to parenting when August came home.
"In the beginning, I wanted to do it all and didn't reach out for as much help as I actually needed," she said. "I felt, If I don't do all of this, then maybe I am a bad parent. The second time, I realized I am happier and my kids are happier if I ask for more help.
"People think I have a staff of 40, but I don't," she continued. "I have one nanny and my mom up the street and amazing friends and family. I call them my village."
As August grew older, she started to take an interest in martial arts, which Theron shared during a 2019 appearance on "The Tonight Show."
Theron told Jimmy Fallon that August had taken up an interest in martial arts, but she had no idea how her daughter learned the art form in the first place.
"I came in the other day and she literally had my assistant in like, a back lock and a full grip and she wouldn't let go," Theron recalled.
August also has an eye for fashion. In a 2022 interview with The Hollywood Reporter, the Oscar-winner recalled a time when she tried to take August to Target and had to tell her to change her clothes.
"The other day, I said to my little girl, my baby, who's wild, I said, 'We have to go to Target in 30 minutes, so be ready.' And she came downstairs in a f---ing crop top," Theron said.
When Theron asked August to put on a longer shirt, she said her daughter became upset. 
"She was 6 at the time, and she was just like, 'Why is how I express myself so upsetting to you?'" Theron shared. "And she was right, and sometimes you have to be able to look at a 6-year-old and go, 'You're right.'"