Carrie Underwood's 40th birthday was a memorable one.
The country superstar kicked off her milestone birthday on March 10 with breakfast in bed, per her Instagram story, but as the day kept going, she was surprised with a slew of special and meaningful gifts.
Among them included the heartwarming cards that her sons, Isaiah, 8, and Jake 4, gave her.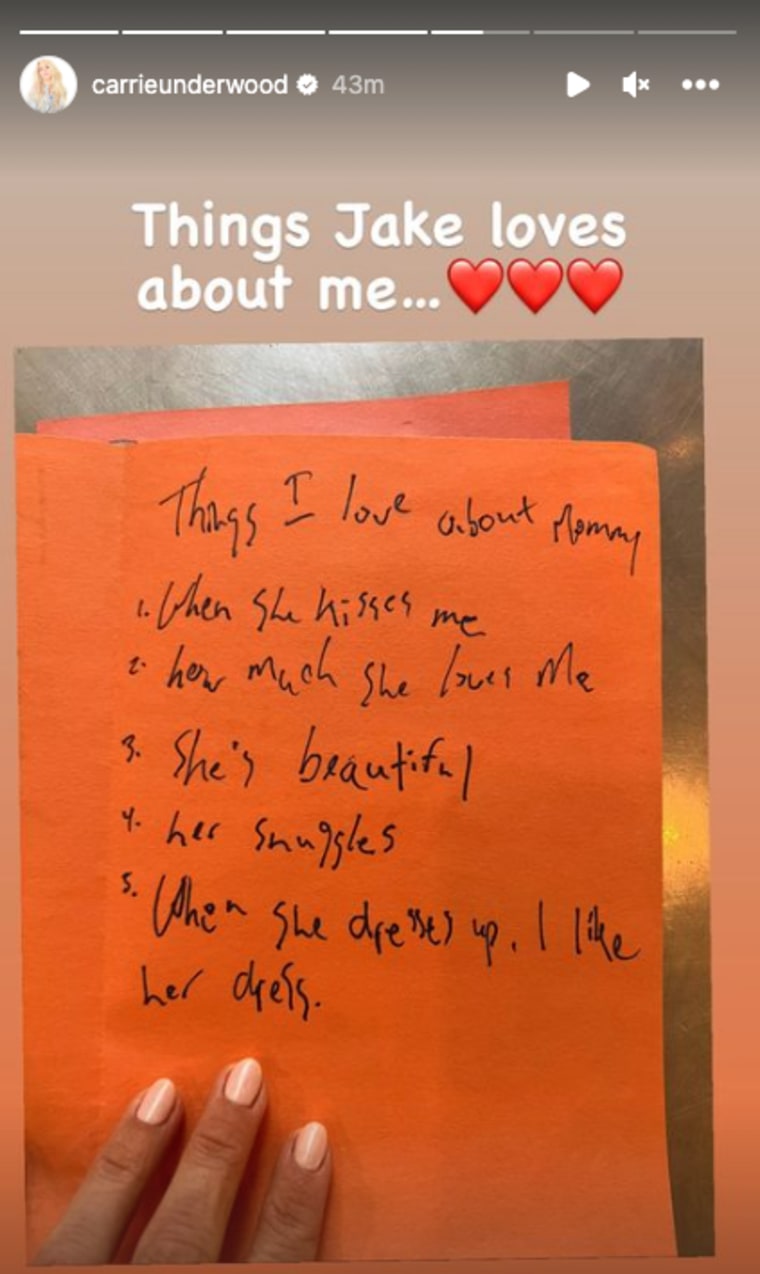 "Things Jake loves about me," she wrote on her Instagram story, sharing a photo of his list that included, "When she kisses me, how much she loves me, she's beautiful, she snuggles" and "when she dresses up. I like her dress."
She also shared her eldest boy's list that included four things he loves about his famous mom.
"I love her snugles, I love her kissis, I love her singing and most of ALL I Love her," reads Isaiah's handwritten birthday note.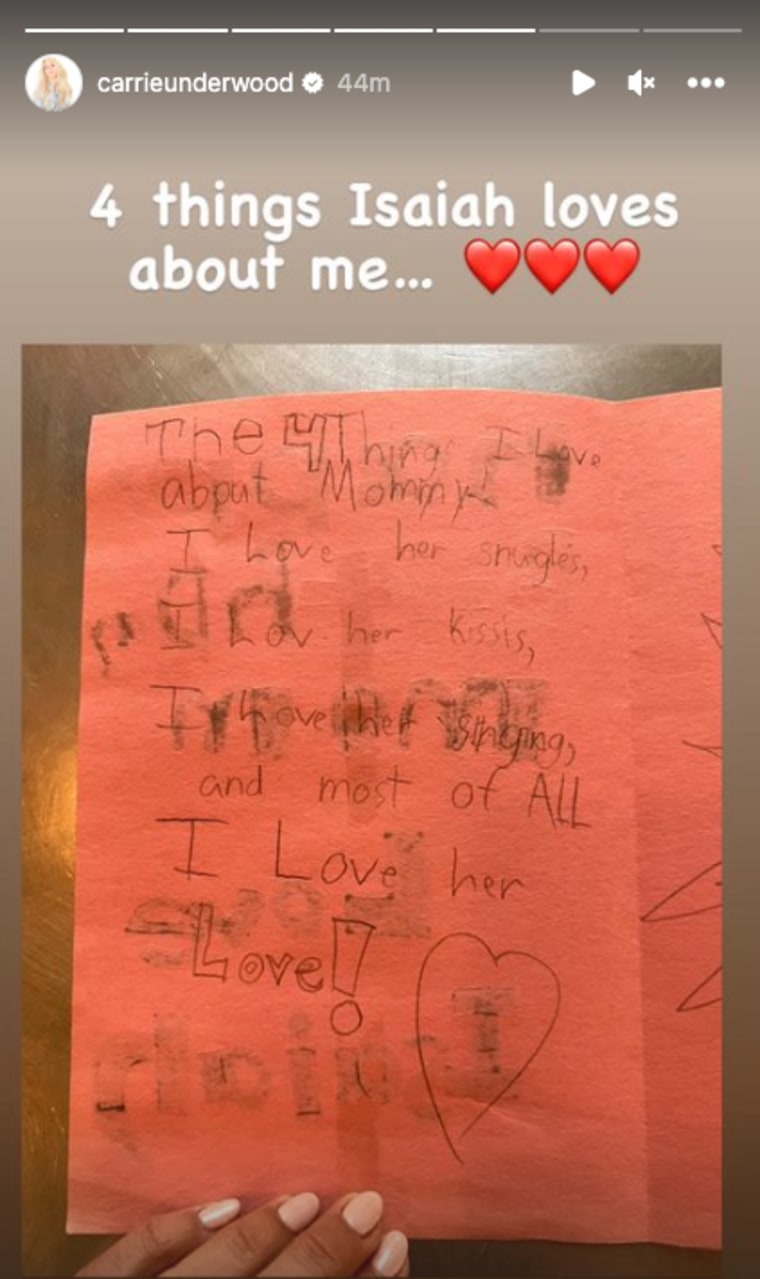 The sweet gifts didn't stop there as her husband, Mike Fisher, gave her one impressive cheese tower as a birthday cake.
"Happy birthday babe!! The boys and I love you so much!! #happybirthday," the former hockey player captioned his Instagram post, which shows Underwood in a kitchen smiling behind bottles of wine and the literal cheese cake.
The birthday girl couldn't have been happier for her stacks of cheese wheels and wine. In her Instagram story, she also shared a closer look at the gift, which included 40 bottles of wine, one for each year she's been alive.
"A 'cake' tower made entirely of cheese wheels & a lifetime's worth of wines starting at 1983," she wrote, adding, "I feel understood."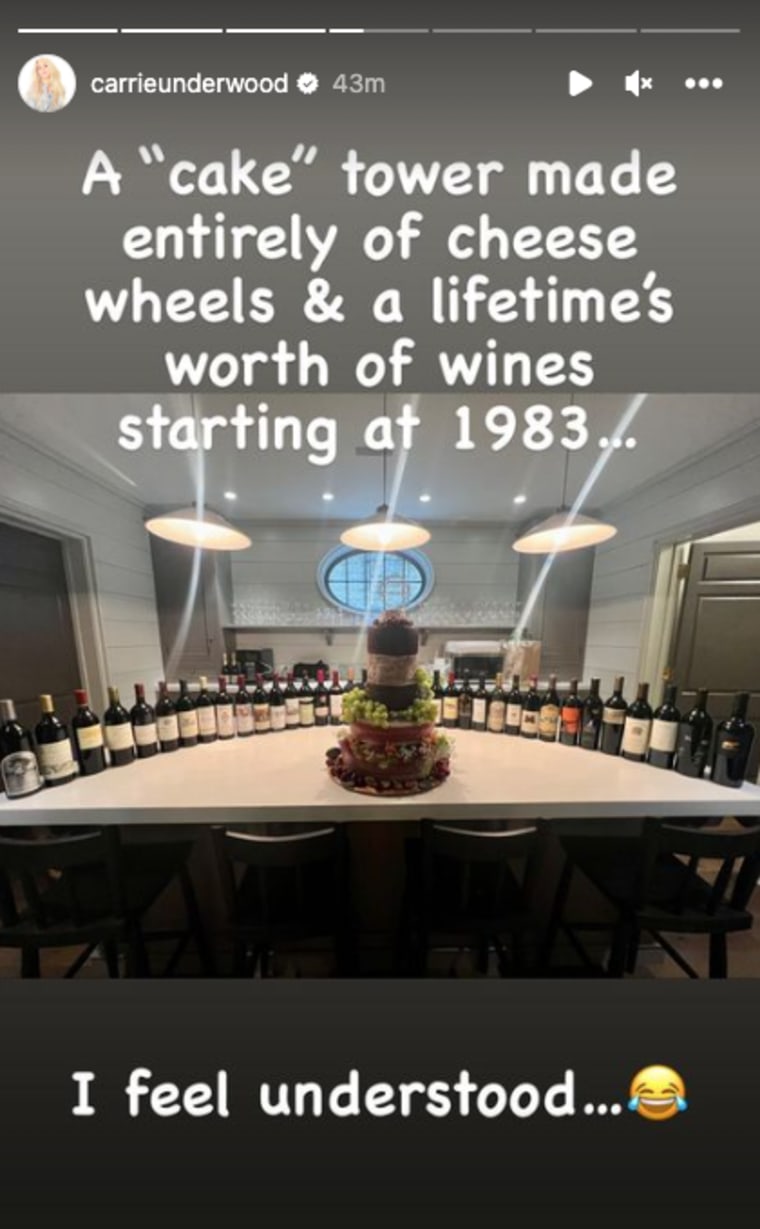 She also shared a selfie of herself next to the cheese tower "for size context."
"I believe this is about 70lbs of cheese!" she wrote.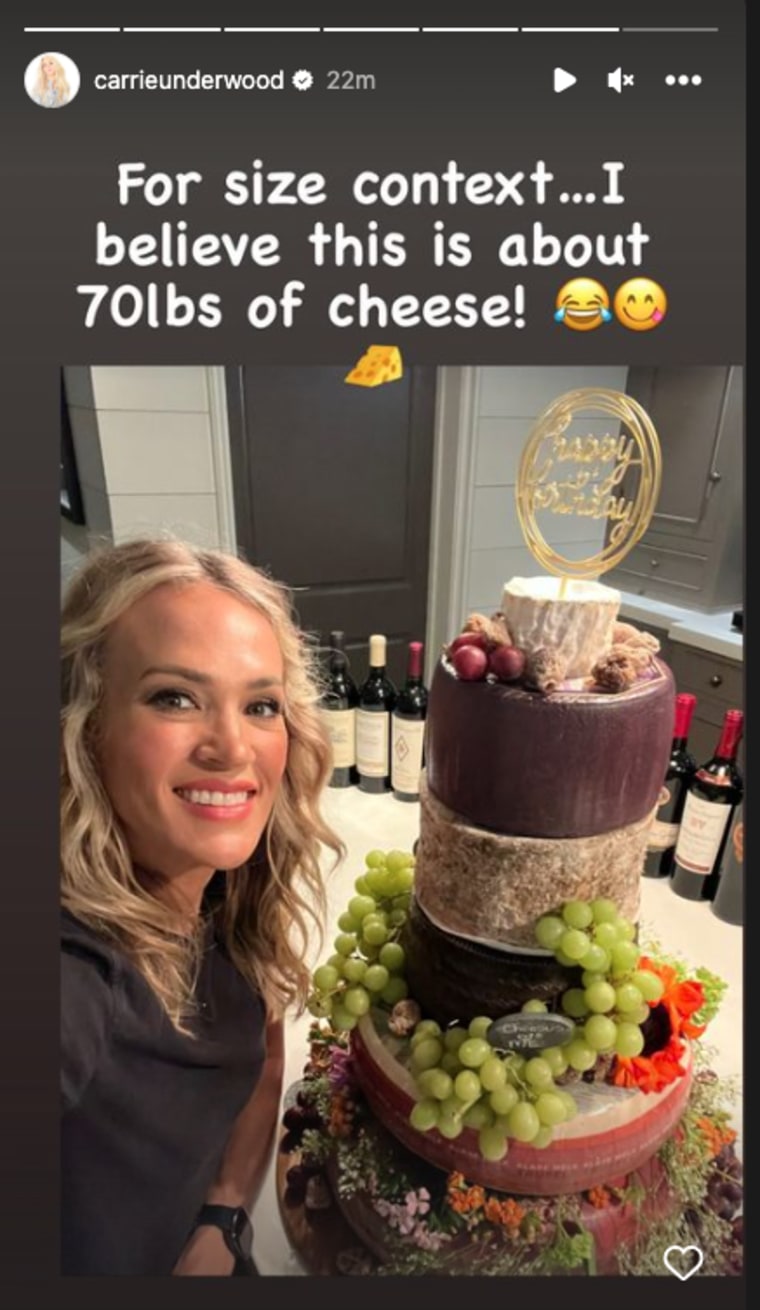 Underwood, on her end, also gave her fans a gift on her birthday, releasing her new song "Out of That Truck."
The singer has been busy with her "The Denim & Rhinestones Tour," as well as welcoming a new member to her family: an adorable puppy.
Last month, the Grammy winner showed off her family's new pet, a golden brown puppy named Charlotte "Charlie" Nilla Fisher.
"We had been looking for the right pup for our family for a while and she seemed just too good to be true!" she wrote in part on Instagram, alongside photos of the pup. "She is happy at home playing with her boys…and Penny and Zero have responded well and are getting to know their new sister…"
Additionally, Underwood is also prepping for the summer return of her Las Vegas residency, "Reflection," and spoke with TODAY about managing it all.
"I found myself feeling sluggish and not feeling like I had as much energy or had that get-up-and-go that I did when I was younger, when I was in my teens," she told Shop TODAY in January. "So that's when I started taking a look at what I was putting in my body, how I was treating my body."
She also focused on her fitness routine, adding, "I wanted to be around doing what I do for a long time and I just slowly started getting into it. I've learned a lot along the way, and now I know what it feels like when I don't work out, when I don't eat right, when I don't stay hydrated and I don't like that."