Camilla Alves McConaughey had a few unexpected visitors on her recent trip to Paris.
While on a trip to Paris for fashion week, Alves McConaughey, who is married to actor Matthew McConaughey, shared the surprises on her Instagram story, with one photo of her daughter holding some sweet raspberry treats.
"Look who showed up in Paris!!! Vida!!" she wrote over the photo. "My 13 year old."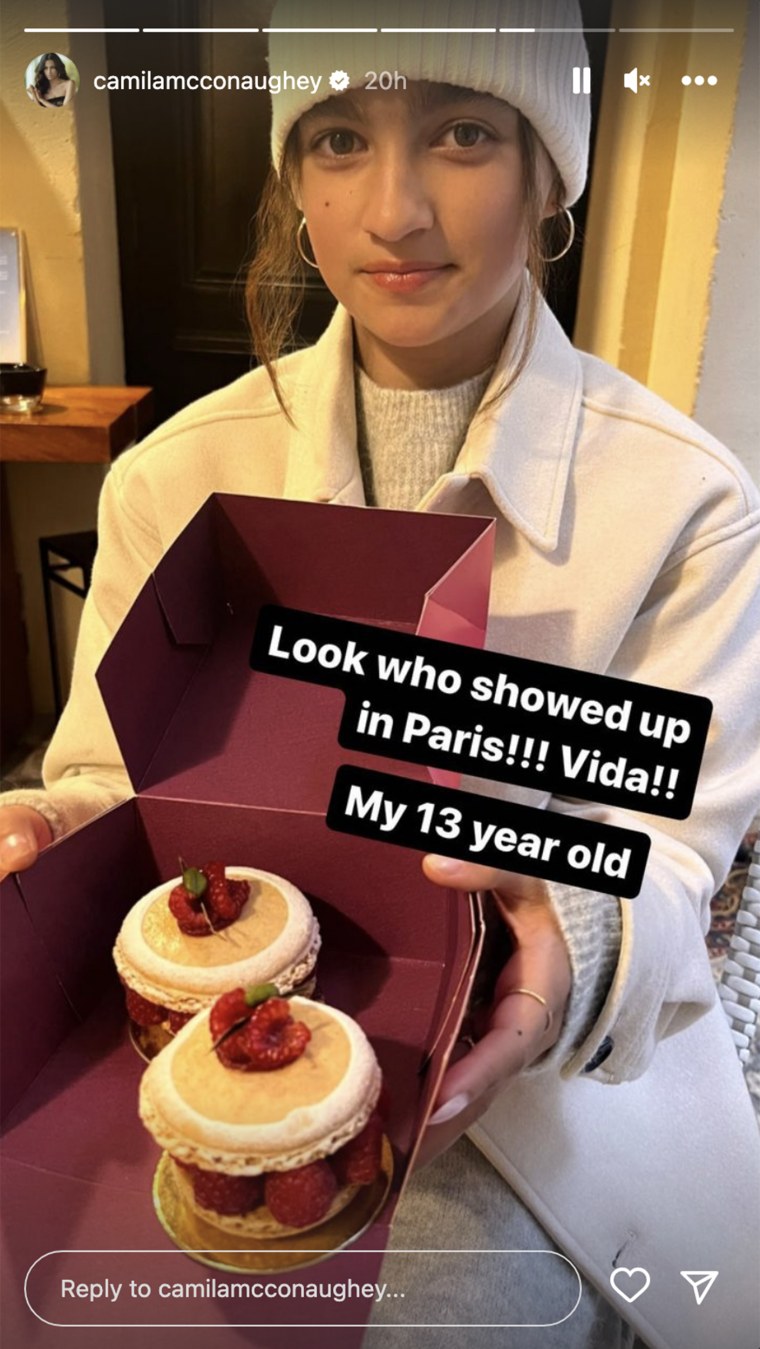 In a subsequent black-and-white picture, Alves McConaughey posted that her son and mother, who sat cozied up smiling together at a café, also headed to France for the fun.
"Look who else showed up!! Levi (14 now!!) and my mom too!!," she wrote, adding green and yellow hearts.
The native Brazilian also added a few lines in Portuguese, which translates to, "Look who arrived here in Paris — my daughter, my son and my mother!!"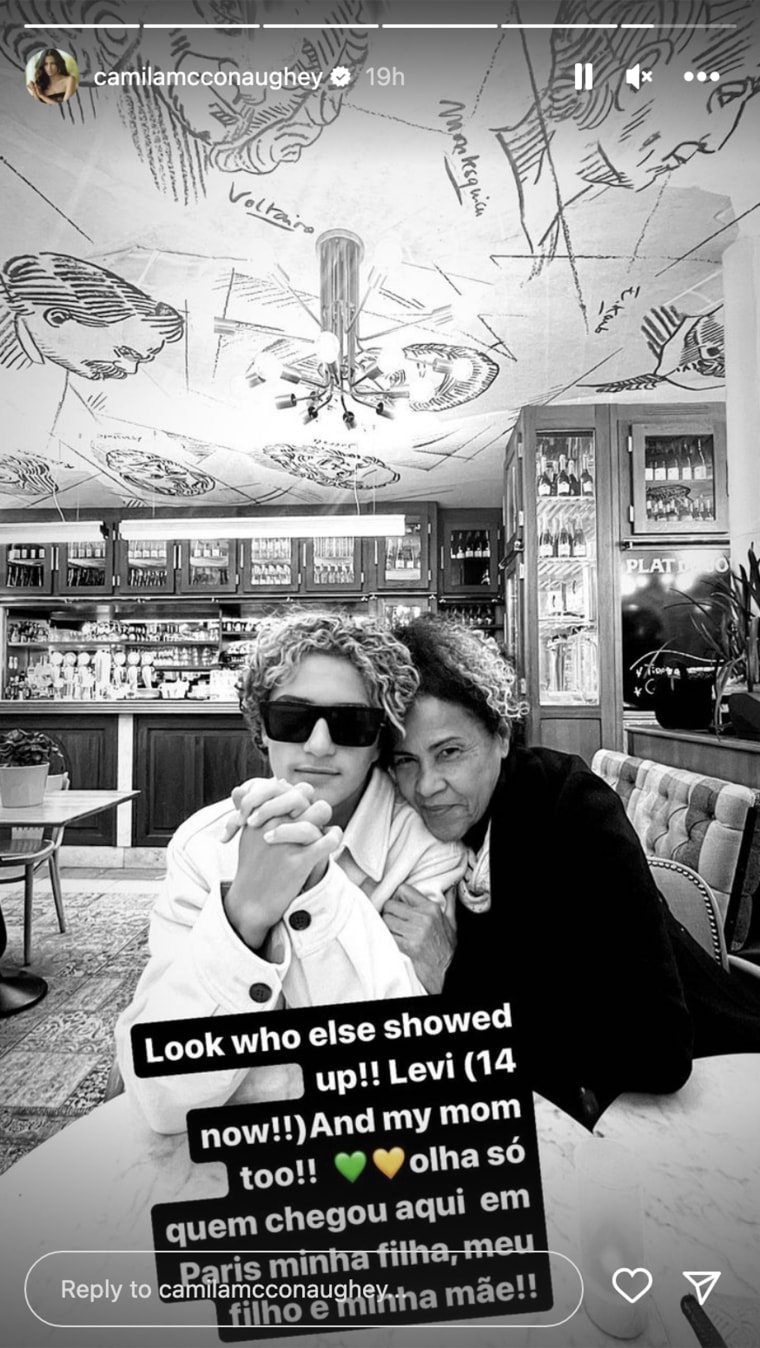 She and Matthew McConaughey also share a 10-year-old son, Livingston.
Alves McConaughey was pictured with son Levi Alves McConaughey and daughter Vida Alves McConaughey at the Stella McCartney Womenswear Fall Winter 2023-2024 fashion show on Monday, March 6.
The trio donned coordinating beige outfits, with Alves McConaughey sporting a black bandeau top and tan trousers with a blazer, fedora and snake-print heels. Meanwhile, Levi wore matching plaid pants and a zip-up under an off-white jacket, with Vida showing off a light-colored dress with an attention-grabbing female face.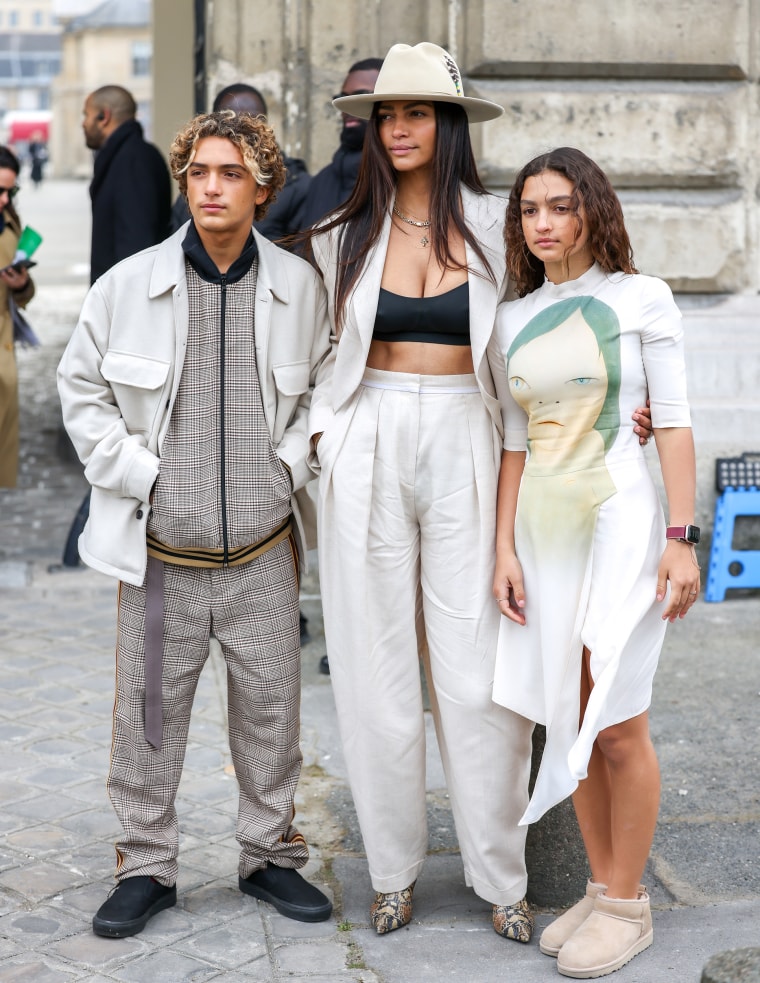 But the trip to Europe wasn't seamless for the Austin-based couple.
In another Instagram story posted on Sunday, March 5, Alves McConaughey showed video footage of people approaching her to ask how she was coping with her traumatic flight experience.
On March 1, the model and designed was on a Lufthansa flight with Matthew McConaughey that was rerouted by "severe turbulence." Alves McConaughey shared a frightening video from inside Airbus A330, which was hit by unstable air while 37,000 feet up.
"On (a) flight last night, the plane dropped almost 4000 feet," Alves McConaughey wrote in the caption for the video. "Everything was flying everywhere. To respect the privacy of those around me, that's all I am showing, but the plane was (in) CHAOS and the turbulence (kept) on coming."
The plane took off from Austin, Texas and was headed to Germany when it experienced severe turbulence while flying over Tennessee, according to NBC News. Lufthansa Flight 469 was ultimately forced to land at Dulles International Airport in Washington D.C., with seven people taken to the hospital upon a rough landing.