Bruce Wills' two little girls just had a major proud daughter moment.
On a trip to Hollywood, California, Emma Heming Willis brought the couple's daughters, Mabel, 11, and Evelyn, 9, to see their dad's mark on the movie industry.
In their first stop, Heming Willis shared a picture to her Instagram story of their feet surrounding the "Die Hard" actor's star. The 45-year-old shared a shot of all their feet surrounding the accolade.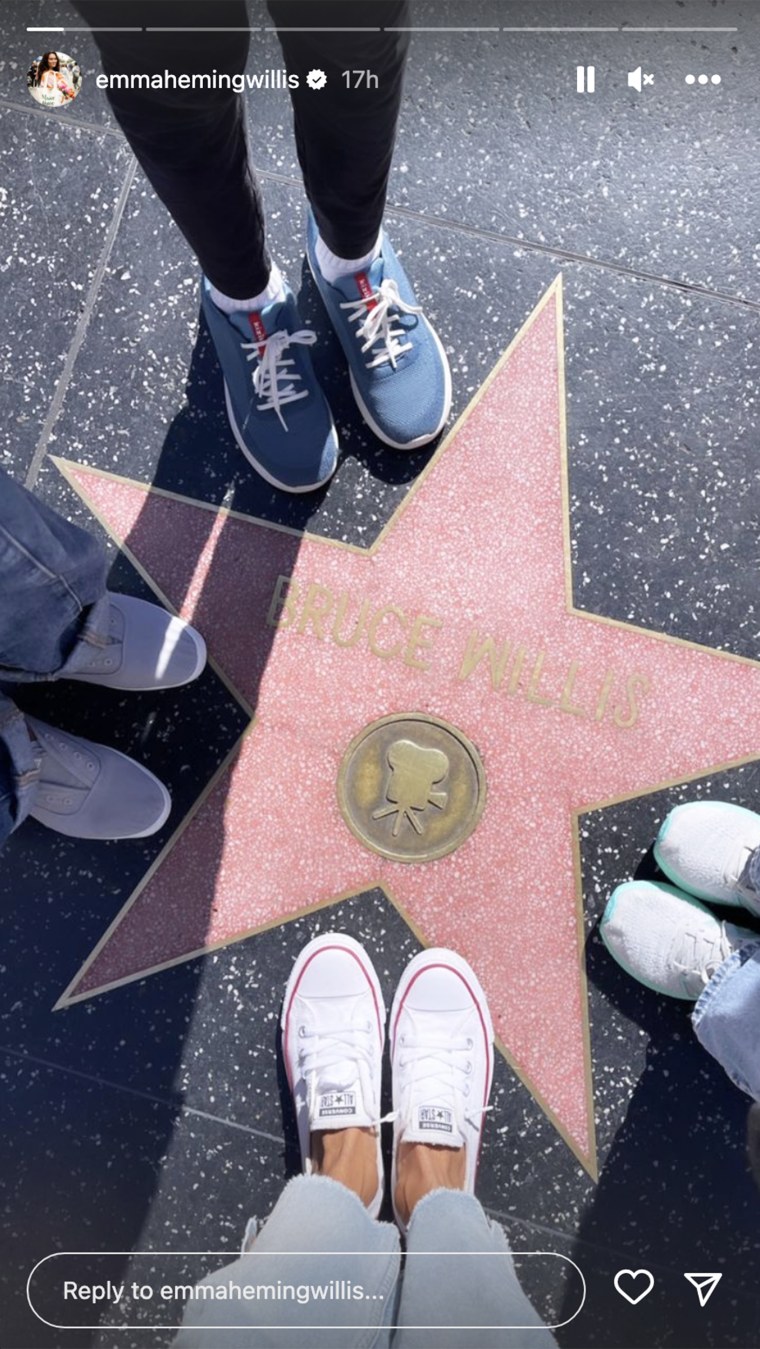 Next, the mother and daughters headed down Hollywood Boulevard to Madame Tussauds to find Willis' wax figure, where he dramatically stands with a cut on his face and holding a gun in front of burning buildings.
Heming Willis shared a sweet video of her daughters reacting with a big smile to seeing their movie star father.
After spotting Willis' figure, Evelyn turns to the camera and says, "Guys, it's Dad!" She then waves a finger in front of the figure's face and goes, "You better be on your best behavior!"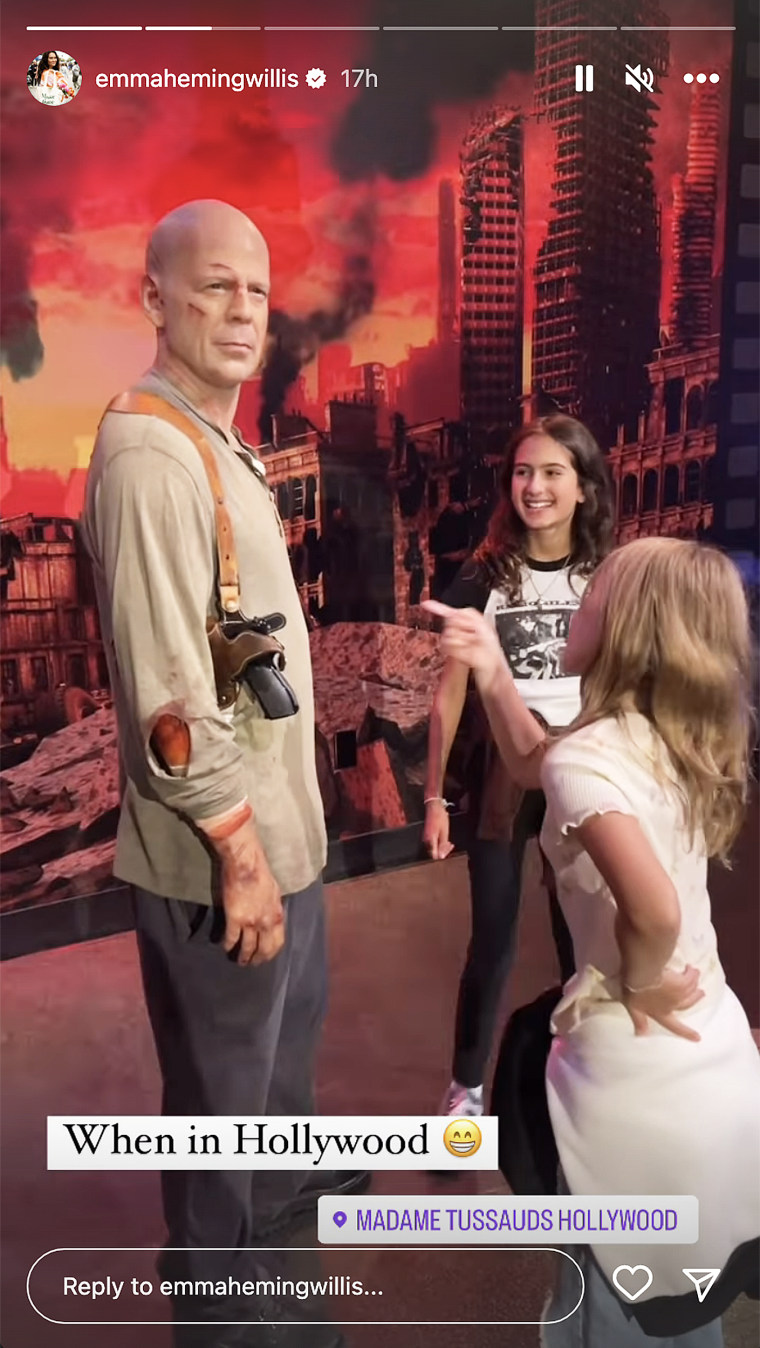 In text over the video, Heming Willis wrote, "When in Hollywood" with a smiley face emoji. She also tagged Madame Tussauds Hollywood.
For one last recap, Heming Willis also shared a throwback pic from 2018 where she and her daughters are visiting the actor's figure. She's seen making a kidding face beside his cheek, while the two girls stand below her smiling.
"We've done this before," she wrote, adding the hashtag, #proudfamvibes.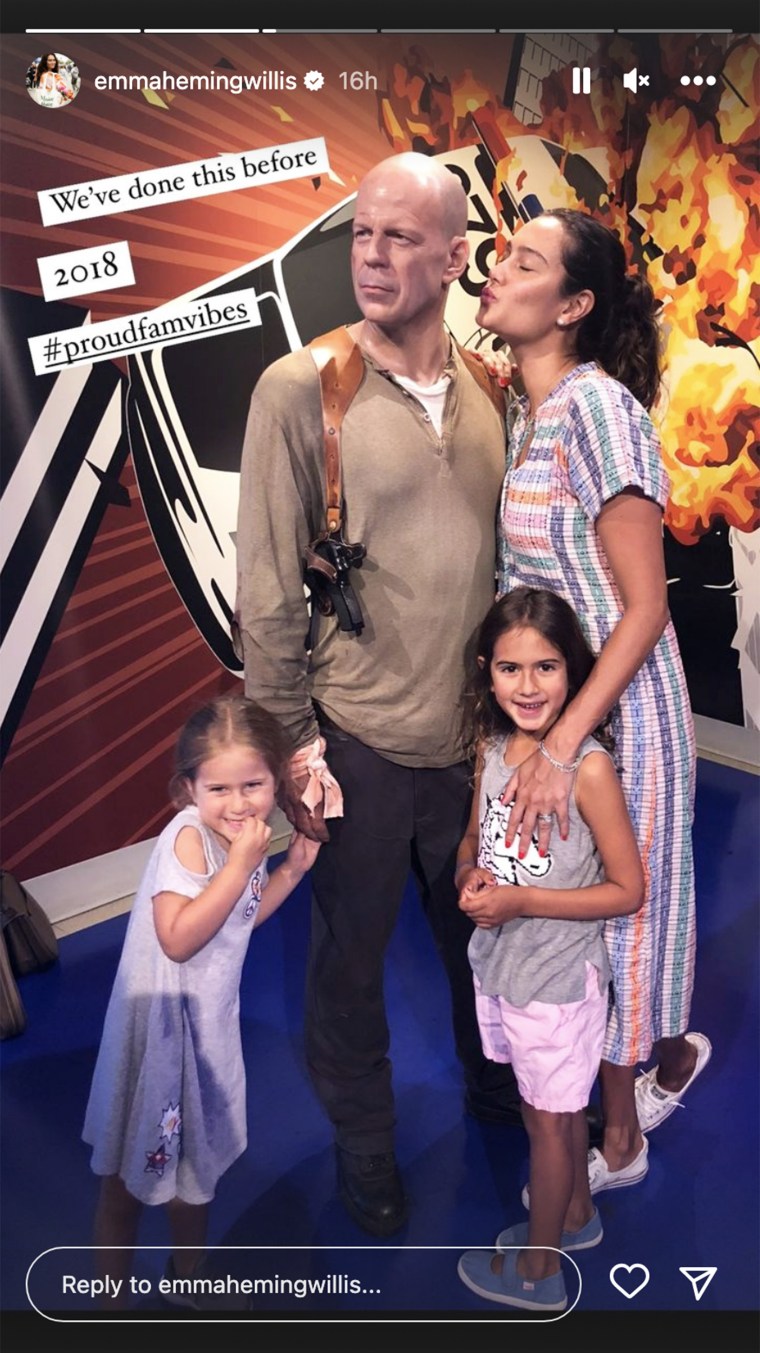 Willis was diagnosed with frontotemporal dementia, a type of neurodegenerative disease that affects the frontal and temporal lobes of the brain, earlier this year. His family had previously announced his diagnosis of aphasia in spring 2022.
"Unfortunately, challenges with communication are just one symptom of the disease Bruce faces. While this is painful, it is a relief to finally have a clear diagnosis," the family wrote in a joint statement on Feb. 16.
In addition to Mabel and Evelyn, whom he shares with Heming Willis, the actor is also dad to Rumer, 34; Scout, 31, and Tallulah, 29; all of whom he shares with his ex-wife, Demi Moore.
On Father's Day and simultaneously her birthday June 18, Heming Willis took a moment to share some sweet pics of her family and honor husband Willis.
Alongside a photo of Willis kissing Mabel, Heming Willis wrote of her "deep appreciation and respect" that her husband shows towards their daughters.
"Where it might not be 'conventional,' what he's teaching them will span generations. Unconditional love, kindness, strength, compassion, patience, generosity, resilience," she captioned the post. "Happy Father's Day to the greatest dad I know, who will forever be the gift that keeps giving within our family."
Hours later, she shared a series of photos, including one blowing out a candle with her daughters and a close-up shot of the two of her and Willis.
In her caption, Heming Willis made a "BIG" birthday wish to caretakers, challenging her followers to reach out to a person in their lives who they consider a "caregiver" and offer some help.
"If the caregiver says, 'I'm fine, I don't need anything,' which most likely is what they just might say, then drop some food at their doorstep or flowers or a small something and text them after to let them know it's there," she wrote. "Or honestly, just tell them thank you and that they are doing a great job. That kindness and support will go such a long long way."