Billie Lourd is grateful that her kids can get to know her late mom, "Star Wars" legend Carrie Fisher, through the magic of movies.
The former "Scream Queens" star, 30, opened up about her love for her mom, who famously shot to stardom playing Princess Leia in the first three "Star Wars" movies, during an emotional speech at Fisher's posthumous Hollywood Walk of Fame ceremony on May 4, or "Star Wars" Day.
Lourd told the crowd she would roll her eyes as a child whenever Fisher suggested she watch "Star Wars." Like most kids, she said, she grew up thinking her mom was an "embarrassing" figure — that is, until young boys at her school began telling her they "fantasized" about Princess Leia.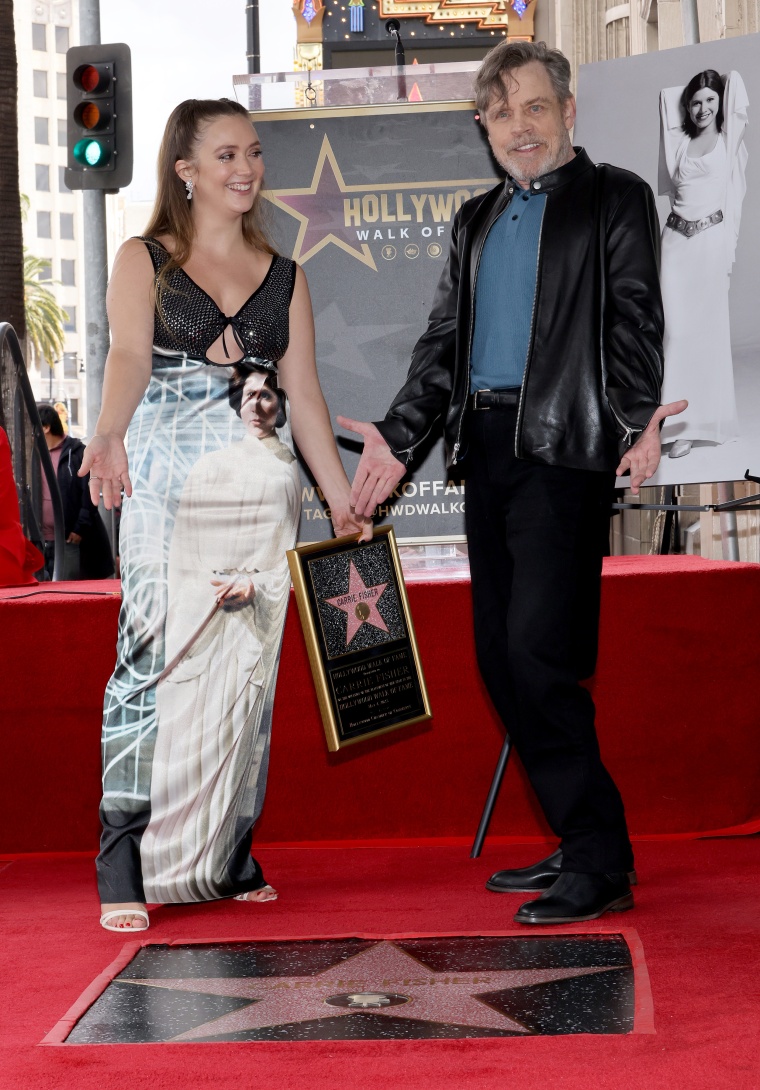 "So I went home to investigate who this person was they were talking about. I finally watched the movie I had forever considered 'too loud' and finally figured out what all the fuss was about the lady in the TV," said Lourd, who wore a dress featuring the image of Princess Leia.
The "Booksmart" star went on to say that she was determined to hate "Star Wars."
"Like any kid, I didn't want my mom to be hot, or cool. She was my mom," she explained. "But that day, staring at the screen, I realized no one is, or will ever be, as hot or as cool as Princess Leia."
Lourd recalled attending a comic-con event with her mom months later and being stunned by how many attendees dressed up as Leia.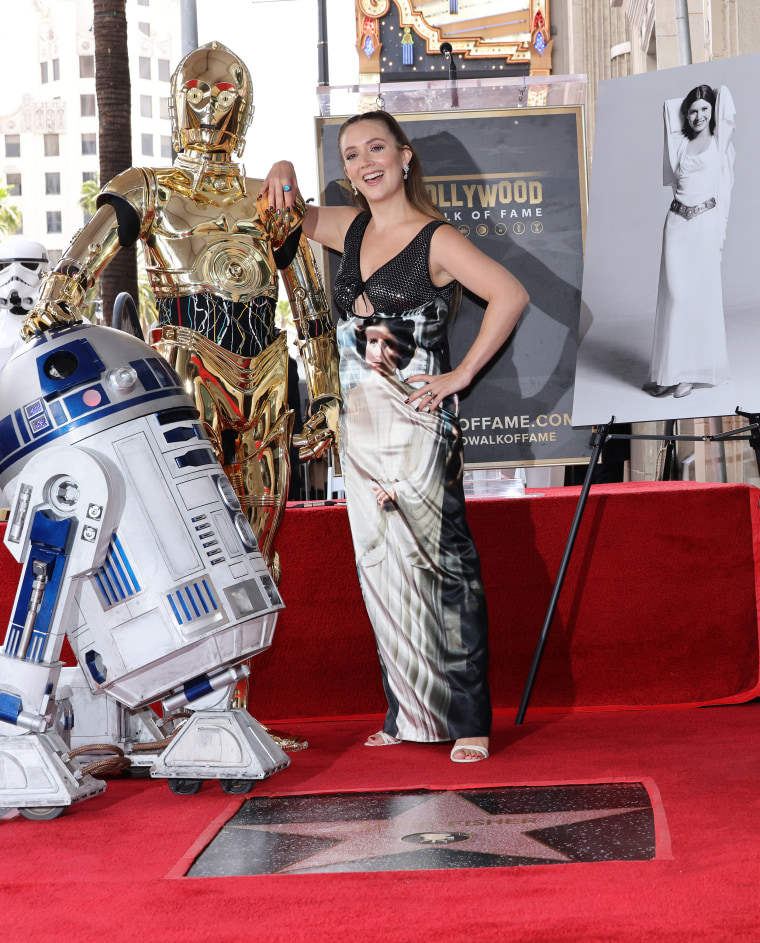 "People waited in line for hours just to meet her. People had tattoos of her. People named their children after her. People had stories of how she saved their lives," she recalled with pride.
Princess Leia, said Lourd, is "more than just a character."
"She's a feeling," she explained. "She is strength. She is grace. She is wit. She is femininity at its finest. She knows what she wants and she gets it.
"She doesn't need anyone to rescue her because she rescues herself — and even rescues the rescuers," she said to cheers.
"And no one could have played her like my mother," she added.
Fisher died at the age of 60 in 2016 after suffering a heart attack. The following day, Fisher's mom, Hollywood legend Debbie Reynolds, died at 84 after suffering a stroke.
Lourd, who appeared in small roles in the last three "Star Wars" movies, said since her mother's death she has "fallen deeply in love with Leia and the entire 'Star Wars' universe."
She's now sharing the movies with her and husband Austen Rydell's two kids: son Kingston, 2, and daughter Jackson, born in late 2022.
"I've now passed the torch, or in this case, lightsaber, onto my two children," said Lourd.
"I feel so lucky that even though they won't get to meet my mom, they will get to know a piece of her through Leia, and I will get to tell them that the little lady in the TV is my Momby, their Grandmomby," she added, struggling to hold back tears.
Lourd's emotional tribute to Fisher comes just one day after Fisher's brother, director and producer Todd Fisher, and her half sister, former "Ellen" star Joely Fisher, accused Lourd of excluding her mom's three siblings from the Walk of Fame ceremony.
"For some bizarre, misguided reason our niece has chosen not to include us in this epic moment in our sister's career. This is something Carrie would have definitely wanted her siblings to be present for," Joely Fisher wrote in an Instagram post.
Lourd responded to the allegations by saying she and her late mom's siblings "have no relationship."
"The truth is I did not invite them to this ceremony. They know why," Lourd wrote in a statement given to TODAY.com.
"To be clear — there is no feud. We have no relationship. This was a conscious decision on my part to break a cycle with a way of life I want no part of for myself or my children," she added.