James Tupper and his son, Atlas, had a sweet father-son outing.
The late Anne Heche's 14-year-old son attended the Race to Erase MS 30th anniversary Gala at Fairmont Century Plaza on June 2 in Los Angeles with his actor father. Both Tupper and Atlas matched in black suits and white button-up dress shirts.
Heche was declared legally dead on Aug. 12, 2022, a week after being involved in a fiery car crash. She was removed from life support on Aug. 14 at the age of 53.
The "Volcano" actor was also mother to son Homer Laffoon, 21, whom she shared with ex-husband Coleman Laffoon.
While at the Race to Erase MS event, Tupper told People that he and Atlas are "taking care of each other" after Heche's death.
"We're taking care of each other and taking it one day at a time," he said. "We've got a lot of great support and family around us, and it doesn't help."
"We still miss her, we miss her every day, love her," Tupper said of his ex and mother of his child.
Tupper also shared a sweet note about the event on his Instagram, sharing a photo of them on the red carpet. In his message, she wrote that he was proud "of my son for being brave enough to walk the Orange Carpet. A beautiful evening."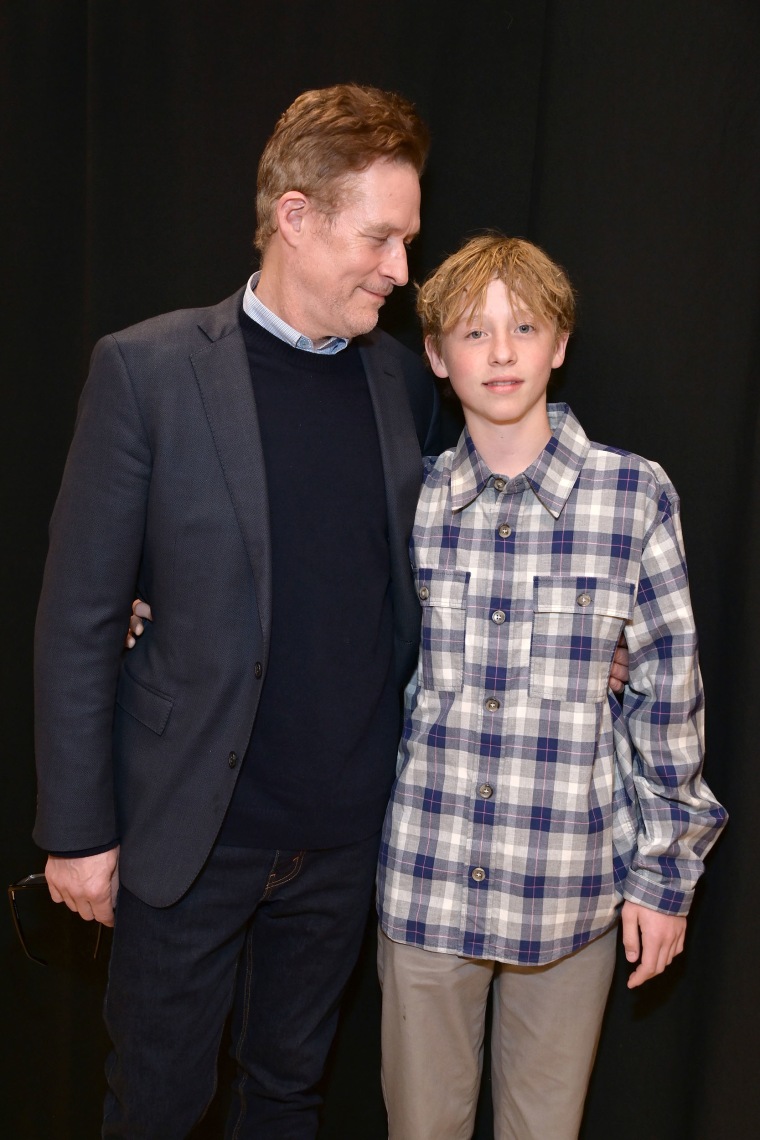 Their appearance came months after the duo also stepped out together on Jan. 24. Tupper and Atlas posed for photos at the Celebration for Anne Heche reading of "Call Me Anne" by Heather Duffy at Barnes & Noble at The Grove in Los Angeles.
"Call Me Anne" was the late actor's second memoir following 2001's "Call Me Crazy." In January, Homer Laffoon revealed that the book would be released and also thanked people for their support amid the family's tragedy.
"First things first, from August to now, the amount of love, care and support shown by those on social media and IRL has been overwhelming and blessedly received — thank you," he wrote. "One day at a time is working for me as I'm sure the healing journey will be a long one. Your good thoughts and well wishes will continue to comfort me on my path."
"My mom had a completed manuscript for a second book at the time of her passing. The book is the product of mom's further efforts to share her story and to help others where she could," he continued.
In a 2017 interview with People, Heche spoke about her sons' close bond and how they share a sense of humor.
"Both of my kids crack me up. I play a game with Atlas where he tries to hit a Waffle ball one-handed with a bat while running. He's very coordinated but if he misses, he'll say, 'Mom, go get it!' So basically he's turned me into a dog," he recalled. "We turn on music and groove out. I also incorporate it in my workout and I'll have him join me so it becomes fun."