Alicia Keys and Swizz Beatz's 12-year-old son, Egypt, already knows what he wants to be when he grows up — and it is somewhat unexpected. 
During an appearance on "The Jennifer Hudson Show" on April 25, Swizz Beatz gushed about his son and the pre-teen's musical abilities. 
But when Egypt joined his father on Jennifer Hudson's spacious white couch, he revealed another special talent that he wants to pursue as he gets older.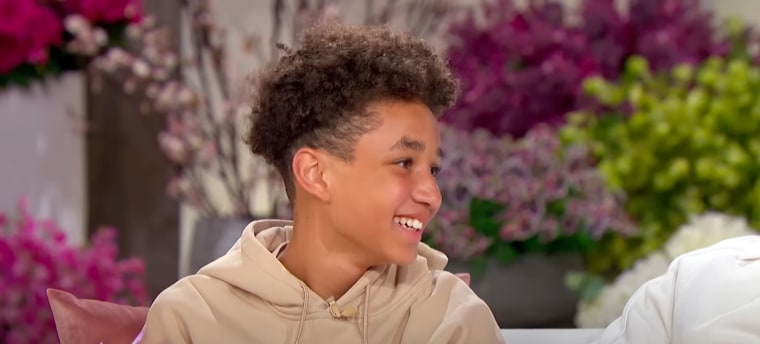 "Do you want to be a musician like your mom and your dad?" the talk show host and singer asked.
Egypt replied, "Well, I love music, but I don't really want to be a musician. I want to be a basketball player."
Hudson, Swizz Beatz and the audience applauded Egypt's honest answer. "I love that," she said.
The 12-year-old is looking forward to becoming an NBA star after already getting a glimpse into the life of a musician. 
Before his son arrived, Swizz Beatz and Hudson reminisced about Egypt playing with her 13-year-old son David in the recording studio when they were younger.
The EGOT winner recalled their children singing and playing the piano together. Since then, Egypt has joined his mom on stage a few times to play the piano and he also produced a song on Kendrick Lamar's 2016 album "Untitled Unmastered." 
Swizz Beatz joked about his son charging Keys and Lamar for his performances before he explained how the collaboration with the "Humble" rapper came about.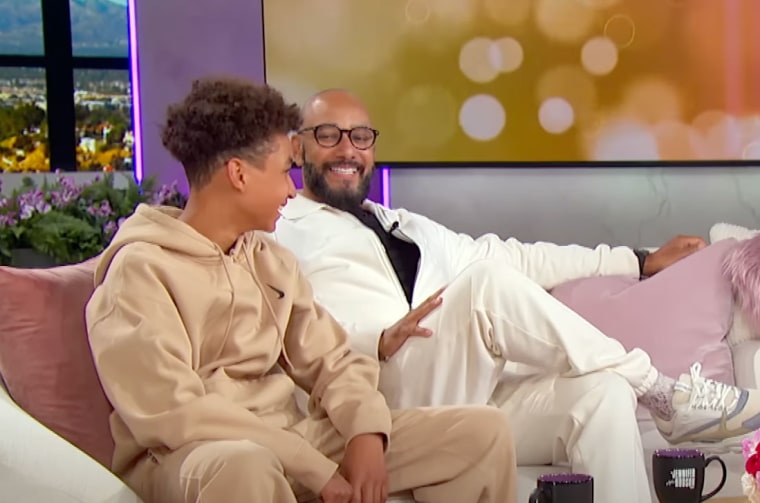 "I'm jealous as hell of that one," the 44-year-old producer said, adding that Egypt and Lamar hit it off after meeting at a Super Bowl. "I looked and him and Kendrick was talking for like 40 minutes. I went over and said to Kendrick, 'Is he bothering you? Should I move him? You enjoying yourself?'"
He was surprised when Lamar said that Egypt, who was 5 at the time, was actually helping him with writer's block. 
"'What Egypt is telling me is helping me deal with something,'" Lamar told Swizz Beatz. 
Later, Egypt and Lamar reunited for the musician's compilation album. Egypt is featured on the untitled track seven and he is credited as a producer, too. 
Hudson chimed in and asked, "But did he charge him though?"
Swizz Beatz laughed and responded, "He definitely charged him. Egypt got some money off that record."
Although Swizz Beatz said it has been "beautiful" to watch his son's musical skills evolve, he said it is important to him and Keys to not "force" music onto Egypt.
Speaking about their parenting style, he told Hudson, "The one thing that we don't do is force things on them. You don't force art. We don't force music. What we force is good intentions.
He continued, "As long as you have a good intention on what you're doing, we'll support it. But it's not like you have to be this way. We have to let the kids be who they're going to be but guide them in the right way and not put that pressure on them."
The 42-year-old singer and Swizz Beatz, who have been married since 2010, share 8-year-old son Genesis as well. The songwriter is also a father to 22-year-old son Prince with former partner Nicole Levy. 
Keys and Swizz Beatz make sure to celebrate Egypt's musical accomplishments. 
After his song with Lamar was released, the two praised their child prodigy. 
In March 2016, Swizz Beatz uploaded a photo of him playing the track on Instagram. 
"This is the best Dad moment everrrrr!!!" he wrote at the time. "Congrats to my son Egypt for producing his 1st track on this amazing Kendrick Album." 
He added, "wowwwwwww @aliciakeys look at our lil guy baby." He also shared behind-the-scenes clips of Egypt playing the keyboards for the track. The 5-year-old nodded along as he jammed on the keys.