/ Source: TODAY Contributor
As children go back to school in the next month, parents across the country will give them goodbye hugs, ask them if they have their lunchboxes, and remind them to look both ways before they cross the street.
But that's not enough, Kim Kittay, co-founder of Big Lessons for Little People, told TODAY Parents. "Most pedestrians are not hit from the right or left, they are hit by a car that is coming from behind them — a turning car," she said. "If you see a turning car, you also cannot assume that the driver sees you and will stop."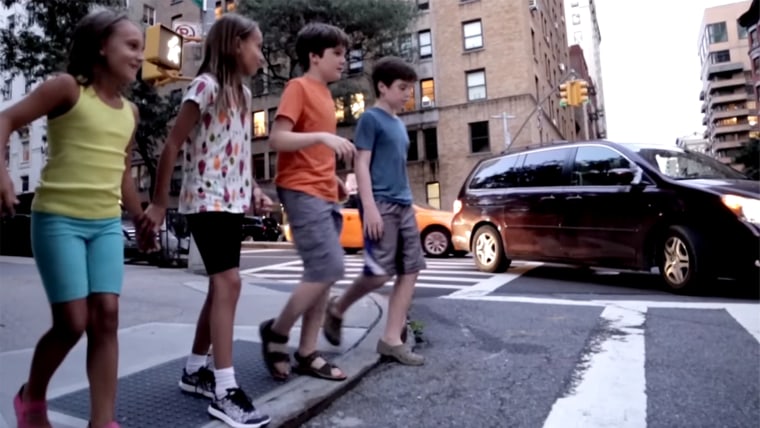 After many conversations with her own young sons — Micah, 12, Asa, 10, and Ezra, 8 — about crossing the street safely in their New York City neighborhood, Kittay and her business partner, Dawn Nadeau, decided to create a video to help teach children that the only way to ensure their safety when crossing the street, even in a crosswalk, is to catch "the eye of the driver."
Never miss a parenting story with TODAY's newsletters! Sign up here
"I would say, 'Eye of the driver, boys, eye of the driver,' every time I crossed the street with my three sons," said Kittay. "Ezra just starting singing it to 'Eye of the Tiger' one day, and it made us all laugh." Kittay, a dance teacher, actor, and screenwriter in Manhattan, mentioned the moment to partner Nadeau, who is an entrepreneur and Krav Maga instructor. Three weeks later, they had a video starring Kittay's three sons and her husband, Leo, as well as Nadeau's daughters, Julia, 10, and Abigail, 8.
"The kids had an amazing time making it, and most importantly, I think it gets the point across without being scary for kids," said Kittay. "People have told me that after seeing the video, they hum the tune while crossing the street. I have no doubt that this makes them more likely to see a turning car, and possibly prevent an accident."
For Kittay, this lesson has a personal importance. "On the corner where my family lives, a 9-year-old boy named Cooper Stock was killed as he was crossing the street with his dad," she told TODAY. "They were crossing with the light, he was even holding his dad's hand." A cab driver hit Cooper and his father, killing Cooper, which resulted in a suspended license for the cab driver.
"So many people — adults as well as kids — are so distracted when they are out and about," Nadeau said. "Between wrong-way drivers, bikers, and people who cut corners and run lights, it is critical that we teach our kids, and model behavior, that takes crossing the street very seriously."