Cassidy Gifford posted a moving tribute to her father, Frank, on the second anniversary of the football legend's death.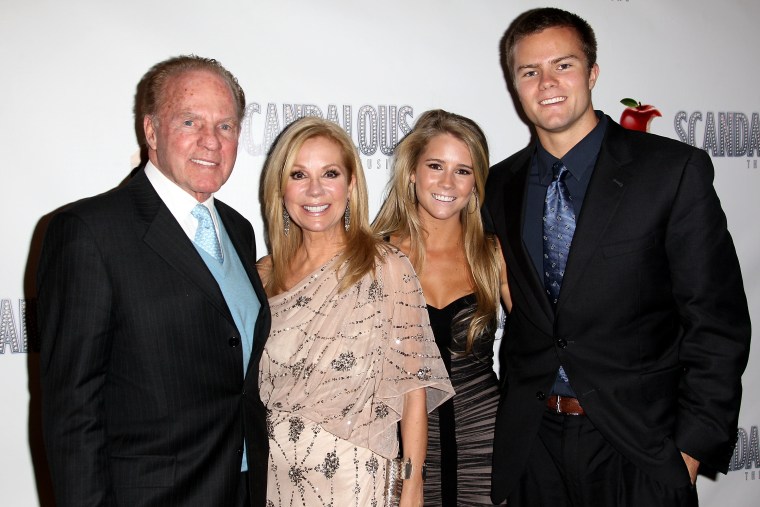 "Not that you ever once needed an excuse to make pancakes, but you best believe this morning was a pancake kinda morning, Daddio," the 24-year-old actress and daughter of TODAY host Kathie Lee Gifford wrote in the caption of a childhood photo of her as a toddler being tossed in the air by her father at a lake.
Wednesday marked two years since the passing of Frank Gifford, just a week before his 85th birthday. His family later revealed that he suffered from the chronic traumatic encephalopathy (CTE), brain damage caused by the jarring hits of playing football. Though better known to younger generations as a long-time play-by-play announcer on "Monday Night Football," he was a superstar for the New York Giants at running back and receiver for 12 seasons in the '50s and early '60s.
Wednesday was an emotional day for the entire Gifford clan.
Cassidy's mother, Kathie Lee Gifford honored her late husband during a segment with co-host Hoda Kotb.
"It's been two years since precious Frank went home, and God is so faithful," she said. "My kids are doing so well, not only because the Lord watches out for us so beautifully, but because of friends like you."
She added that her friend and TODAY colleague, Jill Martin, visited her at home the night before to make sure she wasn't facing the anniversary alone.
Kathie Lee also tweeted a moving message to her late husband, quoting Psalm 17:15 from the Bible: