TODAY is mourning the loss of an extended family member.
Carson Daly's mother, Pattie Daly Caruso, passed away Sunday at the age of 73. In a statement, Carson and his family paid tribute to the woman affectionately known to many as Kiki.
"It is with heavy hearts that we announce the passing of our mother, wife, grandmother, Pattie Daly Caruso. She passed away peacefully on Sunday, September 17th, 2017," the statement began. "Kiki, as she was known to her grandchildren and many others, touched so many lives with her kindness, her giant spirit, and her love of life. She will be terribly missed by her family and the world, but her spark will shine for eternity."
Carson previously opened up about his mother's influence on him in 2013 for TODAY's #InspiredBy series.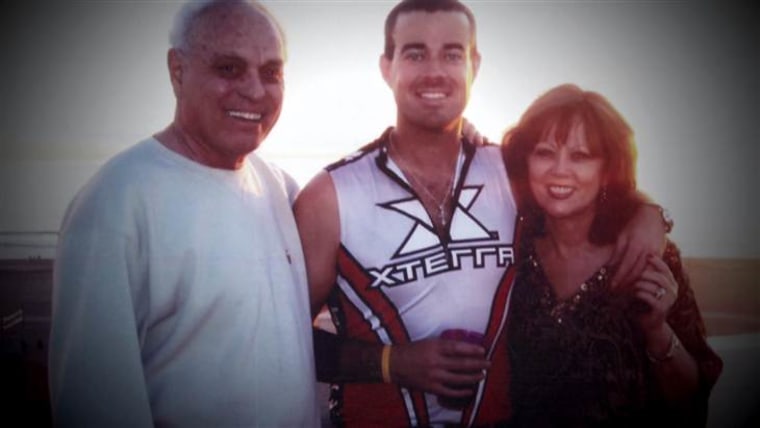 "I think having a strong parent has just been such an inspiration because it's a constant reminder for me to find my own pillar of strength and to be that for my own growing family," he said at the time.
On Monday, Siri Daly, Carson's wife, posted a sweet photo of Pattie on Instagram, calling her "a vibrant force in my life."
Pattie, a longtime TV personality in California, held strong for her family when her first husband, Jim Daly, died from bladder cancer, and later when she was diagnosed with breast cancer.
"Some people will say, it's not the cross — it's how you bear," Carson said. "Her life is a constant example for me of how to bear that cross."
Pattie had two children with Jim Daly: Carson and his sister, Quinn. She later married Carson's stepfather, Richard Caruso.
On Monday afternoon, Carson tweeted his gratitude for the support he and his family have received following the loss of his mother.
"There are no words for the loss of mom. Thank u for the incredible outpouring of love. It helps. Please hug the ones you love most tonight," he wrote.
This is the second loss the TODAY family has suffered in as many weeks. Kathie Lee Gifford's mother, Joan Epstein, passed away last Tuesday at the age of 87.