Carrie Underwood sang the national anthem in front of a sold-out crowd of 17,274 at Sunday's Nashville Predators playoff game, but it was the applause of one adorable fan that she will remember the most.
The 35-year-old country music star posted a sweet video of her son, Isaiah, 3, clapping for mommy as she wrapped up her rendition of "The Star-Spangled Banner" before husband Mike Fisher and the Predators took the ice in front of a roaring home crowd.
"As a child, I wanted nothing more than to make my parents proud of me...and now, as a mother, I want to make my child proud,'' she wrote. "He never really gets to see me sing because he's in bed before I go on stage, but last night he was there to watch his daddy play...and he also got see his mommy sing for a minute."
She wore a Nashville Predators jersey with her husband's No. 12 on it during her performance, getting the crowd fired up for a game Predators ended up winning 5-4 over the Winnipeg Jets in a double-overtime thriller to tie their playoff series at one game apiece.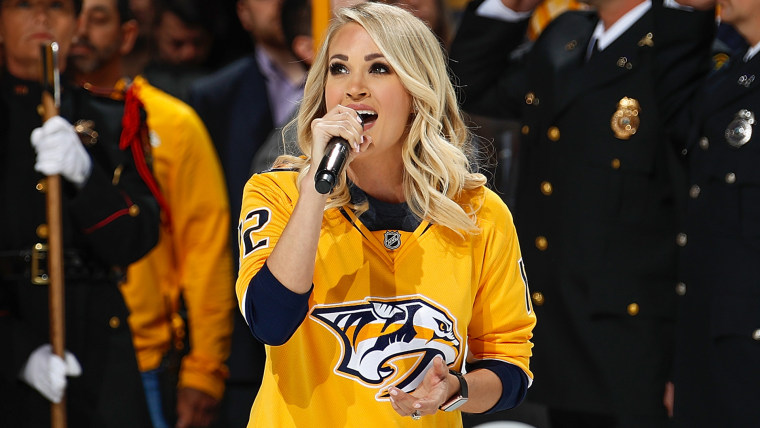 The family made sure to soak up the experience given that the 37-year-old Fisher is most likely in his last season after initially retiring after last year and then coming back and signing a one-year contract to make a run at a Stanley Cup title this spring.
The night also marked another milestone in Underwood's recovery from a scary accident in November in which she fell on the steps outside her home, fracturing her wrist and needing more than 40 stitches in her face.
It was her second performance since the accident, following a stunning rendition of her new single, "Cry Pretty," on April 15 at the Academy of Country Music Awards.
"One of the silver linings for me in this healing process is the time I've gotten to spend with Mike and Isaiah," she wrote on her fan club website. "I've been calling it 'forced relaxation.' Sometimes I think things happen in order to make us slow down."
During her "forced relaxation" time, she has been cheering on Fisher and the Predators, who are hoping to finish the job after coming up two wins short of a Stanley Cup title last season.
Though she warned fans she might look "a bit different" after healing from her injuries, Underwood has looked as gorgeous as ever in sharing close-up photos after the accident.
She also shared details of the frightening fall and her recovery during an interview on iHeartRadio's "The Bobby Bones Show."
"I've been very fortunate in the healing process," she said. "I was lucky that when it happened, everything was kind of shutting down in the music world and we had the holidays and stuff like that. But I was at a point where I didn't know how things were going to end up … I didn't know what it was going to heal like."
Follow TODAY.com writer Scott Stump on Twitter.