Carrie Underwood may be a seven-time Grammy winner and top country artist, but the 33-year-old says she's just a normal mom trying to balance it all.
"It's the same for me as it is for any other family, where you're just trying to work and figure out how to balance everything and be a good parent," she told TODAY. "My job is just kind of weird and is a lot of being away from home."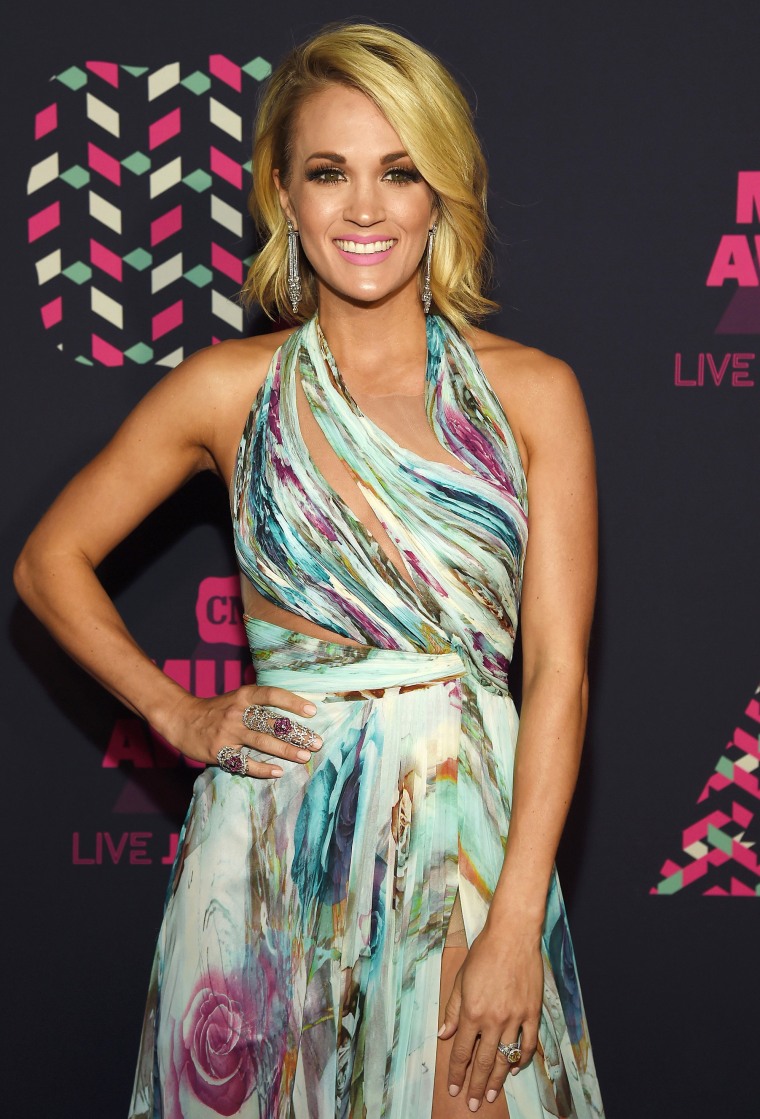 The blond beauty has certainly been away from her Tennessee home a lot lately. She is set to co-host the 2016 CMA Awards on Nov. 2, perform for military families on Nov. 4 on the cruise ship Carnival Vista, and is currently on the road for her 2016 "Storyteller" tour until December. "I would love to go on vacation," she added. "After the tour maybe!"
Throughout the tour, Underwood also had the honor of meeting a number of military families and as a way to cap it all off, she will be performing for over 700 military families aboard the new Carnival Vista in New York on Nov. 4 in a private concert for Operation Homefront. "It's so great to honor these military families because they're often far away from each other for a long period of time," said the songstress. "To give them this time together is just so special. I'm very lucky."
The Season 4 "American Idol" winner admitted she's lucky to be able to bring her son, 1-year-old Isaiah Michael Fisher, on the road with her. "I'm fortunate because I get to have my little guy with me," she said. "I was so concerned about going on tour and how it was all going to work. How am I going to be a mom? How am I going to do what I do? He's learned how to hang with us and keep up. It's been really wonderful having him out on the road."
That doesn't mean raising a tot on-the-go doesn't come without its problems. "I felt a little bad that he doesn't have 'normal' babyhood," Carrie said. "My friend told me I needed to cut myself some slack and said, 'God gave him to you and he knows what you do.' Once she said that I was like, this is the way it's supposed to be and I should not worry so much."
She added, "I give motherhood my all. I give entertaining my all. Hopefully everything will be OK and so far it has been. We are figuring it out as we go."
Part of making it all work, revealed Carrie, is having people like husband Mike Fisher to help out. "I think it's important to have a support network," she said. "We live in a world where everything seems so shiny and pretty on Instagram and Facebook. I love it when families can just be real and say things aren't great."
RELATED STORY: Carrie Underwood says motherhood 'changed me as a person'
Though Carrie has been touted as a style icon and has graced many red carpets, the songstress confessed her life is pretty low key. "Sometimes I think people probably think it is, but it's real. I love that our house is a mess and there's toys everywhere. I'm constantly trying to make it not a mess, but it is and that's OK," she added. "I love that my life isn't so glamorous."
In fact, the "Dirty Laundry" singer prefers to be in sweatpants. "If I ever have to put jeans on that second I get home, the jeans come off," she noted. "They're too restricting. I want to put comfys on."
Clearly, the new mom isn't afraid to show off her normal life and often uses the hashtag #momlife on her social media posts along with another favorite, #StayThePath, in reference to her killer workouts. The country star amazingly flaunted her new post-baby body in the November 2015 issue of Shape Magazine eight months after giving birth, but said women shouldn't worry so much about losing the baby weight.
"At the end of the day, it's all about how you feel," she said. "It's about being healthy and being healthy for your family. It's easy to say 'Who cares what other people think?' but it's about you and your little one. That's it. That's all that matters."