After Carlos Morales and his wife, Erica, struggled for years to start a family, the birth of quadruplets brought what he called "the best day of my life." But then, in a tragic twist of fate, heartbreak followed joy: Erica died after childbirth.
Now the Phoenix, Arizona, father is raising his four children — three girls and one boy — on his own. People magazine, which originally reported on Morales last week, provides an update in this week's cover story.
Two of the babies came home with Morales, 29, shortly after they were born in January. The remaining pair joined the family last week.
"It feels really good to have all four," Morales said, appearing Wednesday with the quadruplets on TODAY. All of the babies are healthy and gaining weight. "It's [been] a blessing."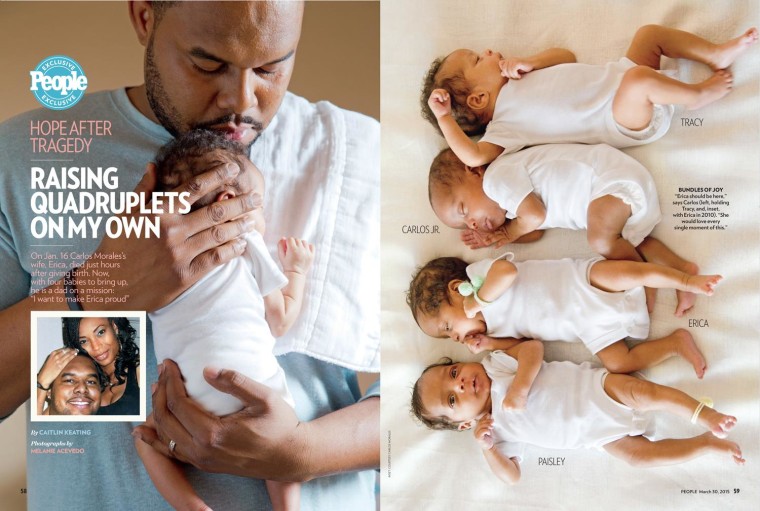 "We're just doing our best. I'm feeling really, really grateful for everybody that just came together and helped us," he said, referring to the community outpouring of physical support and financial donations that have come through a GoFundMe page.
Erica's mother, Sondra Bridges, has since moved in with her son-in-law to help take care of the babies: Tracy, Paisley, Erica and Carlos, Jr. Like Morales, she also expressed gratitude for the support the family continues to receive.
"It's funny how things turn out. Bittersweet, but at the same time, thanks to God, and the outpouring support of the public, it's been phenomenal," she said. "And I'd like to say thank you to each and every one of you. All the support we've gotten from you, we appreciate it."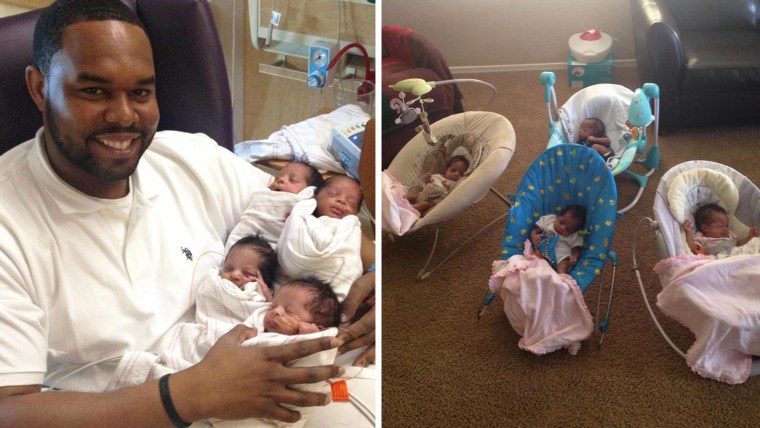 The quadruplets were born via C-section on January 16.
"It was the best day of my life," Morales told People. "Nothing in my life had ever made me this happy."
But then Erica, still under anesthesia, soon went into a hypovolemic shock, an emergency condition involving massive blood loss. She died within hours.
Despite his grief, Morales told the magazine he remains steadfast for his children.
"These babies don't know yet what blessings they have given me. They have given me four reasons to live," he said.
Follow TODAY.com writer Eun Kyung Kim on Twitter or on Google+.