Holly Wagner doesn't mind if you call her the Car Seat Cop. She is quick to point out a baby who is forward- facing, or secured with twisted straps or low chest buckles.

There's a heartbreaking reason: Wagner's 11-month-old son Cameron was thrown from his forward-facing car seat in an accident and died after 16 days in intensive care.
Now she wants to save others from her pain. On her Facebook page, Cameron's Story is Saving Lives [CSiSL], not only does she educate parents about the right way to install and use a car seat, but she raises money to certify child passenger safety technicians.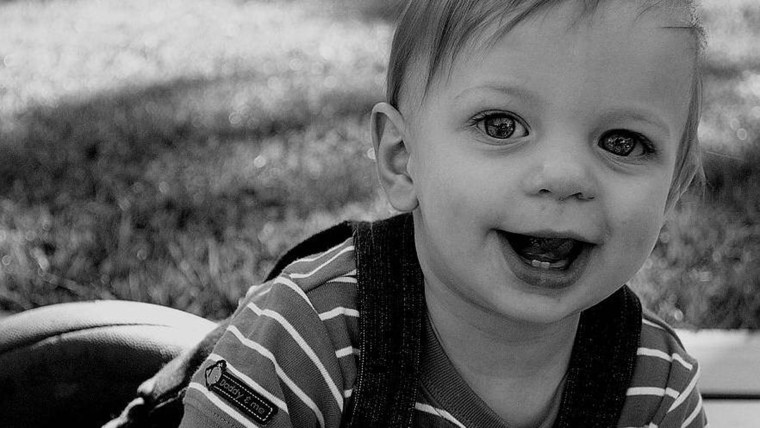 "There is so much information out there, and you can't learn everything you need to know, especially new parents," said Wagner, a 23-year-old mother of two from Albany, Louisiana.

Car crashes are a leading killer of children in the United States. More than 650 children under age 12 died and another 148,000 were injured in 2011, according to the Centers for Disease Control and Prevention. Proper car seat use reduces the risk for death to babies (under age 1) by 71 percent and toddlers (under age 4) by 54 percent.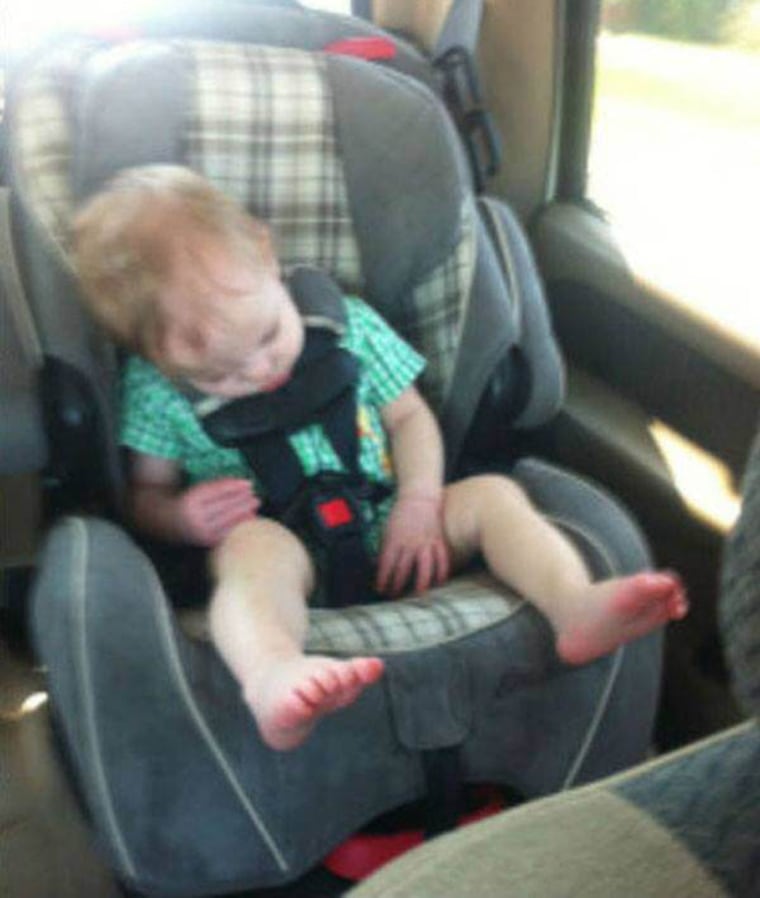 The American Academy of Pediatrics urges parents to use rear-facing seats until a child is at least 2 or until the child reaches the maximum height and weight indicated by the manufacturer.
But Wagner said she didn't know that. "It's hard to get it right," she told TODAY.com.

In May 2013, Cameron and her then 3-year-old son Connor were riding in a car while she was at work. The baby's crotch buckle was unfastened. They were in a car crash and the chest buckle broke, ejecting him from the car.
Connor suffered a broken arm, but Cameron was in bad shape: His ribs were broken and his lungs and brain were badly lacerated. He needed immediate surgery to remove his spleen and was put on life support.
Two weeks later, as Cameron's body was "starving to death" from brain damage, his doctors took him off life support.
Only after the accident did Wagner look at an earlier photo of Cameron in his car seat and realized that he was slouched forward and the chest straps were twisted.

She said she wished someone had admonished her. "If he had been kept rear facing and was buckled in, he would have survived," she said.

Wagner learned she was pregnant shortly after the accident, and so she began deeper research into car seat safety, even viewing online videos of rear-facing versus forward-facing crash dummies. She started her own YouTube channel and the CSiSL Facebook page.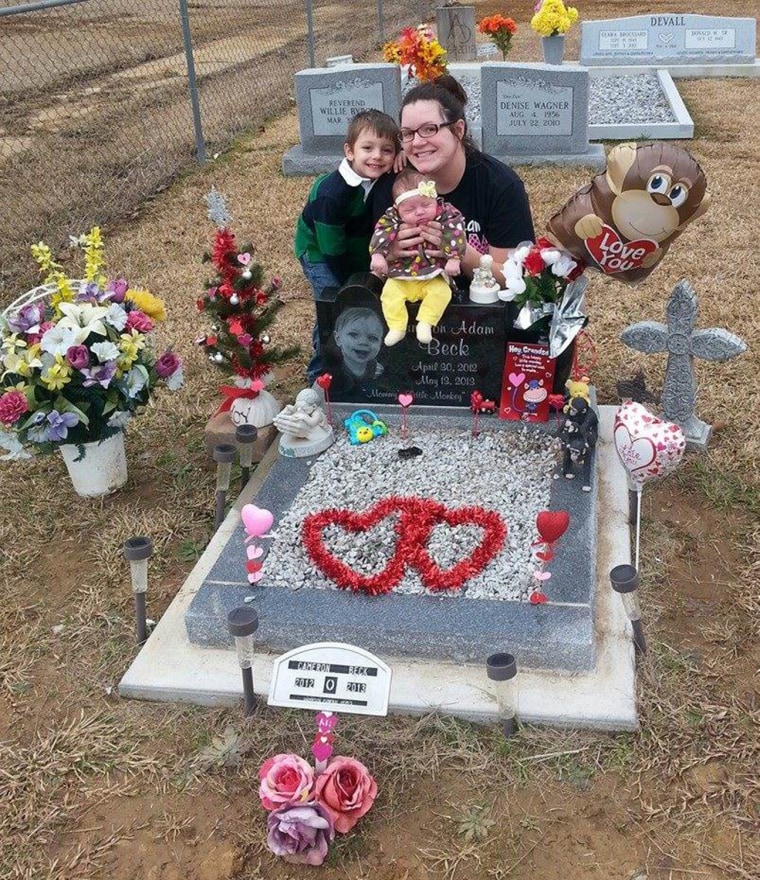 But her advocacy work took a giant leap forward this year with a serendipitous call from Marilyn Drake, a mother of four from Jefferson, Oregon, who had just days before been certified as a child passenger safety technician.

"We all are trying to do our best, but car seats are just not as simple as we want to think they are," said Drake, 38. "Misuse rates are extremely high."
Drake saw Wagner's Facebook postings and wanted to help. She offered to administer the page and encouraged Wagner to get certified to educate other parents about car seat installation and best practices.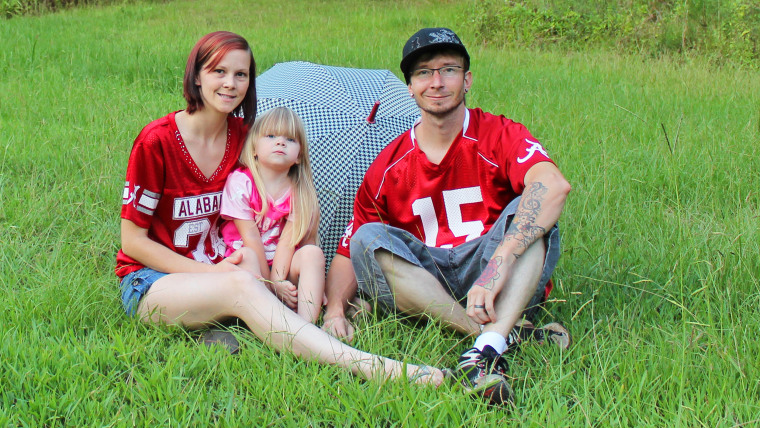 "Within days, I saw her passion about keeping kids safe and I asked her if she would consider being a tech," Drake, 38, told TODAY. "But she said it was beyond her means."
Sometimes techs travel to out-of-town locations and the certification fees can cost hundreds of dollars.
So Drake began raising money to help Wagner pay for training, which can cost upwards of $200 in addition to travel expenses. The campaign was so successful, the pair teamed up to sponsor seven other parents who want to be techs, but couldn't afford it.
One, 27-year-old Christine Cascaddan of Vandiver, Alabama, nearly lost her 15-month-old daughter Caillie in a car crash in 2012. The toddler was sitting in a forward-facing seat, but her 2-month-old nephew who was in a rear-facing seat was unscathed.

"I was completely uneducated," she told TODAY. "We believe if she had been rear-facing, she would have been completely unharmed."
Caillie broke her neck in two places and her left arm was paralyzed. She underwent surgery and had to wear first a halo brace (a metal brace that circles and attaches to the skull), and then a neck brace for six months. Today at 3, she has regained some use of her arm, but will be in therapy for many years to come.
"She is going to live with the injuries for the rest of her life," Cascaddan told TODAY. "I am responsible and I should have known better."
So Cascaddan made her own YouTube video and told her story. 
"I got to thinking — there are a lot of parents out there and even some family members who don't want to listen," she told TODAY. "A lot of people don't know about car seat safety."

"I never thought it would happen to me," said Cascaddan. "I want other parents to know it can happen to you."

Certified technician Drake said one of her goals is to get technicians into areas without resources. Parents may pay small fee but "your child's life is worth a technicians time teaching you how to install and use your car seat correctly."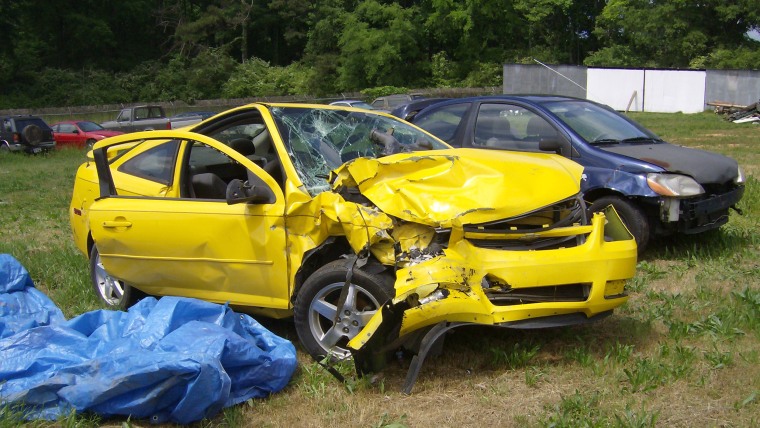 She urges parents to read and follow all instructions in car seat manuals because car seats can fail if they are not used as specified.
Meanwhile, Wagner has a new baby, Maddie, and is vigilant with her car seat.
"The main thing that keeps me going is being able to help others and to talk about Cameron every single day," she said. "I wish someone had given me advice.
"When I hear someone say, 'I turned my infant around rear-facing,' after knowing what happened to him, my heart melts."
Wagner's safety organization suggests these 7 important car seat tips:
1. Don't buy a used car seat.
2. Research one that's right for your car and read the manual.
3. Find a certified child passenger safety technician to help install it and show you how to use it.
4. If you cannot find a tech in your area, go to http://cert.safekids.org.
5. Make sure the seat is rear-facing until the child is 2.
6. Adjust the chest clip to armpit level; at abdomen level, organs can be injured in a crash.
7. Make sure straps are snug and straight.