Candace Cameron Bure's son Lev is grateful to have her as a mom — and let her know it in a beautiful letter on his 18th birthday.
The "Fuller House" star took to Instagram on Wednesday to share a gallery of special birthday photos, including one featuring the full text of the thoughtful note Lev wrote to her, thanking her for making him the man he is today.
"Mom! I first just need to say thank you. You have literally put your life down for me. You helped, encouraged, cared for, loved, worked, and really done everything for me. I would be nowhere near close to where I am today if it wasn't for you," wrote the teen, whose dad is retired hockey pro Valeri Bure.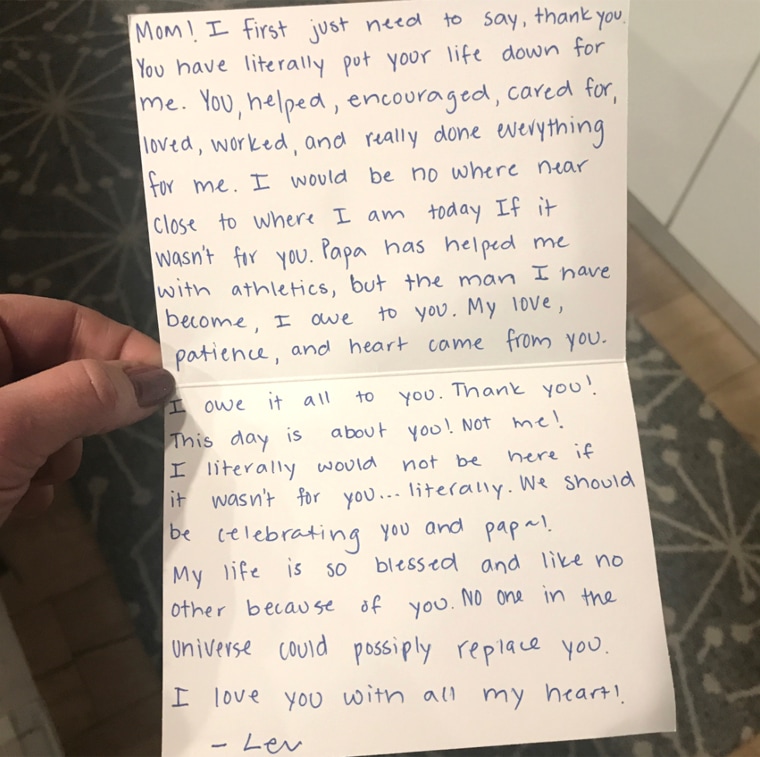 "Papa has helped me with athletics, but the man I have become I owe to you," he gushed. "My love, patience, and heart came from you. I owe it all to you. Thank you!"
"This day is about you, not me," he wrote. "I literally would not be here if it wasn't for you... literally. We should be celebrating you and papa!"
"My life is so blessed and like no other because of you," he added. "No one in the universe could possibly replace you. I love you with all my heart."
The 41-year-old actress — who's also mom to 19-year-old Natasha and 16-year-old Maksim with hubby Bure —began the gallery with a photo of herself overcome with emotion after reading Lev's sweet note. In the photo, the proud mom holds her son close to her.
"This boy... I mean... @levvbure — I was buried in that shoulder for a few minutes. At least," she wrote.
Who can blame her? Clearly, Candace raised a great kid!