/ Source: The Associated Press
Alma Schneider's 8-year-old daughter loves fashion. Her neighbor owns a wedding couture business. It was a match made in DIY heaven and an answer to a problem faced by other cash-strapped families trying to make it through summer without pricey kid classes and camps.
"It costs too much money to send all my kids to camp. It's just not possible," said the Montclair, N.J., mother of four.
Charging $150 per child, Christine Sapienza led a week of "fashion camp" for Schneider's oldest, Ilah, and five pals. She showed the girls how to make fancy T-shirts, wrap skirts and button bracelets while Schneider entertained her three other kids.
The group put on a fashion show for parents the last day, and Sapienza surprised each girl with an inexpensive portable sewing machine.
"The kids had such a great time we're doing another week of it in August," said Schneider, a food blogger who plans to charge $60 per family for her own healthy cooking camp next month.
"I'm a community minded person," she said. "If we all shared our skills and talents we wouldn't have to outsource everything. It's a great model to learn from each other's expertise."
Other parents facing hard financial times are joining the DIY camp movement as they try to survive the muggy months.
Stephanie Reyes in Brooklyn, N.Y., charges $60 a day per family for a playground romp, an art or science activity and a theater performance put on by her campers. She throws in a snack and a nap back at her place for eight to 12 kids, including her 6-year-old son Milo.
"They even get to design the props and costumes," she said.
One planned outing a day
Elizabeth Laura Palmer and her cartoonist husband, Tom Palmer, haven't taken on the children of others, but they took on a camp mentality for their two girls due to tight finances that precluded far more expensive programs. They created a schedule: Up at 8 a.m., breakfast and out the door for one major outing each day.
Without a plan, Palmer said, she had been afraid Molly, 7, and Violet, 4, wouldn't make it out of the house this summer. "The kids would be content to stay at home, read, play Barbies and imaginary games," she said. "But by 3 or 4 they'd get restless and start fighting."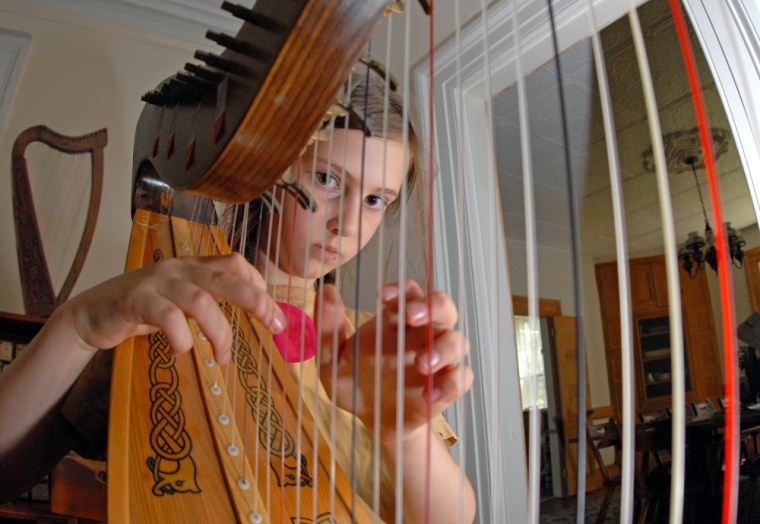 Palmer filled up one recent sunny day with a museum field trip using a classic book, "From the Mixed-up Files of Mrs. Basil E. Frankweiler." It tells how two kids run away to the Metropolitan Museum of Art.
At 11 a.m., Palmer and the girls made it to the subway for a trip to find some of the book's art at the Met. Molly amused herself on the train reading the chapter book. Violet squirmed in her mother's lap as Palmer recalled her own summers shuttling between her divorced parents in Colorado and Ohio with plenty of free time outdoors to melt crayons in the sun and catch bugs.
"It was good boredom," she said. "And that forces you to use your imagination. Kids don't have that anymore. There are too many things to do."
At 12:30, they got off the train and stopped for doughnuts. By 1:30, they were in the Egyptian wing and found a cat mummy mentioned in the book, prompting much excitement and many questions from the girls. Afterward, they searched for a certain blue silk chair, followed by a run up and down the steps of the Temple of Dendur.
Palmer was exhausted by 3 p.m., but her kids were happy.
"After a day like this of the kids clinging to me and having to respond to their every need, I need a glass of wine," she joked.
Painting, gardening, visiting the libraryIn Kingston, N.Y., a dwindling savings account forced Nancy Graham and her husband, Henry Lowengard, to rethink their summer.
They're selling their home — a "big-hearted Victorian," Graham said. Lowengard, a computer programmer, has been laid off twice in the seven years since they bought it and they've been preparing to put it on the market by painting and renovating.
"What it comes down to is whether we can live here on the freelance income we're making right now," said Graham, a copy editor.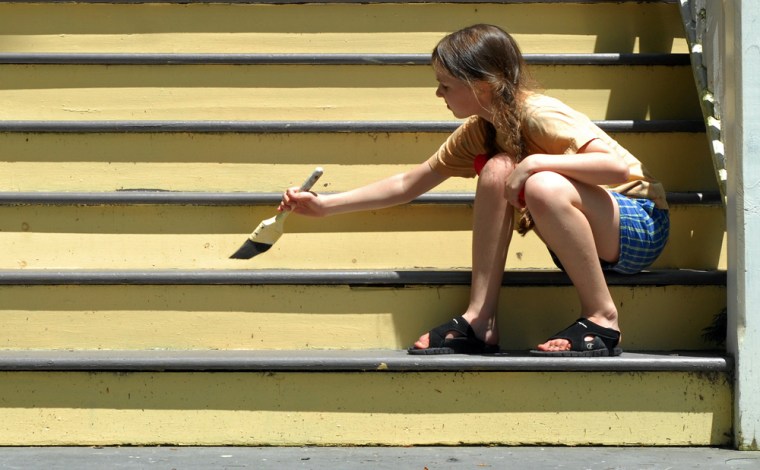 As a result, 12-year-old Raymond and 10-year-old Ada are doing without music lessons and art classes this summer, learning the pragmatic realities of real estate and home repair instead. But the two, who are homeschooled, seem to enjoy the chance to help their parents during a major life transition.
Ada recently mulched and weeded the garden while her brother painted the yellow house's large front porch, including an old-fashioned swing.
"Our kids are OK with not signing up for anything," Graham said. "Ada is still doing harp and horseback riding, and she does them on alternating weeks so we save money there. We go to programs at the library, which are free."
While times are stressful for the family as they prepare to move, the kids "know they have it better than most Americans, that there are children without health insurance or who have to skip meals or eat unhealthy food because it's cheaper than the way we eat," Graham said.
"We have to stress that this is a preventive measure and that on the grand scale of things, we're extremely fortunate."