Kids are spending too much time staring at screens, experts say — an average of seven hours a day, according to the American Academy of Pediatrics.
Dr. Delaney Ruston of Stony Brook University Hospital, director of the film "Screenagers," says that when a child is engrossed in an iPad, tablet or similar device, "it releases a hormone in the brain, dopamine, that is so rewarding, kids want this more and more. And therefore when they are not on these highly stimulating screens, they actually can get really agitated."
To show just how absorbed in their screens kids can get, the Rossen Reports team staged a revealing hidden camera demonstration with the help of two moms.
Six-year-old Avery was so engrossed in her iPad that she didn't notice when her Mom, Jackie, put on silly glasses... and then a mustache. Even a bright blue wig on Mom wasn't enough to divert her eyes from her screen.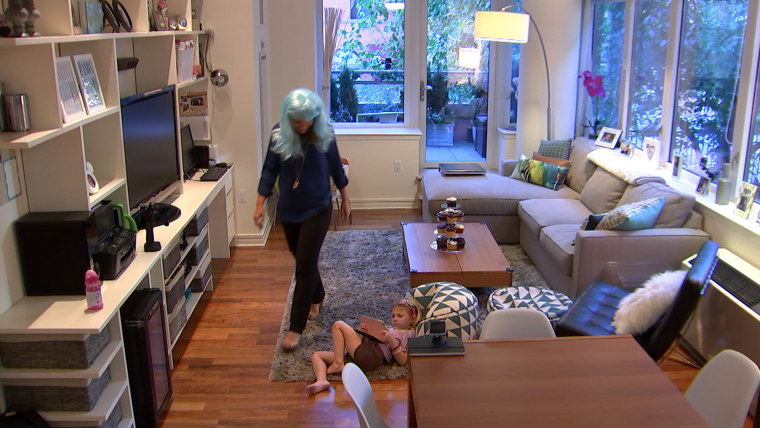 "It's alarming from the perspective that I don't know if there is a fire that she would know to get out of the house because she is so focused on it," Jackie said.
Six-year-old Cami was, if possible, even more oblivious as she stared at her screen, failing to notice when a giant plush camel appeared just feet away her. Nor did she notice big signs reading "HEY KIDS LOOK HERE"; her mother, Michelle, crashing cymbals together, or even her brother putting on a show as a clown.
"Did you see the clown?" TODAY national correspondent Jeff Rossen asked Cami after she was finally brought out her trance.
"Nope, not at all," Cami said. "Who was the clown?"
For years, experts have said kids should be spending less than two hour a day on media devices. But next month, the American Academy of Pediatrics is revising its recommendations, potentially focusing less on time limits and more on other ways parents can engage with their kids both on- and off-screen.
To suggest a topic for an upcoming investigation, visit the Rossen Reports Facebook page.