/ Source: TODAY Contributor
Since 10-year-old Jay Ryon was diagnosed with leukemia just weeks before his seventh birthday, the Florida boy has spent his days in and out of the hospital, enduring chemotherapy treatments, a bone marrow transplant, and the amputation of his left arm.
But Jay has lost more than his childhood over the past four years — he's also seen many of his friends die from cancer.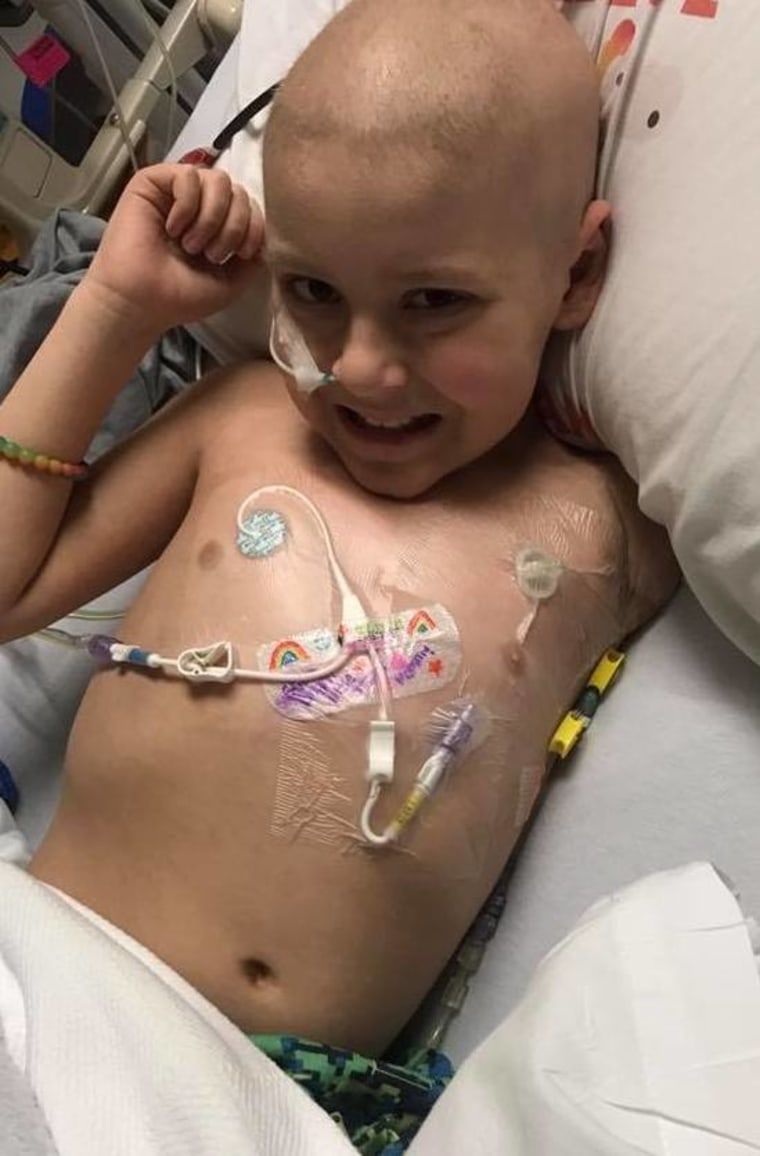 Jay's mom, Maggie Ryon, says her son went through more than two years of chemotherapy treatments before going into remission. Last year, however, Jay relapsed, requiring a bone-marrow transplant from his father, Nick Ryon, a firefighter, to finally be deemed cancer-free.
But a compromised immune system left Jay fighting a fungal infection that resulted in the amputation of his left arm. Today, Jay is in the middle of an eight-month hospital stay, and has a second fungal infection in his hip, right arm, and pelvis.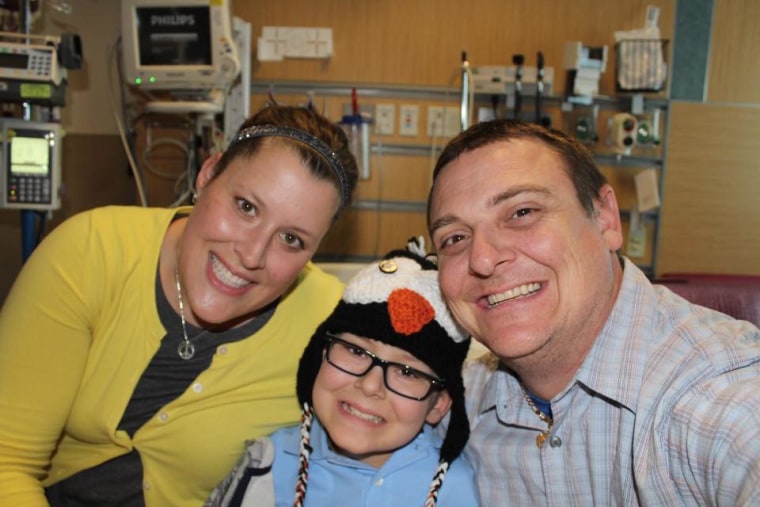 During this most recent hospital stay, Jay's grandmother developed Alzheimer's disease and died suddenly. One month later, his best friend, who had a bone-marrow transplant around the same time as Jay did, also died.
Never miss a parenting story on TODAY.com! Sign up for our newsletter here.
"Then, three of his friends that had gone through transplants died within a week of each other, and that was incredibly hard for him," said Ryon, who works as a special-needs camp director. "And he made the comment one day that he didn't have any friends anymore because they all died — which led to him questioning if he was going to die, too."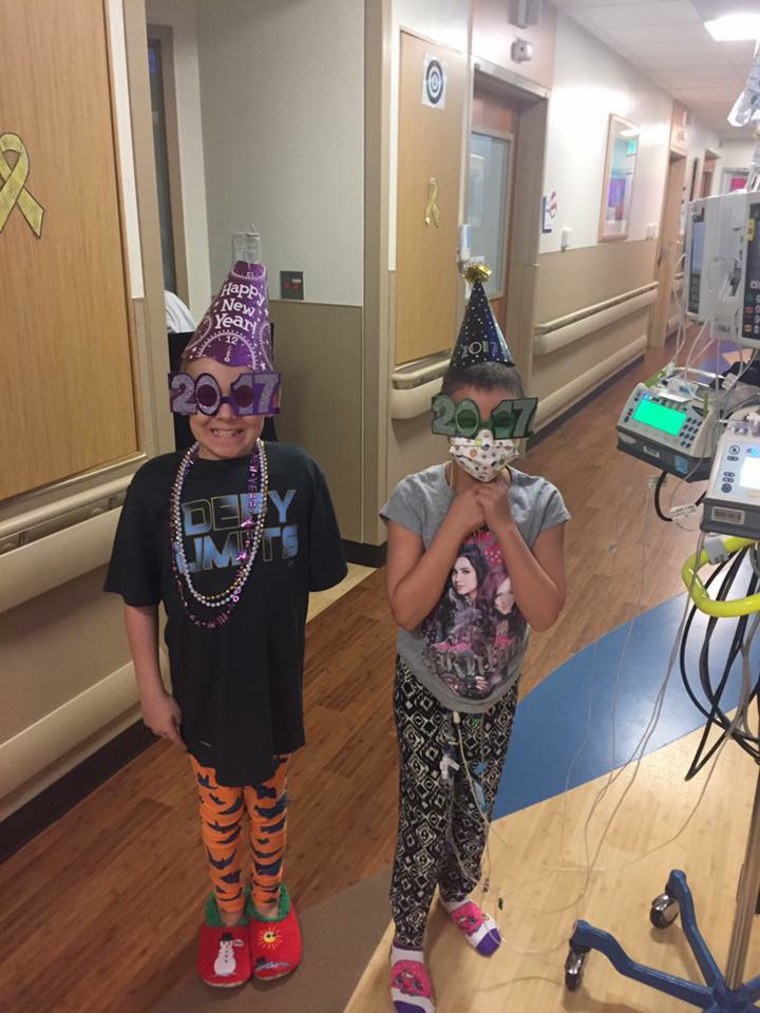 Marcie Golgoski is a news anchor at WESH, the local NBC News affiliate in the Ryons' town. Golgoski says she has gotten to know the family through volunteering at the special-needs camp where Maggie works. Golgoski is also one of more than 12,000 Facebook followers who keeps up with Jay's progress via Team Jay, the Facebook group the Ryons started when Jay was diagnosed.
"The last six months have been so heartbreaking ... I have been reduced to tears just reading their ups and downs," Golgoski told TODAY Parents. "There is a spirit and a light within this family that I, and thousands of others, are just in awe of. So when it seemed that spirit had maybe begun to fade, I just felt overwhelmed (and had) to do something."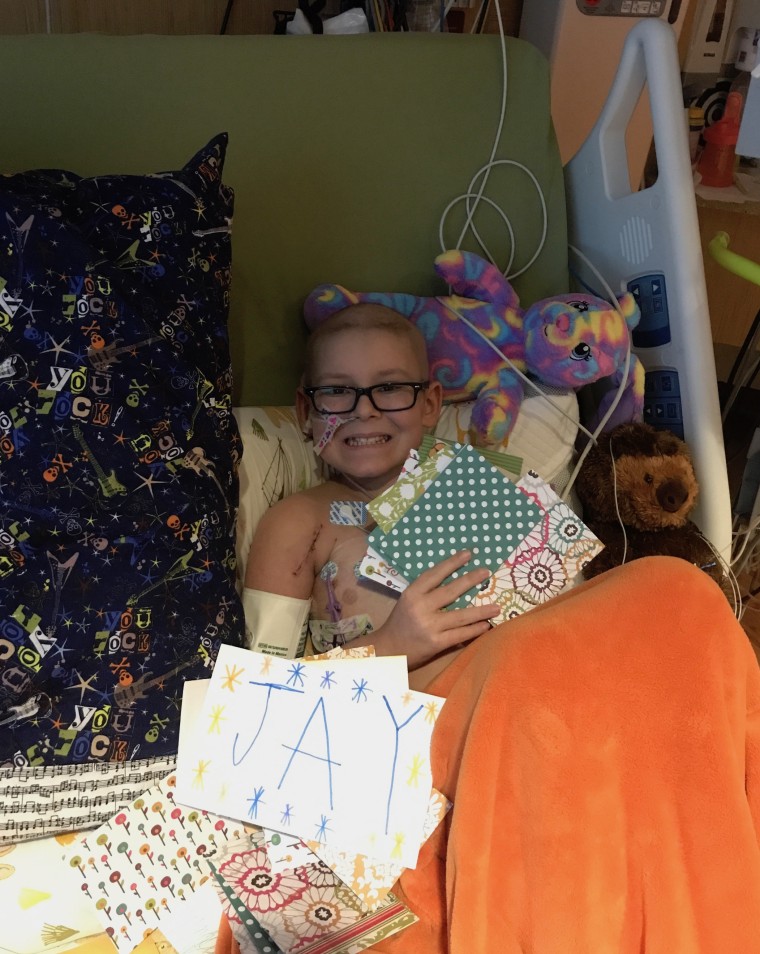 Golgoski says she was troubled by knowing Jay felt alone, so she approached her team at WESH, asking if they would help promote, "Say Hey to Jay," a campaign to mail him letters and cards.
To date, Jay has received nearly 1,000 cards and letters. But it's his special request that's making the biggest impact on the campaign.
"As much as Jay loves getting the mail — the first thing he said was, 'Well, they should donate to Kids Beating Cancer, too. If they're going to send me a letter, they could send them a dollar.'"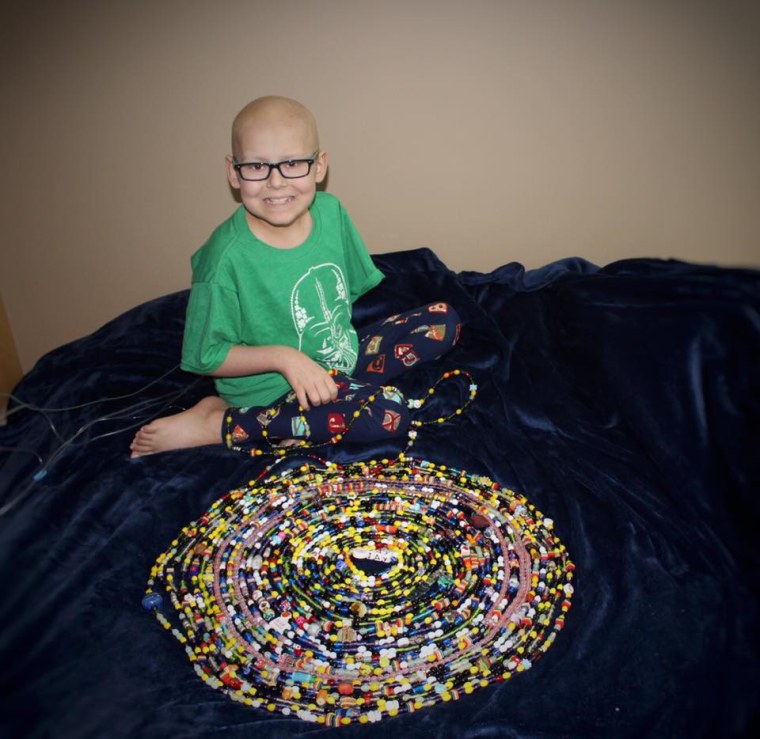 "And thats totally Jay," Ryon continued. "He is the sweetest, most loving little guy ... and he wants to know that his friends may be gone, but they are not forgotten. These donations will help with that."
Kids Beating Cancer is the organization that funds the transplant unit at Jay's hospital. The organization has created a special link where visitors to the site can donate one dollar and, "Say Hey to Jay."
"It's one thing to send the cute, little bald kid a card," said Ryon. "But it's quite another to actually make a real impact on the work that's being done so there aren't any more cute, little bald kids."
Ryon says Jay — who loves rainbows, unicorns and stuffed animals — looks through his cards and knows he has a community of support.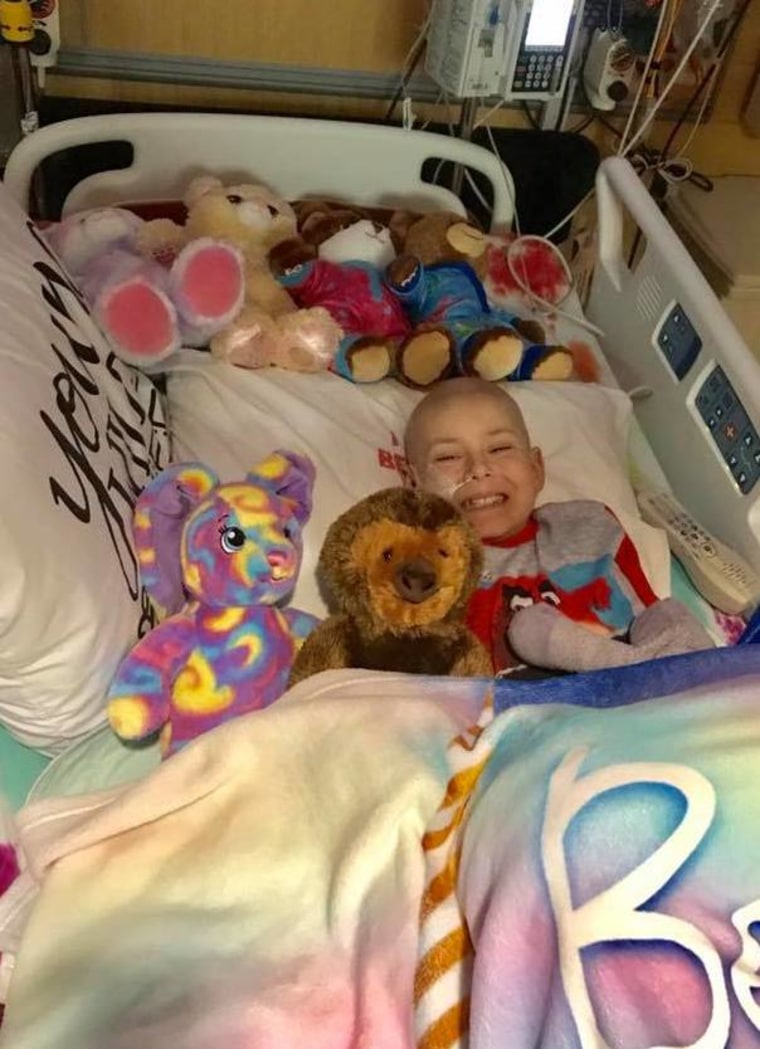 "The cards say, 'Hang in there,' 'You have friends,' 'We're thinking of you,'" said Ryon. "It means so much to our family."
To "Say Hey to Jay," mail cards and letters to: The Ryon Family, 31600 Camp Challenge Rd, Sorrento, FL 32776.
To donate $1 to Kids Beating Cancer, visit Jay's special link on their website.
RELATED: Arson victim, 8, has Christmas wish of collecting cards from around the world