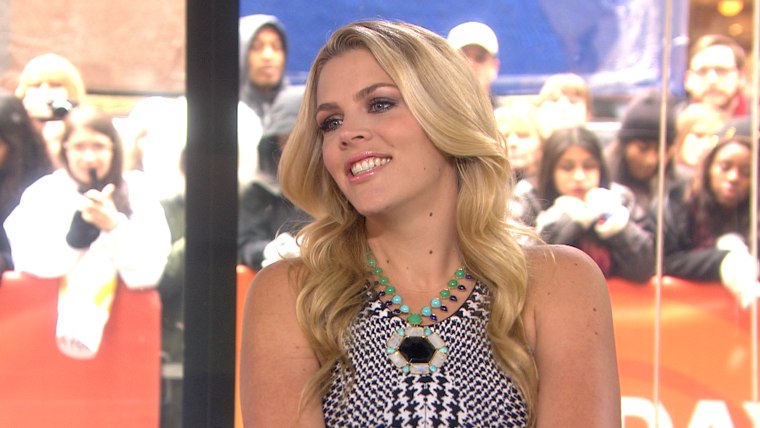 Celebrity baby names come under heavy scrutiny. Often, the question everyone wants to know is, why?
Busy Philipps and Marc Silverstein, the proud parents of 8-month-old Cricket Pearl and her big sister, Birdie Leigh, gave a lot of thought to the naming process.
The "Cougar Town" actress told Kathie Lee Gifford and Hoda Kotb on TODAY Monday that yes, those are her daughters' real names.
"Where's it come from?" Gifford asked about the name Cricket. "It's precious, don't get me wrong."
Philipps explained: "Since I grew up with a nickname — Busy being short for Elizabeth — when my husband and I started to have our babies, we decided that if wanted to call our kids something, we would just name them that thing that we wanted to call them."
The three agreed that the unique names will distinguish the girls.
"I like the names," Philipps said. "I think they're cute."
But Philipps felt the need to defend them on Twitter just days after Cricket was born in July.
She was back at work and in front of the camera within weeks.

"I had to go back to shooting "Cougar Town" this season four weeks after giving birth to Cricket," she said with an eye roll, "which was a little intense."
Philipps allowed that her daughter was on the larger side, weighing 8 pounds, 5 ounces.
"But I was also a big pregnant lady," she said. "I gained a lot of weight when I was pregnant, and so then had to go right back into work, which was tricky."
With a baby nurse in tow, Philipps brought Cricket to work every day, which she said was amazing.
"It's a real blessing," Gifford said. "Not every woman can."
Philipps considers herself lucky.
"I always say, if you're going to be a working mom, being an actress on a TV show is not bad," she said.