We love to follow the lives of the rich and famous. Deny it all you want, but US Weekly sales don't lie. When we're not voting on "Who Wore it Better," we're on constant, vigilant, bump watch. Some memorable celebrity headlines were conceived in 2012 – here are some of the most noteworthy ones.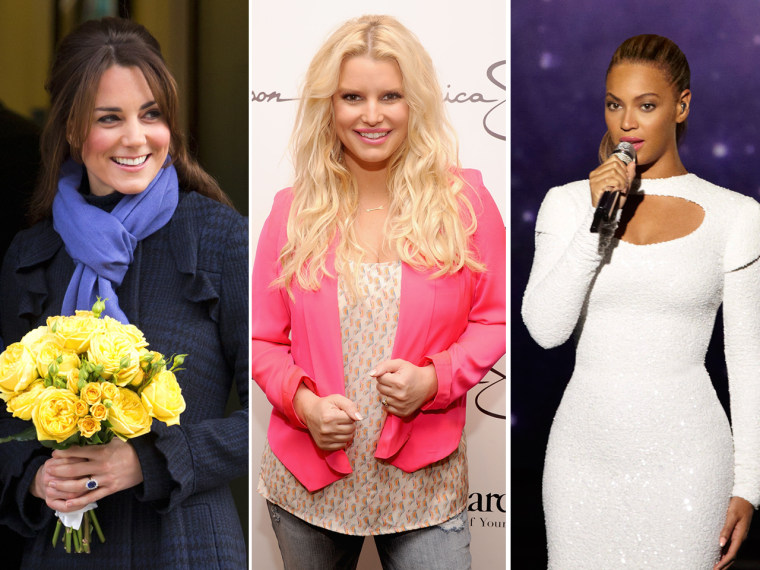 Duchess Kate. The queen mother of all womb watches. From the moment she said, "I do," there has been non-stop speculation about when Catherine, Duchess of Cambridge, would bear an heir. As we leave 2012 behind, she's undoubtedly hoping to leave her morning sickness behind as well. Since she's still in the early days of her pregnancy, we can expect her to top the list again in 2013. Until then, we can look forward to see what sort of maternity wear this stylish gal will don.
Beyonce. From British royalty to pop royalty. The birth of Jay-Z and Beyonce's daughter, Blue Ivy ushered in the new year with a slew of gossip. Speculation about the delivery ran wild. Did they or didn't they spend $1 million to rent out a whole floor of New York's Lenox Hill Hospital? Were other parents really booted from their own birthing suites to make room for the famous duo? And, for a while there was even confusion on the baby's name – was it Ivy Blue, was it Blue Ivy?
Marissa Mayer. The new Yahoo! CEO garnered the kind of pregnancy speculation and comments normally received for Hollywood starlets after she announced that she would only take a few short weeks of maternity leave before returning to her job. Even before she gave birth, she became the poster child for the renewed debate on "having it all" and family leave issues. Luckily for Mayer, "The baby's been easy!"
Jessica Simpson. Our pal Jess is no stranger to critiques of her physique. She endured them before her pregnancy, during her pregnancy and now, after her pregnancy. From snarks over her "slutty brownie" indulgences to speculation about her deal with Weight Watchers, people were fascinated by this gorgeous gal's weight gain. She's just announced that she's already expecting again, so who knows, maybe she'll get a reprieve on losing the baby weight for a while. 
Jenna Bush Hager. The newest TODAY Mom, Jenna recently announced her pregnancy on the TODAY Show, much to the delight of her father, former president George W. Bush. Although she's not due until spring of 2013, everyone at TODAY Moms is excited to welcome her to the club.
Giuliana Rancic. After a long and difficult journey, Giuliana and her hubby, Bill, finally became parents. The couple faced a well-documented battle with infertility, which revealed that the reality star was suffering from breast cancer, leading to a double mastectomy. But, this year, thanks to a surrogate, the couple now have a baby to call their own.
Reese Witherspoon. Reese gave birth to a little guy with a big name – Tennessee James Toth in September. Squee.
Snooki. You might not know the name Nicole Polizzi, but it would be hard to not know this "Jersey Shore" gal's nickname, Snooki. Known for her hard-partying ways on MTV's controversial reality show, more than a few eyebrows were raised and some tongues even wagged when she announced her pregnancy.
Jennifer Garner. We've long loved Jen for being one of the most down-to-earth celebrity moms out there. But, when she donned this adorable, yet totally practical one-piece swimsuit shortly after giving birth, we fell into a new level of mom crush. When US Weekly called her look "sexy" and "retro," moms everywhere applauded her and thanked her for bringing modest, stretch-mark-hiding swimwear back into the realm of sexy.
Jennifer Aniston. Okay, so Ms. Aniston's not actually preggers (that we know of…). But, after years and years of speculation, we felt the need to include her on this list. After all, if you add up all of the tabloid headlines declaring her to be with child, she's racked up more pregnancy headlines than just about anyone else.
Dana Macario is a Seattle-area mom who loves to catch up on gossip headlines while waiting in line at the grocery store.