We're pregnant! Quick: Get out the camera!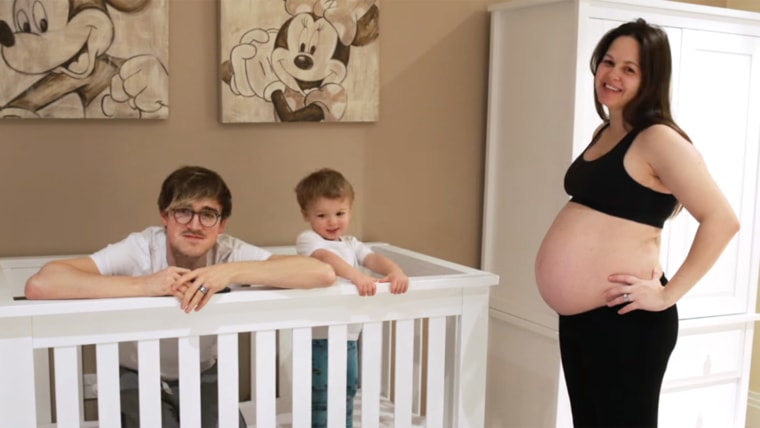 We're not totally sure that's exactly how Tom and Giovanna Fletcher's thoughts went once they learned they were expecting their second child, but it's a pretty good guess. After all, they brought us a bump-to-baby time-lapse video in 2014 that charmed the socks off everyone who watched.
MORE: Mom of 9-week-old decides to embrace her post-baby bump: 'This body isn't shameful'
And now they're back — for baby No. 2!
In the pair's latest video, "Bump to Buddy," they follow Giovanna's progression from three months to the final realization of Buddy Bob, who was born in February. And making an appearance is the star of the first video, which racked up over 12 million views on YouTube, Buzz!
It's a super-sweet family portrait, set (as was the first one) to one of Tom's original tunes. In this new one, he croons, "It only takes nine months to make a human, nine short months to make a new one. A half-me, the-other-half-you one, it'll call you dad and you mom."
Music, like baby bump videos, apparently comes naturally to Tom, who's the singer of the band McFly and who delighted us last April when he took Buzz out for a walk among the dandelions. (That video has over 9 million views.) And here's dad singing with Buzz last July!
MORE: Bloomin' hilarious! Toddler can't stop laughing when daddy blows on a dandelion
As for future videos, stay tuned. As Tom notes in his song, "There's nothing more than I'd rather do than wait a year or two and make another human with you."
Meanwhile, Giovanna has taken the high road on social media after being targeted about her post-baby body:
MORE: Watch a dad and his adorable one-year-old son sing a duet
Clearly, this is a talented group that knows how to have fun (and share it with the rest of us). Congrats to you, Fletcher family!
Follow Randee Dawn on Twitter.