An inspirational letter that a British school sent to its 10- and 11-year-old students ahead of nerve-wracking standardized exams has gone viral for the way it reassures children that test scores "will not tell you everything."
Watch: Heartwarming letter to student goes viral
The letter, signed by three teachers at by Buckton Vale Primary School in the U.K., went home Friday to all Year Six students taking the upcoming series of educational assessment exams known as SATs. Pronounced as one word, these exams are not the SATs that Americans are familiar with, but they probably give the students taking them the same type of anxiety and heartburn.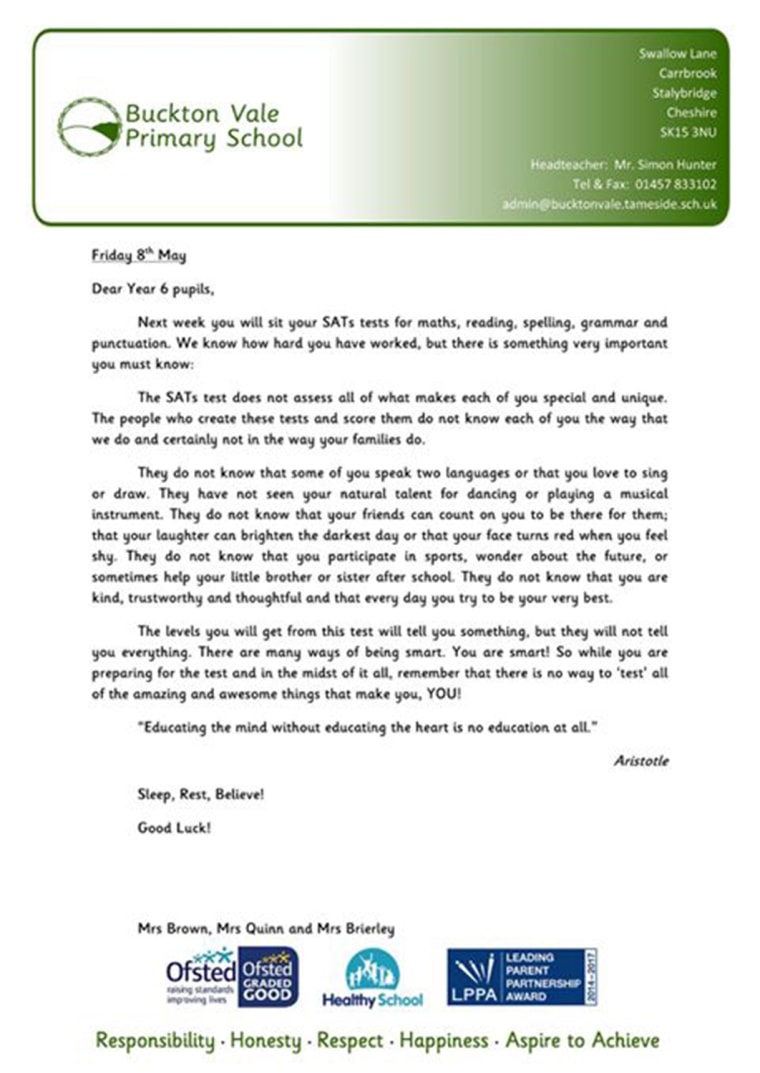 "We know how hard you worked, but there is something very important you must know," the letter said. "The SATs test does not assess all of what makes you special and unique. The people who create these tests and score them do not know each of you the way that we do and certainly not in the way your families do."
The note went viral shortly after the school posted it to its Facebook page, where more than 60,000 users had shared the message and more than 49,000 individuals "liked" it by Monday evening.
SATs are usually taken by 10- and 11-year-olds and their results can help determine which secondary school the test takers will attend the following year. But the Buckton Vale teachers wanted to remind their students how proud they are, regardless of the outcome.
"There are many ways of being smart. You are smart!" the message read. "So while you are preparing for the test and in the midst of it all, remember that there is no way to 'test' all of the amazing and awesome things that make you, YOU!"
The school later amended its Facebook post to clarify that the letter took its inspiration from American teacher Mary Ginley, a former Massachusetts Teacher of the Year who first wrote the words in 1999.
"Many schools have used them in the years before us and many will use them in the years after. This year fate and social media decided that Buckton Vale would be the school to propel the message to others, just as next year it will be the turn of another school," the school said.
Indeed, last year a similar letter went viral after another British school also sent it to students ahead of standardized testing time.
That didn't stop parents and educators from embracing this year's version.
"As an ex year 6 teacher, these comments are so very true. These tests reveal a very small part of the person," Patricia Fursman wrote in her Facebook comments.
Added Colette Wignall: "Wow, got a very stressed out 11 year old preparing for her week of SATs, shame her school are not more like this one." She said the exams place far too much pressure on young children. "Kids are kids and should be stressed when they grow up into adults."
Even Americans loved the letter. Denise Wilder shared the photo with a note to her Facebook friends, "Maybe the US public schools should send this home too!"