Linda Napolitano, 66, was diagnosed six years ago with early onset Alzheimer's disease, and is now in the late stages of the incurable, progressive brain disorder.
With no family history of the disease and such an early diagnosis, it's no surprise that her daughter, 30-year-old Julia Napolitano of Milwaukee, Wisconsin, hadn't been prepared to experience her wedding day (and the months of planning that came before it) without her mom by her side.
Though Linda Napolitano is still mobile, she no longer recognizes her daughter or her husband, Umberto, and she's lost the ability to speak.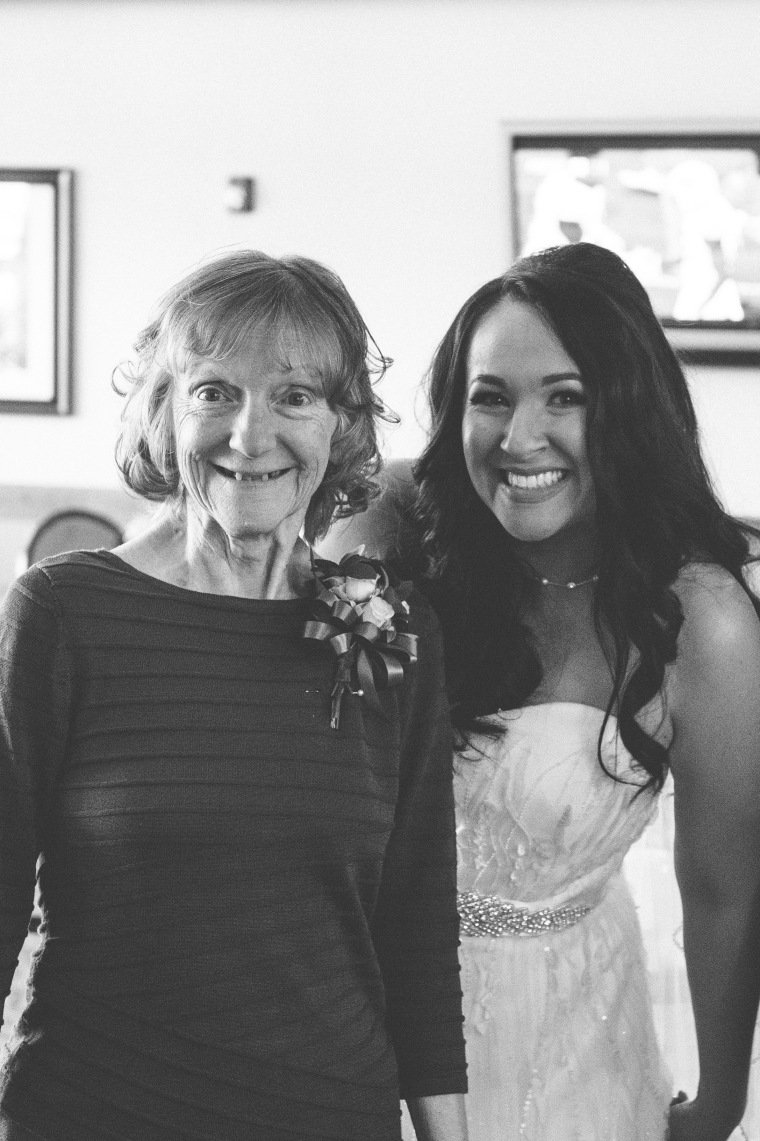 "I'm an only child, so taking care of my mom has always been in the back of my mind," said Julia Napolitano in an interview with TODAY.com. "But as a girl in my 20s, to hear that my mom had been diagnosed with this horrible disease ... you just think, 'Oh my gosh. No.'"
Napolitano realized she had to continue to find ways to make both her life and her mother's life meaningful. "She may not be the same person in every sense, but she is alive," she said. "And we need to share that life, even if it's only for a short amount of time."
RELATED: 'I'm learning in a new way': B. Smith on living with Alzheimer's
But to have her leave Silverado, the Alzheimer's community and home she's grown accustomed to over the past several years, was nearly unthinkable. The way the bride saw it, there was only one option left: She and her now-husband, Justin Phillips, 28, would bring the wedding to her mom instead.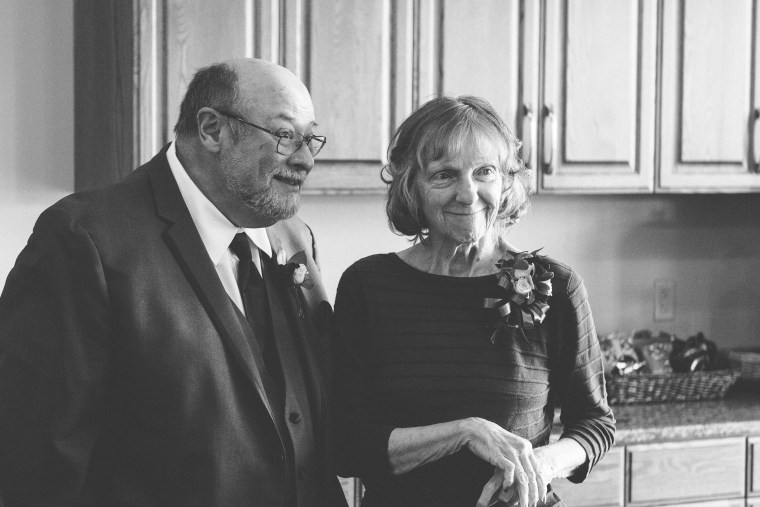 At the ceremony, held at a local church, guests were handed programs that explained the state the bride's mother was in and included an invitation for anyone who was interested in joining the bridal party at Silverado before the official reception.
The turnout was a little bigger than expected. "Almost everyone decided to join us," said Napolitano.
And as for the big reveal?
"They opened the doors, and our wedding guests swarmed in first," she said. "I was the last person inside."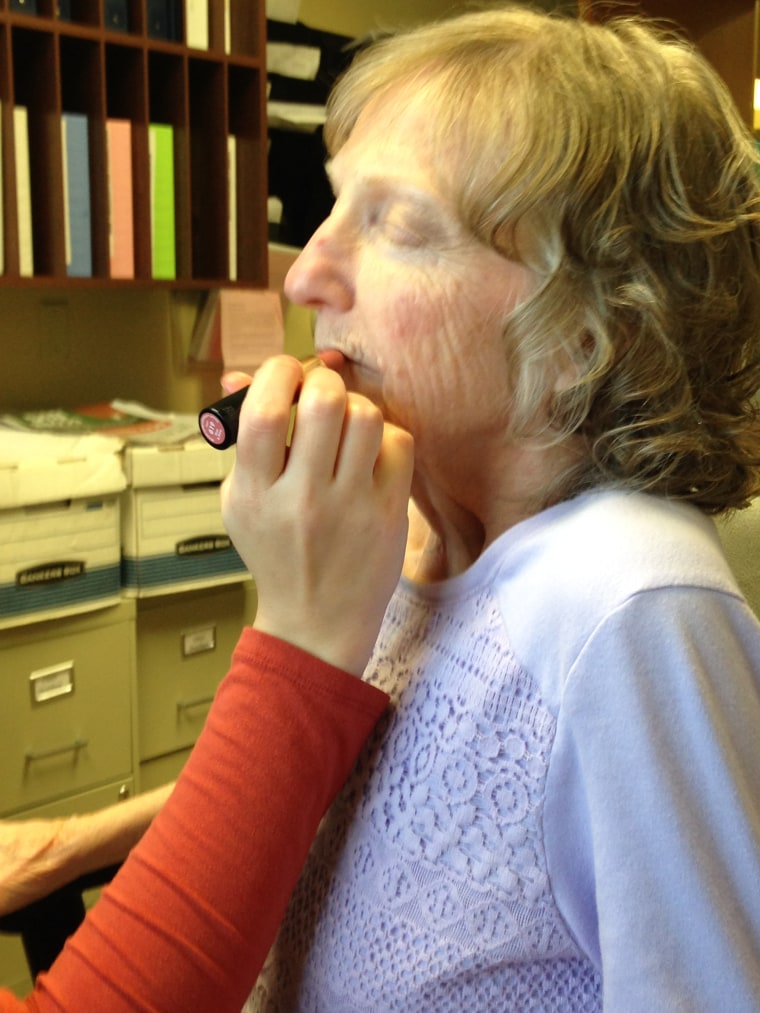 "I walked in, and the crowds parted, and then they brought Mom around the corner. That moment — when she got to see me in my dress ... I can't describe the feeling."
Though Linda Napolitano couldn't communicate with her family to let them know whether or not she understood what was going on, "there were signs," said Napolitano. "Deep down, we all truly believe that she understood there was something special going on."
RELATED: Owen Wilson talks father's Alzheimer's diagnosis: 'It's been a rough thing'
Of course, there was one moment that stood out above all the rest.
"What was really magical was the moment when she danced with my dad," said Napolitano. He's been married to her mother for more than 30 years. "They swayed to the music, and as you can imagine, it was extremely emotional. He always assumed she would be there to give away their only daughter."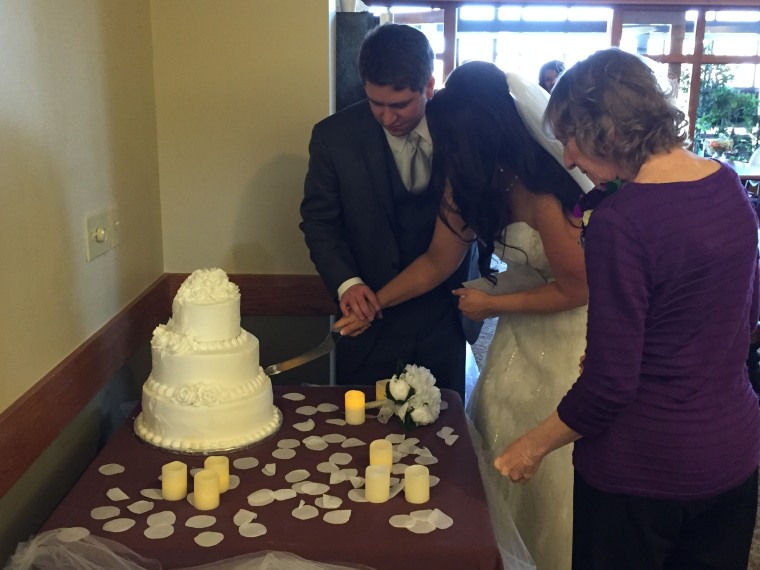 But it wasn't just a memorable occasion for the Napolitano family. "We really didn't want to make it just for my mom, but for the entire home as well," she said. "That's her home now. So all the residents and staff were part of the festivities, and everyone got dressed up."
"To be able to have a home so willing to host and coordinate such an event ... well, that was pretty incredible," said Napolitano. "They embraced it as though they were her family, too. They had someone do her hair and nails and got us a cake that matched the colors of our wedding."
RELATED: B. Smith: 'I'm feeling great' despite Alzheimer's
She added: "Though there was indeed a second reception later in the day, we did our first dance as husband and wife at Silverado surrounded by couples, staff and residents dancing in wheelchairs, and we had our first cake-cutting there."
And since the Nov. 7 wedding, things have stayed relatively stable. "She's been in such good spirits since then. It's actually been amazing," said Napolitano.
"Clearly, we need to get married more often."