/ Source: TODAY Contributor
If the baby is tired and cranky, what's a mom to do when she's about to say 'I do'?
For this breast-feeding bride, the answer was easy: Without a second thought, she cradled her crying baby girl to her breast and nursed her in the front pew of the church. The baby quickly fell asleep, and the ceremony carried on without a hitch.
"I was pretty stressed out thinking about her being so upset," bride Christina Torino-Benton told TODAY Parents. "I was happy to take her and I was able to calm her down. I was feeling pretty proud of myself."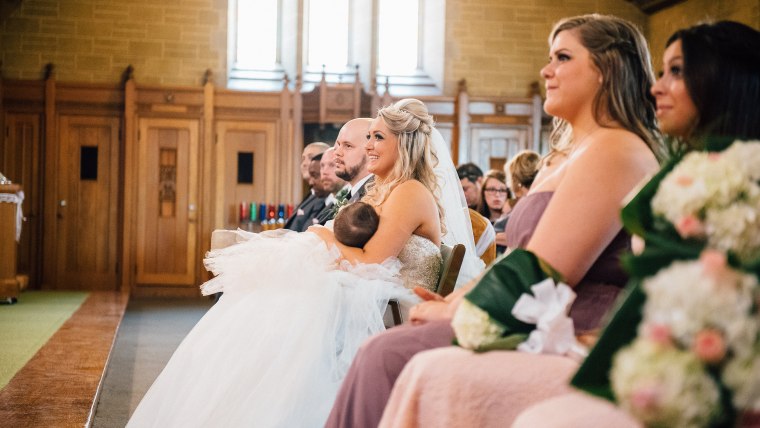 For Torino-Benton, who practices attachment parenting and exclusively breast-feeds her 9-month-old daughter, Gemma, nursing during the ceremony was a natural response.
RELATED: Mom shares two 'revealing' photos to prove point about breastfeeding
"It felt pretty normal, nothing too out of the usual for me, except for I was wearing a 50-pound dress," said Torino-Benton, who wore a strapless ball gown to her June 18 wedding in Montreal. "I was very fortunate I was able to maneuver myself out of it without too much struggle."
Torino-Benton, 30, had been nervous that Gemma might fuss during her noontime nuptials with her childhood crush, Daniel Benton, 32. About 15 minutes into the hourlong Roman Catholic Mass, while the couple were seated, Gemma began to cry.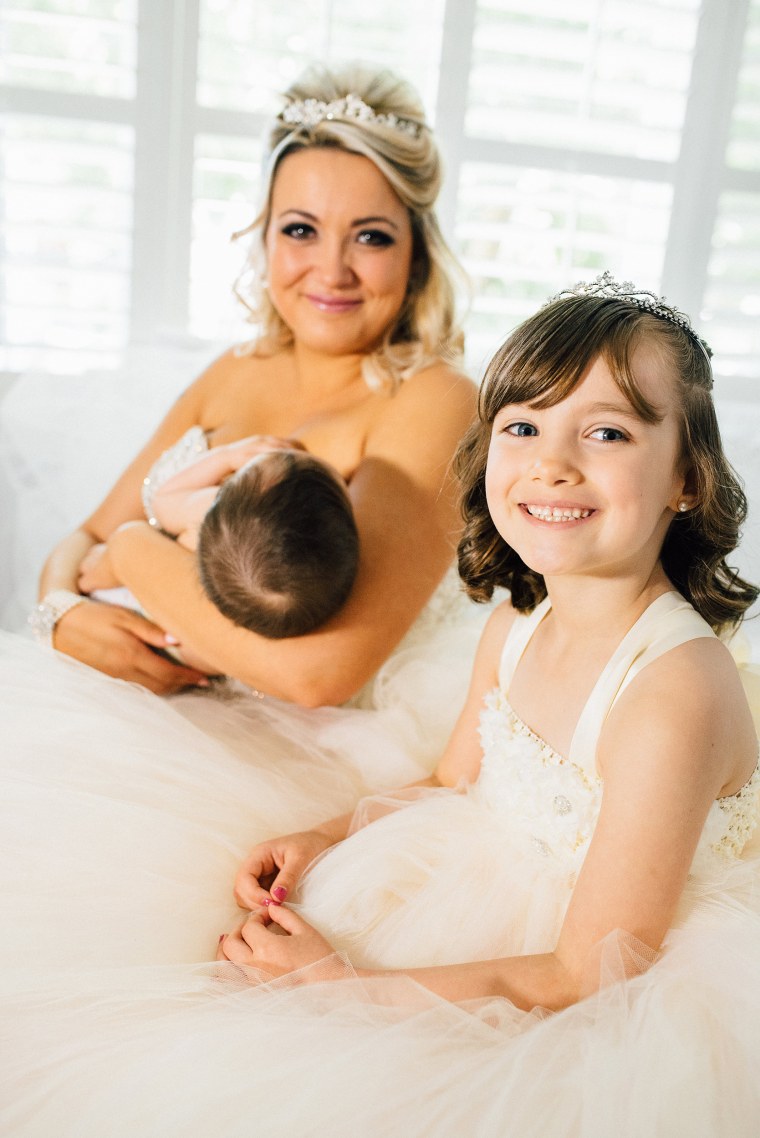 "The plan was she would be happy in my mom's arms for an hour, but it didn't work out that way," Torino-Benton said, adding that Gemma missed her morning nap and was sweaty in her tulle gown on a hot day.
"She continued to cry and I got distracted," she said. Torino-Benton kept turning around to check on Gemma as the priest delivered his sermon.
The bride said she felt the baby's cries "in the pit of my stomach" and knew that letting Gemma cry "wasn't even an option." She glanced at her groom.
RELATED: See how strangers awesomely defend mom bullied for breastfeeding at Target
"This is going down right now," she told him.
Then she asked for Gemma, who quickly drifted off to sleep after nursing and slumbered in a relative's arms as the couple became husband and wife.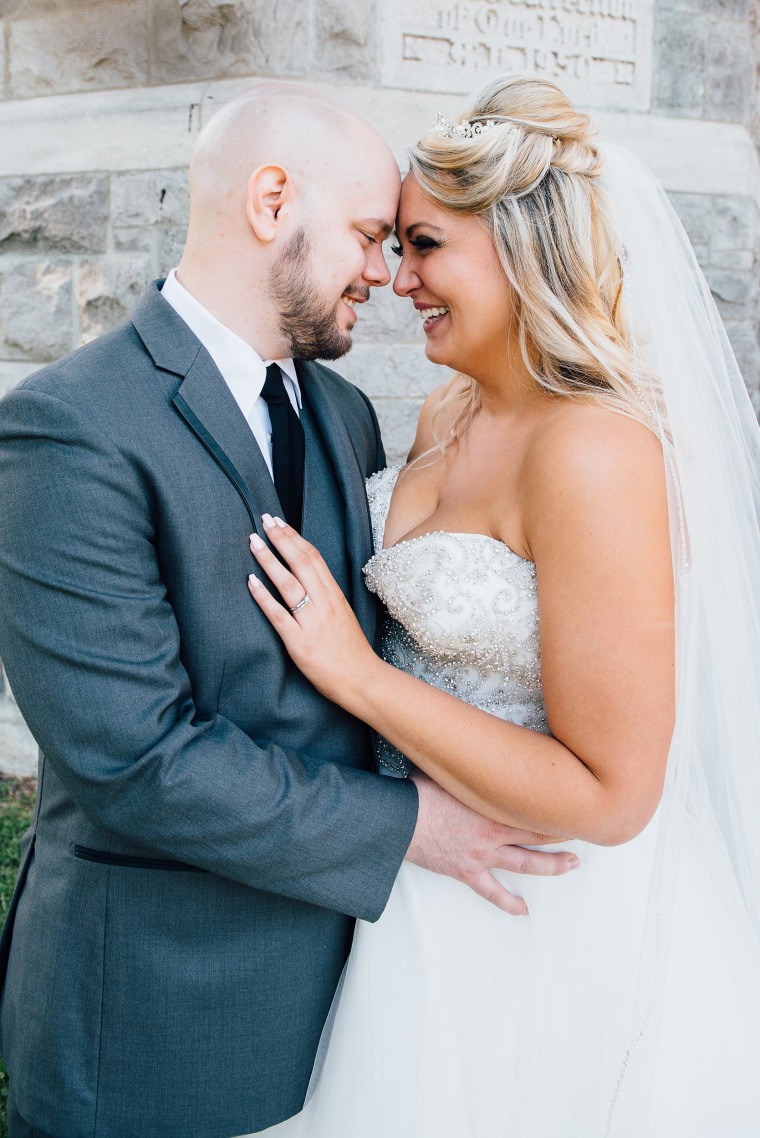 "Right after I took her, everything was back to being amazing," Torino-Benton said.
Torino-Benton was thrilled to learn that her wedding photographer, Lana Nimmons, had captured the sweet moment. The bride submitted the image to the Breastfeeding Mama Talk Facebook page with the caption: "That moment when you're getting married and your baby gets hungry ;) feeling SO proud of myself! Fighting that good fight! ❤️"
Like the subjects of other viral nursing photos before hers, Torino-Benton said she hopes her photo will help to normalize public breast-feeding and "to get women to feel more comfortable nursing — even at their own wedding."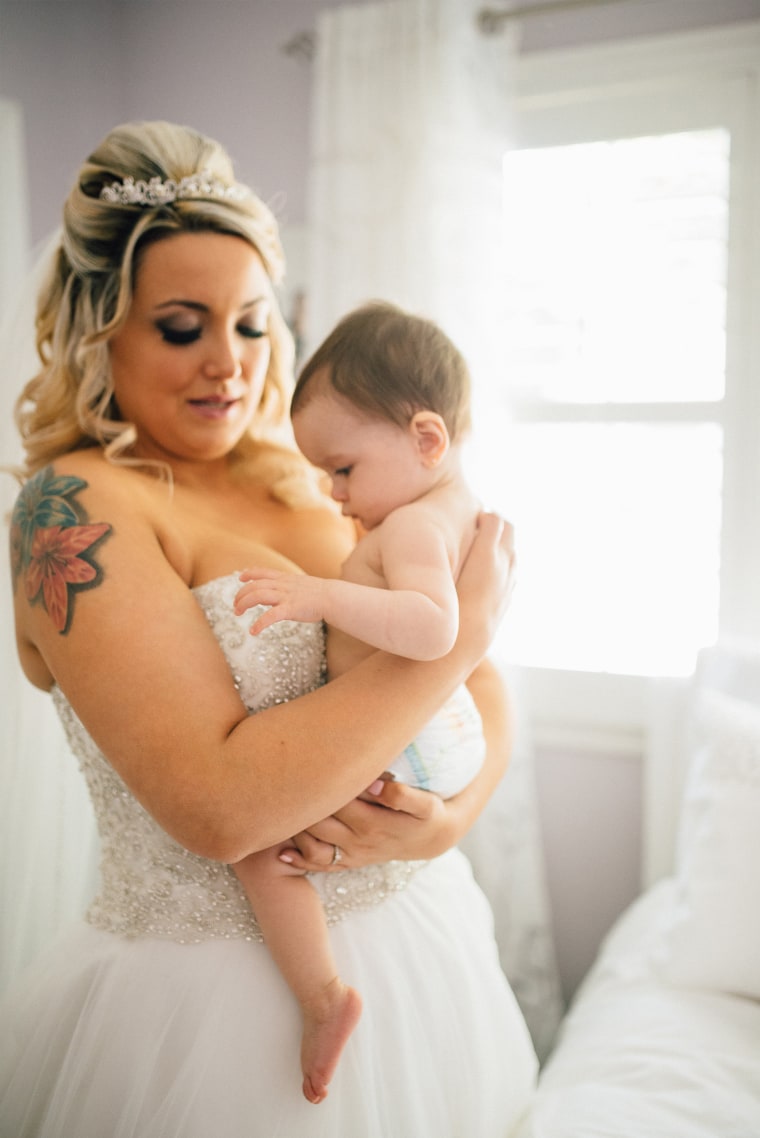 She's not the only breast-feeding bride: Women who experienced the same joy of nursing in a wedding gown posted their photos on the Breastfeeding Mama Talk's Facebook page under Torino-Benton's photo.
The fanfare around her photo has been a whirlwind for Torino-Benton, a mom of two who used to be wary of nursing in public.
"When I first had Gemma, I would find a room in the back somewhere and just quietly nurse her in a chair or if someone were to walk in, I'd turn around," she said. "I was very nervous and shy at first.
RELATED: 'At the park, in the dark': Funny video showcases all the places moms breastfeed
"Then I realized that taking care of her needs is way more important than possibly offending anyone else."
Torino-Benton said what she did with Gemma "definitely saved the ceremony."
"It was cool it included her in the ceremony, but it was just very normal," she said. "It was just a beautiful day and a beautiful picture and I'm really proud of that moment and I'm glad that I get to keep that memory and show it to her when she's older."
TODAY.com contributor Lisa A. Flam is a news and lifestyles reporter in New York. Follow her on Twitter and Facebook.
Never miss a parenting story with TODAY's newsletters! Sign up here