With her arms wrapped around her baby, the California mom who nursed her 3-month-old daughter at her college graduation in cap and gown last month — an image now going viral — was filled with pride and happiness. And she doesn't know what all the fuss is about.

"I was proud of the fact that not only did I graduate but that I got to share the moment with the one person who is the most important to me and that is my daughter," Karlesha Thurman said Monday.
The photo (posted below), which shows her baby at her breast, has racked up many words of support in recent days, but also drew some negative comments as well. Some said it was inappropriate, that she should have covered up — and worse. 
Thurman, who earned her accounting degree, said she never wanted attention because of the photo and didn't realize that some people have a problem with public breast-feeding. She didn't think twice about nursing amid her fellow graduates, and has never had a problem nursing where she needed to.

"I honestly thought that as a society, people were more understanding to breast-feeding and understood the importance of breast-feeding," said Thurman, 25.
"It's not disgusting, it's not a bad thing, it's not a negative thing," Thurman added. "It's the best thing for my daughter. More people should do it."
The photo was taken at California State University, Long Beach on May 22. After her name was called and she crossed the stage, Thurman returned to her seat and her friends asked to meet her daughter, Aaliyah.
Within minutes of retrieving her daughter from her own mom, Aaliyah became fussy, so Thurman did what she always does when her daughter is hungry: She breast-fed her. Nobody said a word, except for a friend who "thought it was so cool" and asked to take her photo.
Thurman did nothing with the photo until this past weekend, when she posted it on the Facebook page, Black Women Do Breastfeed, to support a woman who wrote of getting dirty looks while nursing in public.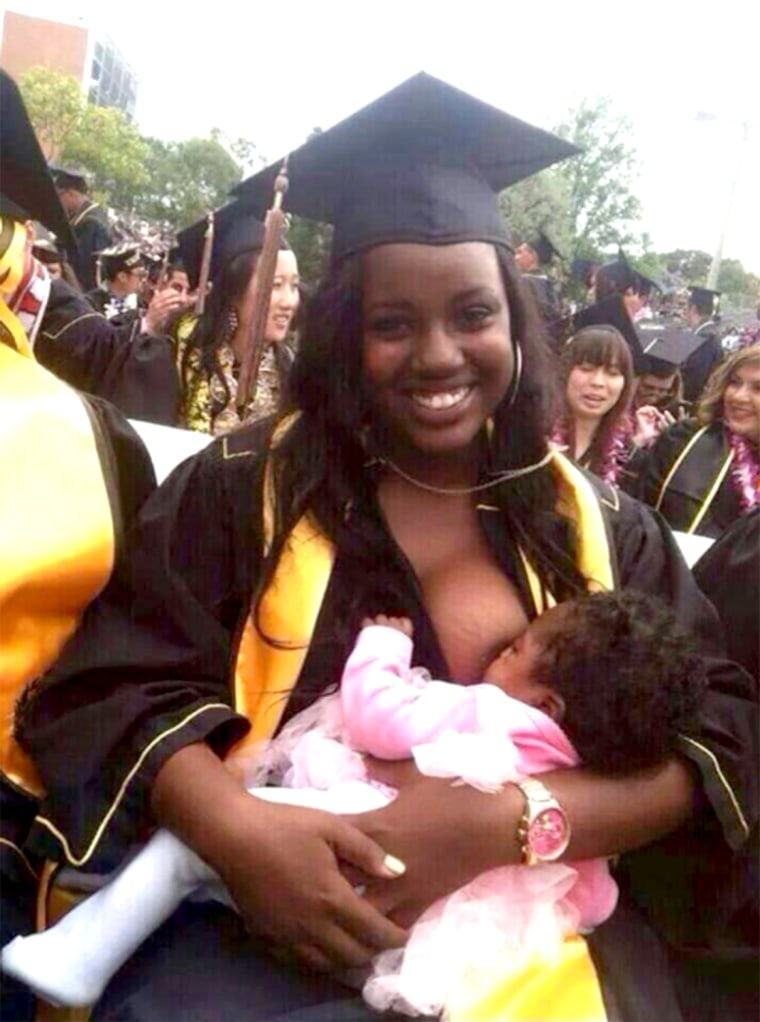 "I did it to show it's natural, it's normal, there's nothing wrong with it," Thurman said. "I didn't even know there was a big controversy about breast-feeding in public until all of this happened."

Though Thurman has since deleted her photo, she became the newest face of the effort to normalize breast-feeding in public as Black Women Do Breastfeed shared her photo in a new Facebook post.
"Congratulations, mama!!!! Giving her daughter more gifts than one! Isn't this beautiful?! #normalizebreastfeeding," read the caption.
As the photo spread, online support poured in, with many congratulating her for completing school as a breast-feeding mom.
"Congratulations to the mom for graduating & putting your baby 1st," Michelle Spruill wrote on the group's Facebook page. "I breast-fed all 3 of my babies. I didn't let my babies starve because of how it would make someone else feel. Good job!"
"It shows she really cares about her child by getting her education to make her life better and breast-feeding her," Medricka Vaughn wrote on the Blacktating Blog's Facebook page.
Other reactions on social media, however, were not nearly as supportive.
The photo makes news at a time when black women have the lowest rates of breast-feeding among all races and ethnic groups across the U.S., said Dr. Lori Feldman-Winter, a pediatrician at Cooper University Hospital in Camden, N.J., who found the photo beautiful.

"It's a wonderful image because it brings together the fact that she's educated, and is going to be an educated professional, and black and choosing to breast-feed," said Feldman-Winter, a member of the American Academy of Pediatrics' section on breast-feeding. "It's just nice to have more and more role models of black women breast-feeding. That's what we need to overcome the deficits we've seen over the years. We've seen this disparity between black women and other women in the U.S."
Among all babies born in the U.S. in 2010, 77 percent were breast-fed compared to 62 percent of black babies, according to the latest figures from the CDC.
Thurman's mother breast-fed her four children and encouraged Thurman to nurse as well. Thurman, who has several black friends who are nursing, wondered why any mother would not choose to nurse.
"If you're able to breast-feed, I don't see why you wouldn't regardless of race," she said. "If you can give your child a gift as great as breast milk, I don't see why you would deny them that because of society."
Although breast-feeding rates have risen, some women face a backlash when they do it in public when people confuse a lactating breast with a sexual breast, said Diana West, a lactation consultant and spokeswoman for La Leche League International who felt the photo could help.
"Sometimes they can enlighten people," West said. "The more women that breast-feed in public, the more normal it becomes."
Thurman, who is engaged, says detractors won't deter her from feeding her daughter anywhere she needs to.
"I love looking down at my daughter and knowing I have what she needs to grow and that I'm the one that's nurturing her," Thurman said. "The connection that you have when you're breastfeeding your child, it's unexplainable."
Lisa A. Flam is a news and lifestyles reporter in New York. Follow her on Twitter.