/ Source: TODAY Contributor
This story was originally published on April 23, 2015 at 6:13 p.m.
Elisha Wilson Beach likes to be honest about motherhood, messiness and all.
Her truth-telling ignited an online controversy when she posted a photo of herself doing double-duty: She was seated on the toilet, pants down, and nursing her then-11-month-old daughter, Nolan.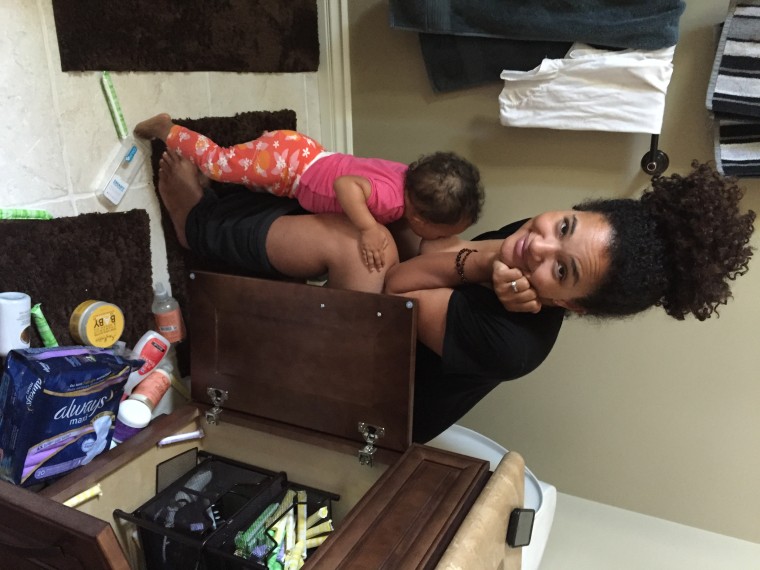 While some were appalled at the notion, it was second nature to Wilson Beach, just another part of being a mom.
"Maybe motherhood has blurred my lines," she told TODAY. "I've done it so many times, I just did what I usually do."
It happened early one Saturday morning at home after she put Nolan on the bedroom floor to play while she went to the bathroom. With her then-4 1/2-year-old son still asleep, she lingered in the loo and was "just enjoying the quiet moment." But before long, Nolan found her way in the bathroom, made a mess of the cabinets and reached her mom to nurse.
RELATED: Parody of Fifth Harmony's 'Work from Home' reveals what moms really find sexy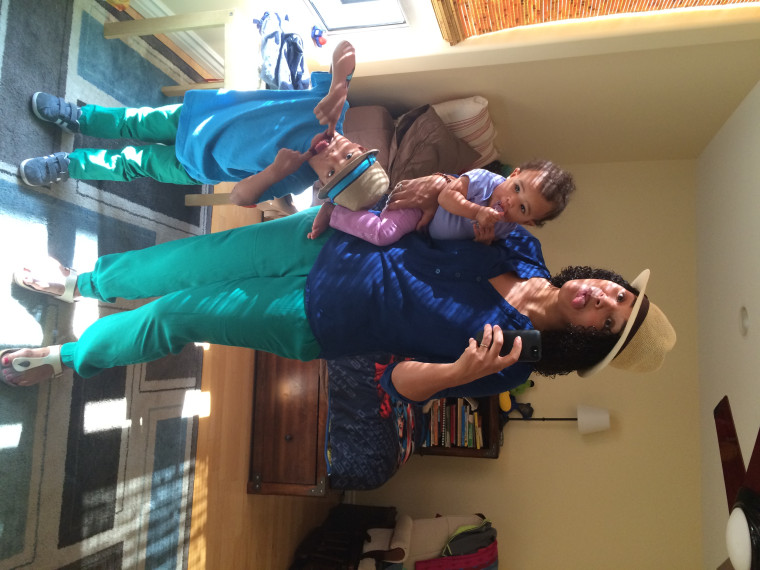 Finding humor in her multitasking, Wilson Beach called her husband, actor Mike Beach, to take a photo. "I just said, 'Hey honey, come take a look of this,'" said Wilson Beach, of Los Angeles. "I thought it was a cute moment to remember. It was funny. I loved it."
She posted the photo to "just share what motherhood looks like for me," says Wilson Beach, who nurses on demand. "That's my daily reality."
"This is motherhood and it ain't always pretty. What's your #momtruth?" she captioned the photo on Instagram. Perhaps knowing what might be in store, she added: "#motherhood #motherhoodaintpretty #tmi #confessionsofamom #ididthat #iamnotsorry."
RELATED: Bride breast-feeds her crying baby at her wedding: 'I was feeling pretty proud'
As the photo went viral, many praised Wilson Beach and revealed that they too had nursed on the toilet. "Been there done that!" one woman wrote on Wilson Beach's Instagram page.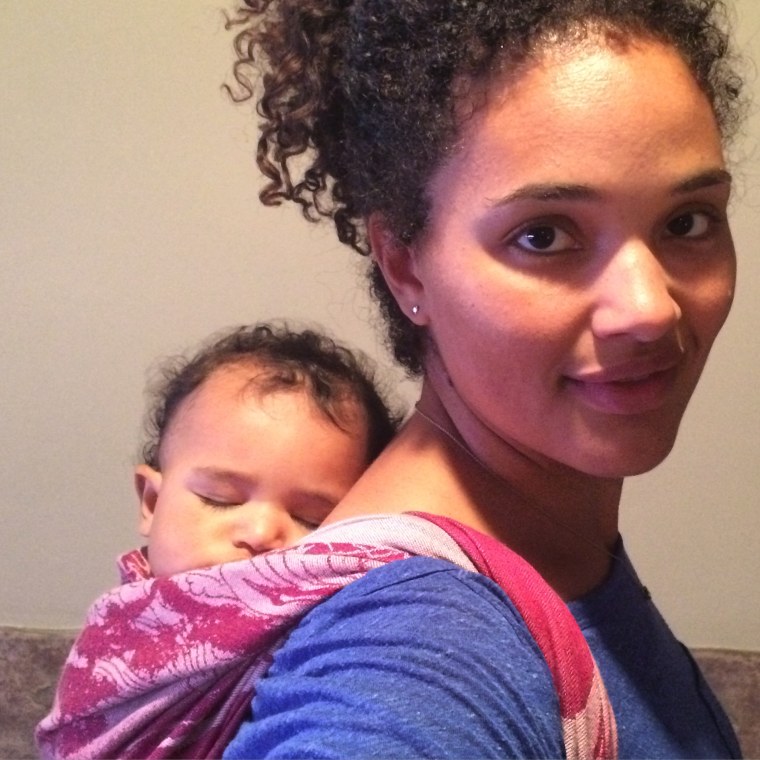 Of course, others were not so nice.
"A lot said I was disgusting or had no class and I'm a nasty cow," Wilson Beach said. Some, she said, questioned why she would nurse in the bathroom when breast-feeding mothers are fighting against having to feed their children in public restrooms.
RELATED: See how strangers awesomely defend mom bullied for breastfeeding at Target
"There's a big difference between my personal home bathroom and a public bathroom," she says, adding that her bathroom is clean and saying she's "done grosser things" — like catch her child's vomit in her hands. (Like she said, motherhood ain't always pretty.)
"Moms do this all the time," Wilson Beach says. "It's not that big of a deal. Some people think it's disgusting. That's fine for their choices, but a lot of moms do this."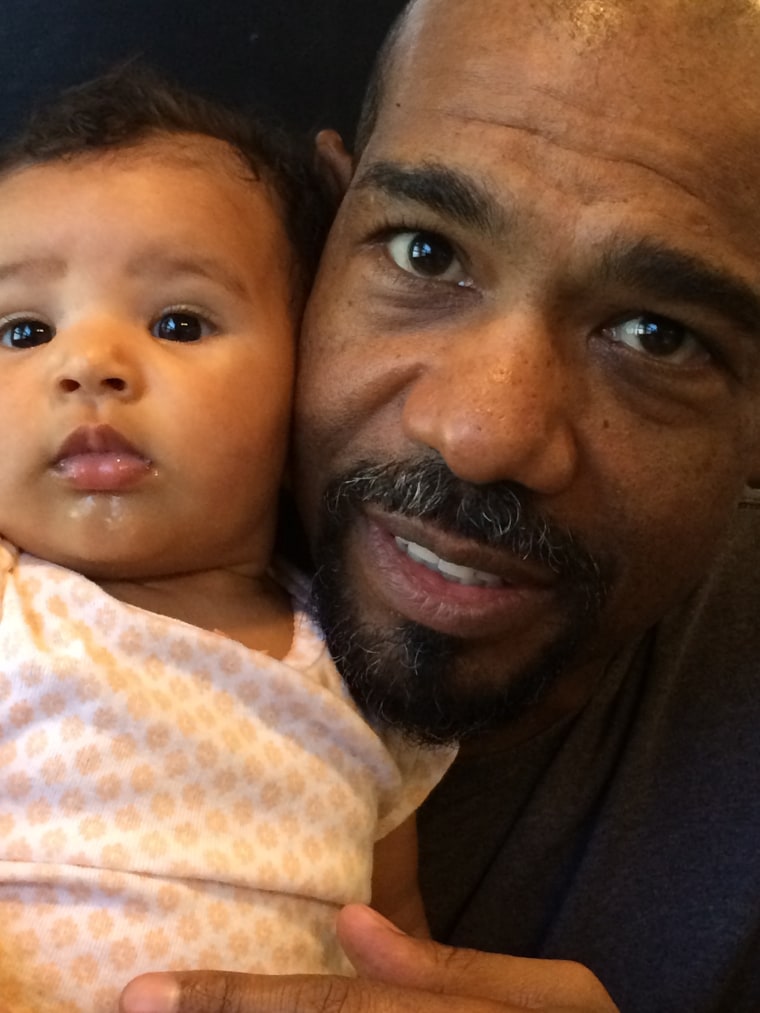 Her husband, who also has four older children from his first marriage, took to his Instagram page to defend his wife. Beach noted that he's been a dad for nearly 30 years, and said his kids are all healthy and safe.
Beach, an actor who appeared in "Sons of Anarchy" and recently "The Blacklist," told TODAY that he respects the feelings of people who thought the photo shouldn't be publicly shared.
"But those who say Elisha is dirty, looking for her 15 minutes or an unfit mother, clearly know nothing about her," Beach said by email. "Elisha is an incredible mom and wife! Ask anyone who actually knows her. ANYONE. My kids and I are so very lucky."
Despite the critical comments, Wilson Beach has no regrets.
"I feel like I gave moms a voice and I feel like I encouraged them to be OK with their messy lives," Wilson Beach says.
"I see so many moms doubting themselves or feeling judged for what they do, whether they're a working mom or a stay-at-home mom, a formula-feeding mom or a breast-feeding mom," she said. "I want moms to be confident in the choices they're making and knowing they're doing the best for their kids."
Lisa A. Flam, a regular contributor to TODAY.com, is a news and lifestyles reporter in New York. Follow her on Twitter.
Never miss a parenting story with TODAY's newsletters! Sign up here.