It's been nearly 10 years since Brooke Myrick lost a baby to a rare condition that occurs in identical twins, but not a day goes by that she doesn't think about her late son, Willis. The same goes for the son who survived, Walker.
Even though the boys never got to meet, they still share a strong connection, and Walker often visits his brother's grave, giving him updates about school or their siblings, his mom told TODAY.
"It's just one of those things," Myrick, of Florence, Alabama, said. "I truly believe he'll always have a connection with his brother."
She snaps photos of Walker at the grave and posts them to Facebook — like the time a few years ago, when Walker had just finished his first day of kindergarten and wanted to tell his brother all about it. She's also raising awareness of twin to twin transfusion syndrome (TTTS), the condition that killed her son.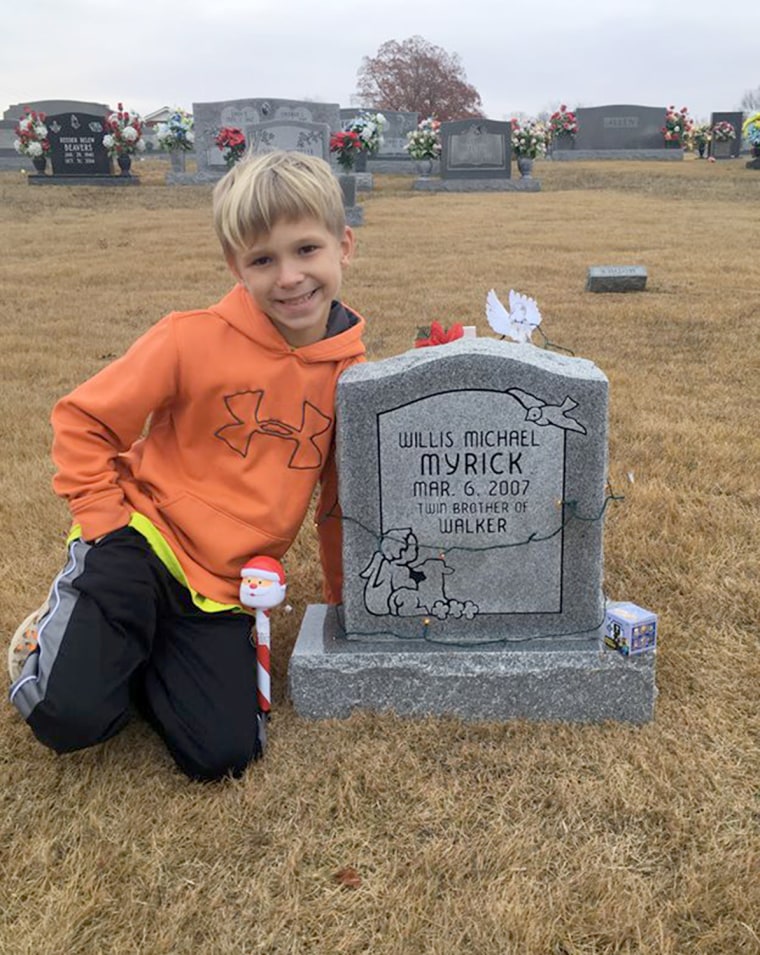 In TTTS, identical twins share the same blood vessels in a single placenta while in the womb, resulting in one twin receiving more blood flow than the other. Without treatment, it's fatal.
RELATED: After surviving a rare condition, twin girls are 'doing just awesome'
"I had never heard of it, and I actually didn't even know we should get tested," Myrick said. "Every time we went in, everything was fine, so I was in this mindset that I'm going to have two healthy babies."
She was 22 weeks pregnant when her doctor told her one of the babies didn't have a heartbeat.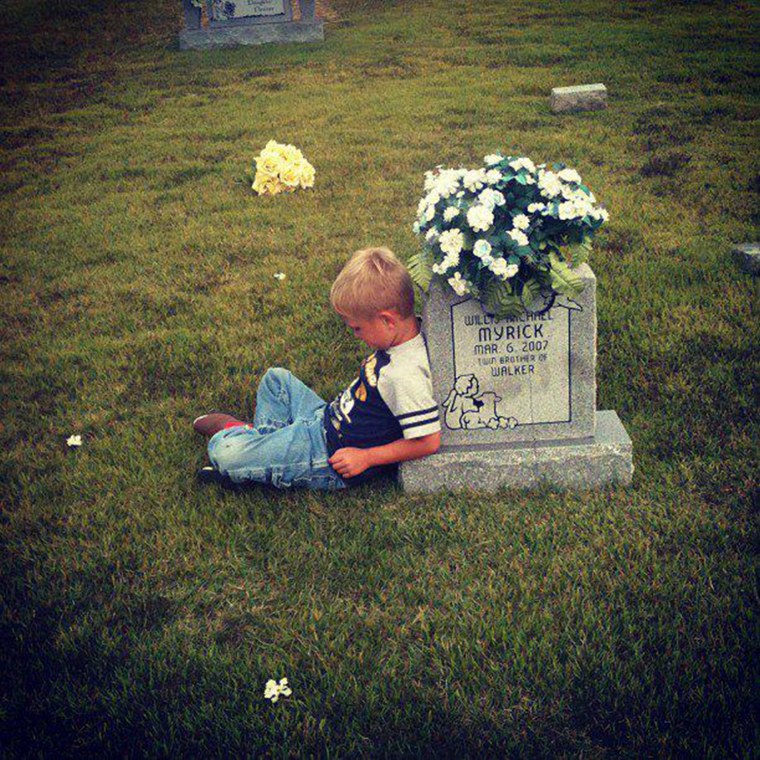 "I was so shocked because I had been told everything was fine," Myrick said. She went to a specialist, who saved her other son, Walker.
"He was born at 32 weeks," she said. "I can now say, almost 10 years later, that he is so smart — he just beat the odds."
RELATED: Toddler rescues twin brother after dresser topples on them
Now she's determined to raise awareness of the condition for other parents expecting twins. Every year around the brothers' birthday in early March, the family does a walk to raise money for the TTTS Foundation.
The idea came in 2012 after Myrick met a woman who had lost two sons to TTTS and was doing a walk for her boys. Myrick went to support her and brought Walker along.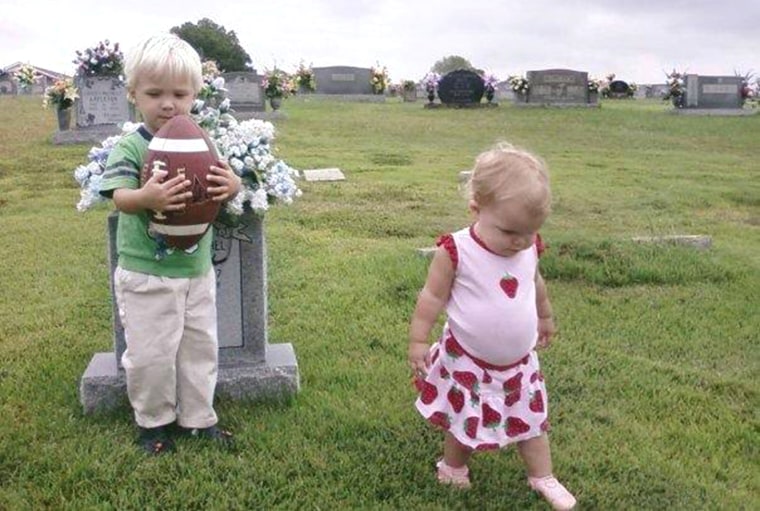 "We all walked, and Walker got to meet other twins who came, and on the way home, he asked, 'Can I do a walk for Willis?'" Myrick said. "I thought, emotionally, I don't know if I'm strong enough to do that. Then he said, 'Can I do it for my birthday?' And I can't say no to that."
Thus the "Walker and Willis Birthday Walk to Fight TTTS" was born. This year's will take place on March 5.
"It's become a tradition around here," Myrick said. "We meet different people every year, and he's raised at least $2,500 every year."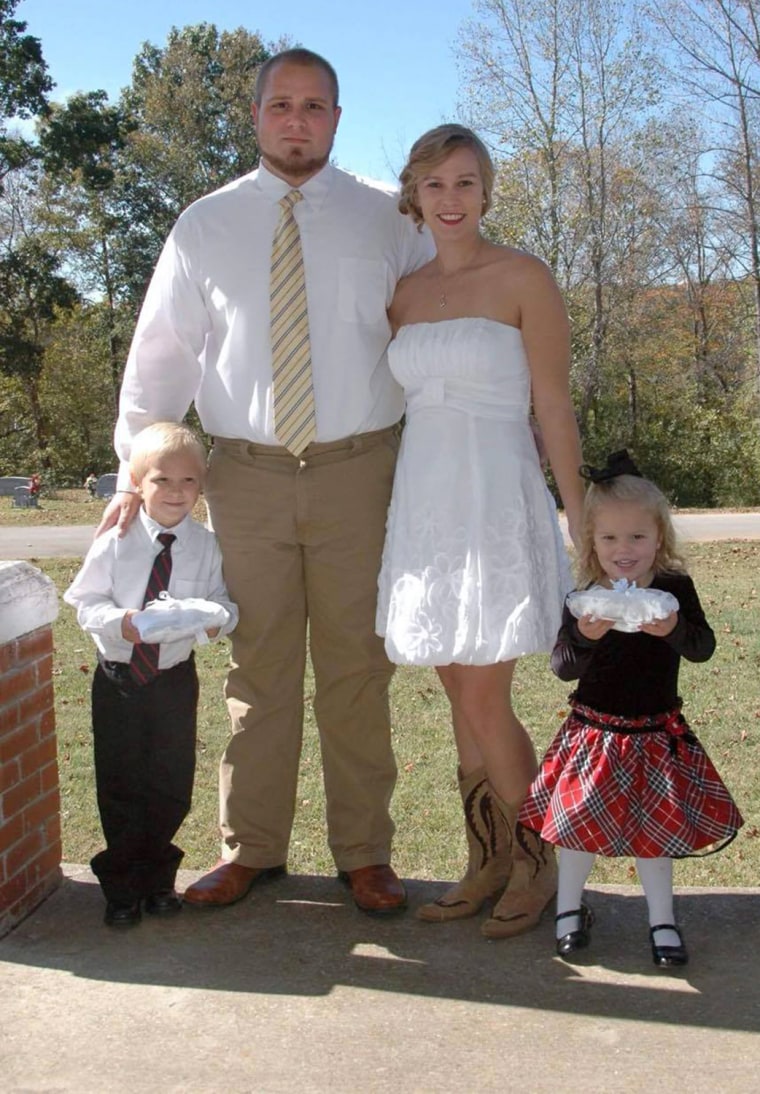 Myrick, who lives with her husband, Michael, and three other children, Jolie, 8, Cooper, 4, and Bryant, 2, said the whole family still feels close to Willis.
"On holidays, we'll be in the store, and even now, when they see something like a little angel or a little car, they say, 'Can we get this for Willis?'" Myrick said. "I don't find it odd; I just think they love their brother."
RELATED: 11-month-old conjoined twin sisters separated after marathon surgery
And on holidays, birthdays, or whenever they feel like it, they visit the grave.
"We taught them how to grieve somebody and celebrate life at the same time," Myrick said. "It's not a depression thing. When we go up there, we laugh — I want people to see that. We honor him."