/ Source: TODAY Contributor
As the mother of a child with autism, Shanna Niehaus wants her 5-year-old son, Kai, to not only function with the disorder, but to thrive and live life to the fullest.
With the help of a recent addition to the Niehaus family — an autism service dog named Tornado — Niehaus says she now feels optimistic that Kai will be OK.
Niehaus recently shared a photo of Kai meeting Tornado for the first time on the Love What Matters Facebook page. The post has been shared more than 300,000 times, with many families offering words of encouragement and support in the comments.
"This picture captures the face of a mother who saw her child, who she can't hug, wash, dress, snuggle and touch freely lay on his new service dog of his own free will, with a purposeful, unspoken attachment," Niehaus explained in the post. "This is the face of a mom who has seen her son experience countless failed social interactions on the playground in an attempt to have a friend. Any friend. Any kind of connection...and now she is sitting behind her son silently watching this moment, with the air sucked from her lungs, and no words to say."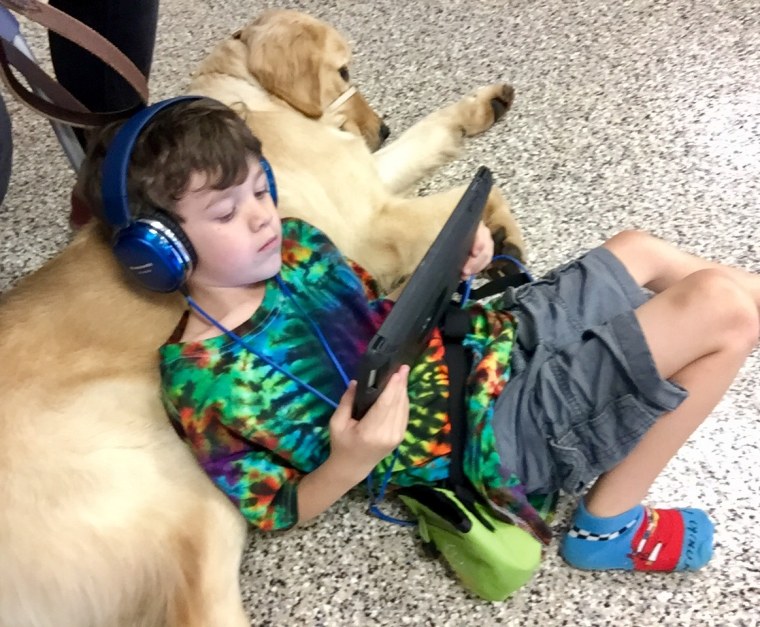 Neihaus, who is an American living in Japan with her husband, Roger, and their three children, suspected Kai was autistic from an early age, although he was not formally diagnosed until last year. Kai is verbal, but struggles with sensory issues and anxiety — both of which Tornado is trained to offer assistance with.
RELATED: Service dog sticks by boy with autism's side, even in hospital bed
"In addition to the emotional support and comfort that Tornado gives to Kai, he is also trained in tasks directly and specifically related to Kai's disability," said Niehaus, adding that Tornado is able to help with everything from helping Kai calm down in stressful situations to tracking Kai in the event that he runs away.
Tornado was trained by 4 Paws For Ability, an Ohio organization that provides service animals for children with disabilities. After receiving Kai's autism diagnosis, Niehaus began the application process, raising $15,000 toward the cost of adopting Tornado and raising additional funds to fly her family-of-five from Japan to Ohio to be trained in working with the dog. It took nearly two years for the entire process to be complete.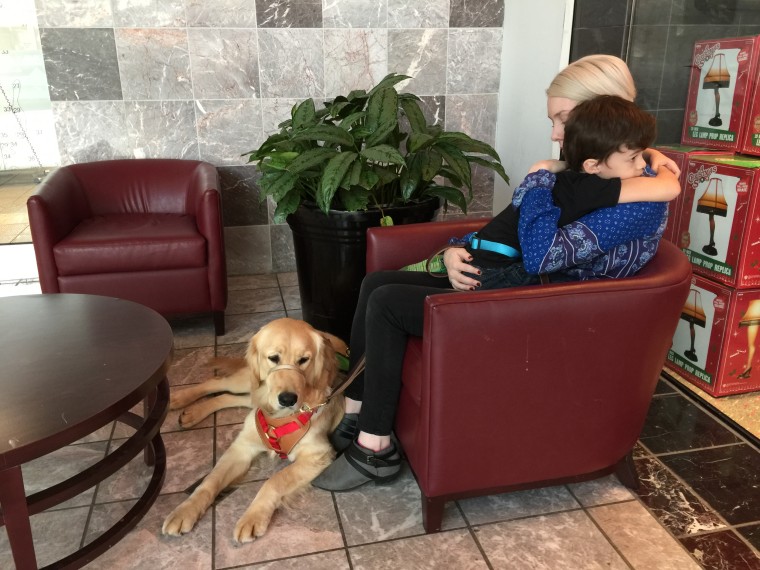 But Niehaus says Tornado was worth the wait.
"This was the apex of everything we had worked hard for and for all the waiting and patience...two years is a very long wait for a five-year-old child," Niehaus told TODAY Parents.
"I have seen so many changes in Kai already," Niehaus continued. "He is calmer and more relaxed and happy. He is sleeping a little better and is showing more affection and smiling more. He just seems more content and like the void in his heart up to this point is being filled in the most beautiful way."
RELATED: How a service dog built confidence in a boy with autism
Karen Shirk is the CEO and founder of 4 Paws For Ability, and says she has been amazed at the response to Niehaus' post about Tornado.
"Tornado was one of six dogs that were considered for Kai," explained Shirk. "The dogs were evaluated and narrowed down until only Tornado stood as the best match. He won the prize — Kai."
"He was picked on his ability to scent track, his personality match to Kai and his ability to tolerate a very active and touchy feely kind of boy," Shirk continued. "And also, on his fit with the entire family."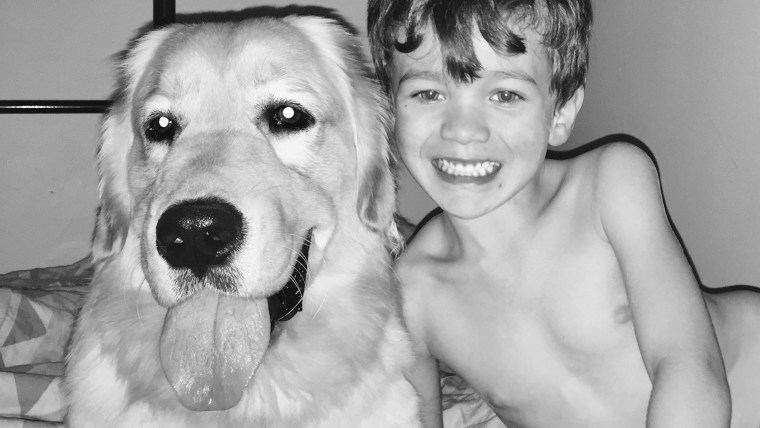 Niehaus and her family are currently in Ohio, where they are completing a twelve-day training program before taking Tornado home to Japan. Niehaus says she feels thankful that Kai's story has gone viral, as parents with special needs need to know they are not alone.
Never miss a parenting story with TODAY's newsletters! Sign up here
"Behind every heartfelt special needs story is a parent who is behind their child fighting for everything for them, which I think is what resonated with so many people across the world," said Niehaus, who also started a fundraiser page for her son to raise money for the additional costs associated with caring for Tornado.
"That moment can be understood no matter who you are or what language you speak — it's universal."