Nothing prepared Kara and Brad Curran for seeing their twin sons in the neonatal intensive care unit after they were born early on March 3 at just 32 weeks gestation. The constant beeping of medical equipment and whir of people rushing in and out of their Pittsburgh hospital room felt overwhelming and strange.
"They told us to prepare for it and we didn't. I don't think you can," Kara Curran, 33, told TODAY. "Being in the NICU is really intimating and scary because you really don't know what is going on."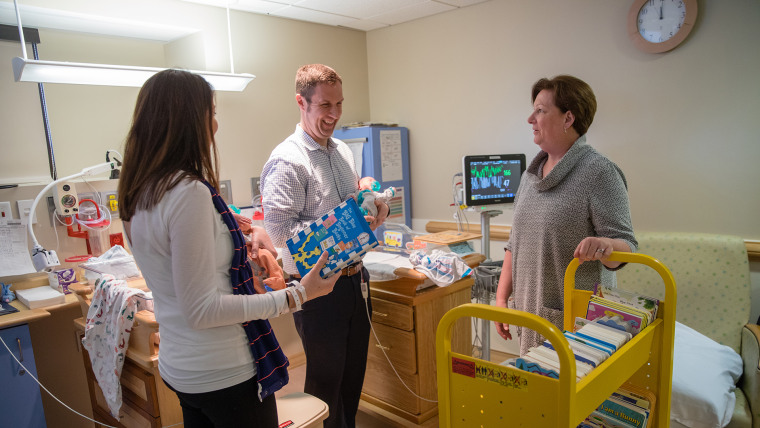 Eli weighed 5 pounds 3 ounces and Aiden weighed 5 pounds 1 ounce. While they were not as small as many newborn twins, they still struggled to latch, breathe and regulate their body temperatures, so doctors kept the boys in the NICU to help them grow.
Never miss a parenting story with the TODAY Parenting newsletter! Sign up here.
The Currans wondered how to connect with their children in such an unusual and isolating environment. Then they received a donation that made bonding with them feel just as natural as it had felt with their 2-year-old daughter Avery: a donation of books.
"Reading really helps with bonding," Kara said. "We are stimulating their brains and they're becoming familiar with our voices."
That's exactly why the staff at the NICU at Magee-Womens Hospital of the University of Pittsburgh Medical Center started the program. They maintain a book cart, like those found in school libraries, filled with books. About once a week, staff take it to the rooms of new patients and allow the parents to select a book for their child.
"Reading in the neonatal unit promotes bonding and attachment. It is encouraging parents to engage in activities they would have otherwise done if they took their baby home," said Caitlyn Baum, a developmental specialist at the hospital.
Reading to babies in the NICU calms and soothes them.
"(The NICU) can be chaotic and stressful. It is nice when (babies) can have that interaction where they are exposed to that nice quiet voice and language," Baum said.
Suzy Guess, the director of the NICU, said that there's even research that shows that reading to hospitalized babies bolsters their outcomes.
"It improves language and cognitive development," she said. "Hearing parents' voices is not only soothing, but had an influence on weight gain, discharge and future language development."
Every morning Brad, 44, read to Eli and Aiden. Kara popped by in the afternoons.
"Just being able to talk to them and read to them (feels good). I don't have many things to say to them but having a book is really helpful," Kara said. "It is just as calming for the parents as the kids because it gives you the sense of normalcy and you can kind of escape."
Magee relies on book donations to keep the program running. Anyone interested helping can send new children's books to the Magee NICU at 300 Halket Street, Pittsburgh, Pennsylvania, 15213.