Mary Petrie always dreamed of one day publishing her novel. But the demands of raising a family made the Minnesota writer and mom put that ambition on hold. Now, her college-bound son has surprised her with the first chapter of a new literary career.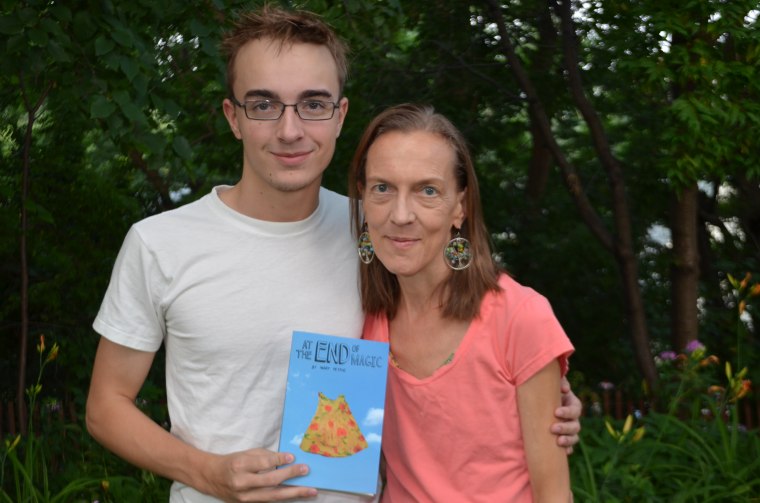 In 2002, when she was pregnant with her third child, Petrie wrote "At the End of Magic," a book about family grief and loss. When it didn't sell, she put it aside.
"I gave up when I got a package from my agent with 27 rejection letters — a dark day," Petrie told TODAY.

Her husband's realty business took a financial hit in 2008 and Petrie, an award-winning writer, had to go back to work. While she enjoyed teaching college English, there was a void in her life.
"It was hard working," she said. "I was a stay-at-home mom writing fiction, then the recession hit and our lives changed."
But this June, her 18-year-old son Stryker Thompson gave his mother a high school graduation present, taking her dusty literary dreams off the shelf. He had her book self-published — behind her back.
"I always saw myself as a writer first and everything else second," said Petrie, 51. "Now I get to live it out and I can't thank my son enough. I have an enormous smile on my face and a sense of wonder at the person he is."
Related: Read an excerpt of "At the End of Magic"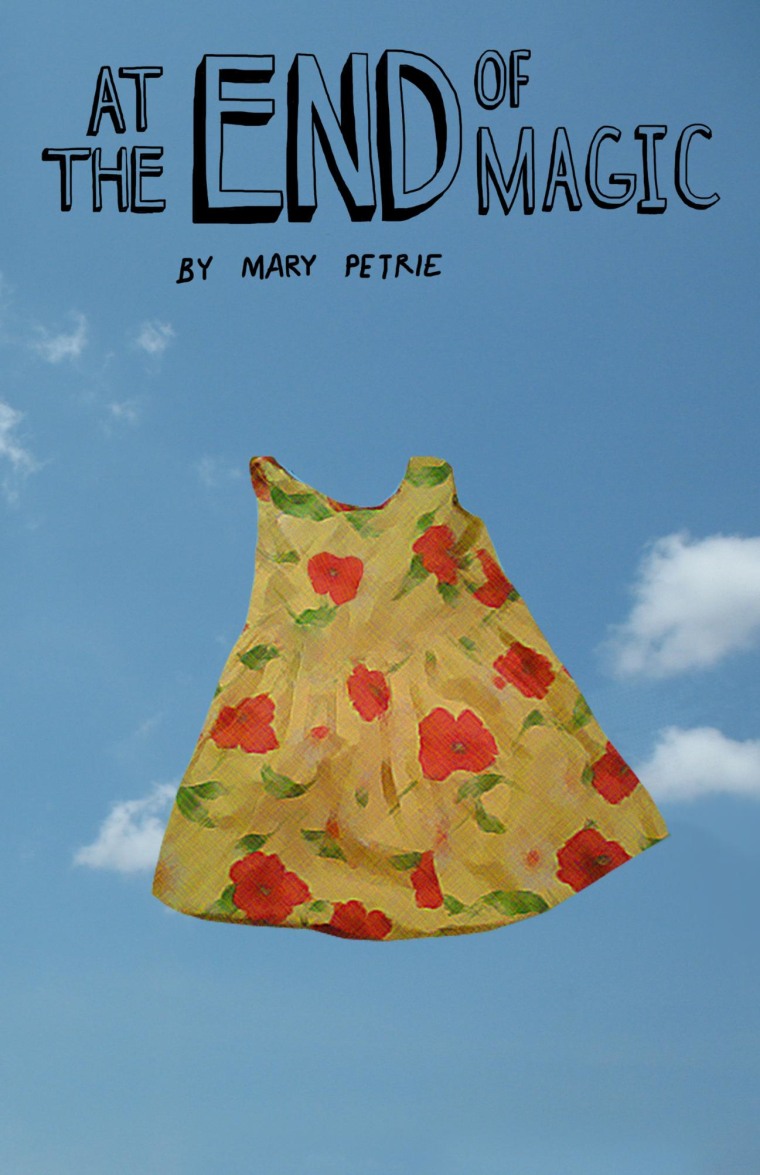 For his last two months of high school — while finishing seven AP courses, holding down a job and serving as captain of the debate team — Stryker stealthily worked on her manuscript, chapter by chapter.
On June 20, after a debate tournament, he wrapped the final copy of the book in the family's St. Paul basement and presented it to his mother.
"My mom was upstairs in the kitchen eating a salad," Stryker told TODAY. "I just walked up to her and casually said, 'Hey, Mom, I got you a little thank-you present.' She sees the cover the way she had described it to me a couple of years ago, and without reading the title, she burst into tears and was crying and crying."
Stryker's girlfriend Tessa Portuese helped design the cover, a floating yellow dress with red poppies.
"I wanted to thank my parents for all they had done for me. I was feeling a little sentimental," said Stryker, who is now a Presidential Scholar in the college of science and engineering at the University of Minnesota.
"I started to think about what was missing from my mom's life and kept coming back to the book," he said. "It was her one big unfulfilled achievement not to have a tangible result of all her work in her hands."
Now, after the Star-Tribune newspaper first told their story, a publisher has shown interest in that novel and another book Petrie had written, "Prairie Rat," about growing up poor in the Midwest.
"On so many levels, my 18-year-old son handed me back my writing career and made it all possible," said Petrie. "I had put it on the shelf for years. But even more than that, he saw me as a full, complete person with my disappointment and my dreams."

Petrie said the novel, about the death of a child and a college student who discovers her psychic powers, was inspired by a childhood friend whose son died in a car accident.
"I couldn't imagine anyone surviving the death of a child," she said.
But Petrie said it also taps into the "parenting ambivalence" women face in their roles of "breadwinner, wife, daughter."
Stryker's surprise gift all began one night in April when Petrie was cleaning out her office and found the novel she had set aside.
"I happened to read a paragraph of the book out loud to the family," said Petrie, who has two younger children, Scarlett, 16, and Merrick, 11. "Shortly after that Stryker said he might read the book. He wanted me to send the files to him — I was flattered."
Over the course of two months, Stryker kept telling his mother he was too busy to read the book, all the while secretly preparing it to be published. One night, she almost caught him, walking in on him when he had the book open on two computer screens.
Stryker didn't always approve of his mother's writing. At age 13, he so objected to the family references in her blog, "Minnesota Matron," that Petrie started calling him "he who cannot be named."
"I don't know why it bugged me so much," he said, looking back.
But now, he is her biggest fan.
"I have never been more impressed by someone's drive and motivation," he said. "This was intended to be some sort of final chapter to fulfill her writing aspirations."
Petrie said she is not surprised that Stryker would be so clever. A cool kid who didn't even want his senior photo taken, her son rigged the votes once in high school to become "junior prince" at Minnesota's version of homecoming.
"He has a wicked sense of humor and is known for a practical joke," she said. "He is subversively sly and he has always been a perceptive and intuitive person."
Today, Petrie is on sabbatical from her teaching job in the gender studies department she founded at Inver Hills Community College while she writes a non-fiction book on the "mythic" professor-student relationship.
She has begun book readings of "At the End of Magic." Her husband John's realty business has rebounded.
Petrie said her son's selflessness "continues to astound and inspire me."
"He remains so excited about the book and its sales, working hard to spread the word and get the news out," she said. "My texts to him are now running along these lines: 'Forget about your mother and have a good day in college.'"
"I feel fueled with desire to work, and the self-direction that was missing during all the years I was focused on my students and my family and worried about money," she said. "That happiness and sense of purpose is what Stryker gave me."
Click here to read the first chapter of "At the End of Magic."