/ Source: TODAY Contributor
You don't need hocus-pocus or magic spells to give your home a haunted-house makeover. With just a few items from the dollar store, you can "boo" it yourself. Here are some decorations that will help you create easy, one-of-a-kind Halloween look that will wow every witch, ghost and goblin.
Giant Creepy Eyeballs
To give the front of your house a frightful look, all you need are two plastic jack-o-lantern buckets and some glow-in-the-dark craft paint to make them look like eyeballs. Using the handle on the buckets and wire, attach your ghoulish orbs to the bushes and make passersby wonder: "Is that bush looking at me?"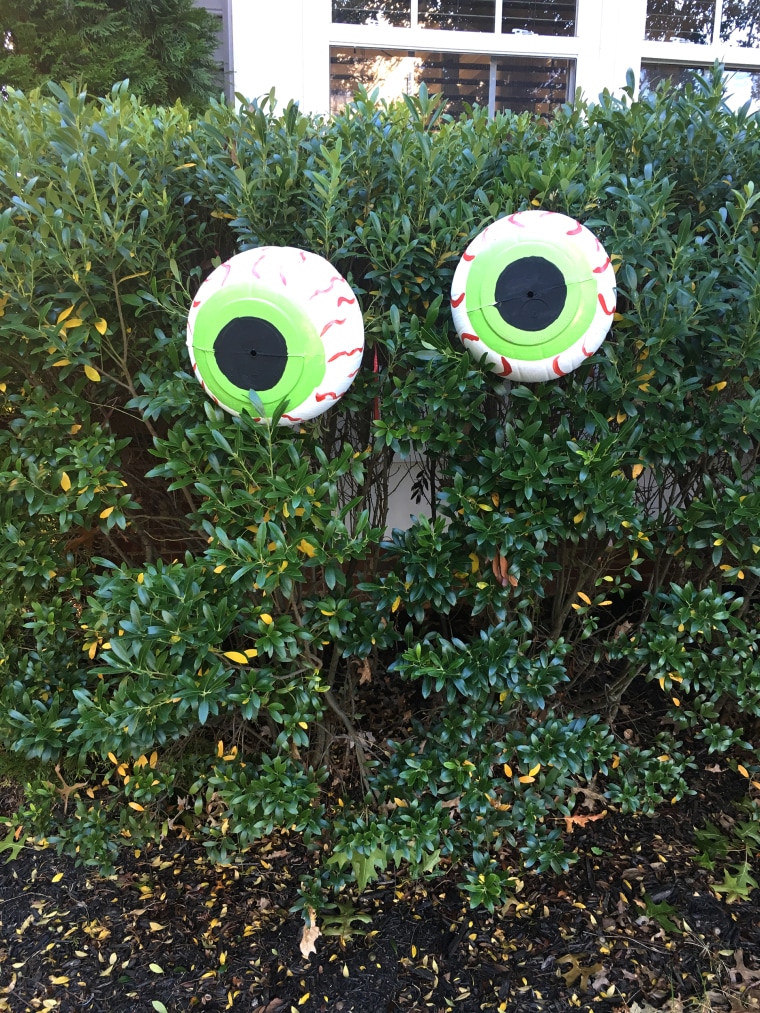 Never miss a parenting story with TODAY's newsletters! Sign up here
Unwelcome Mat
Give trick-or-treaters a spooky surprise when they step on this mat covered with creepy crawlers and mini rats. Use your glue gun to attach the varmints so it looks like they're escaping.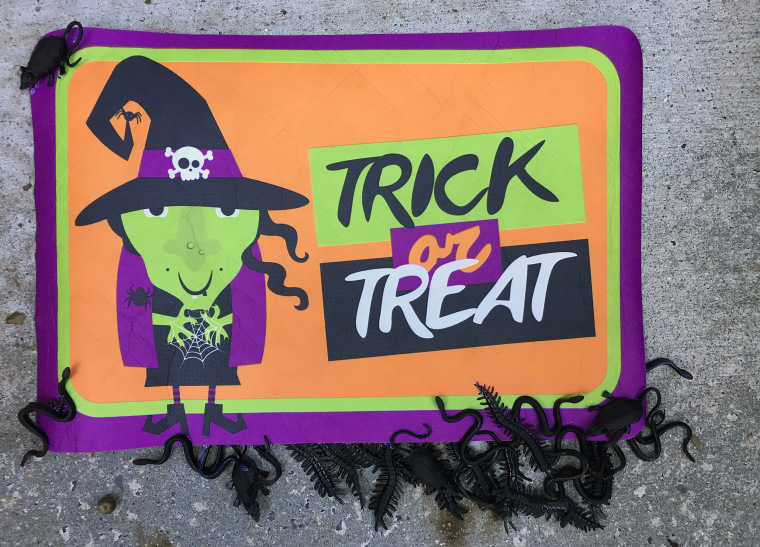 Spooky Spider Headband
You can pay for an expensive Halloween headband, or you can make this frightfully fun one by hot-gluing a giant spider onto a plain, black one.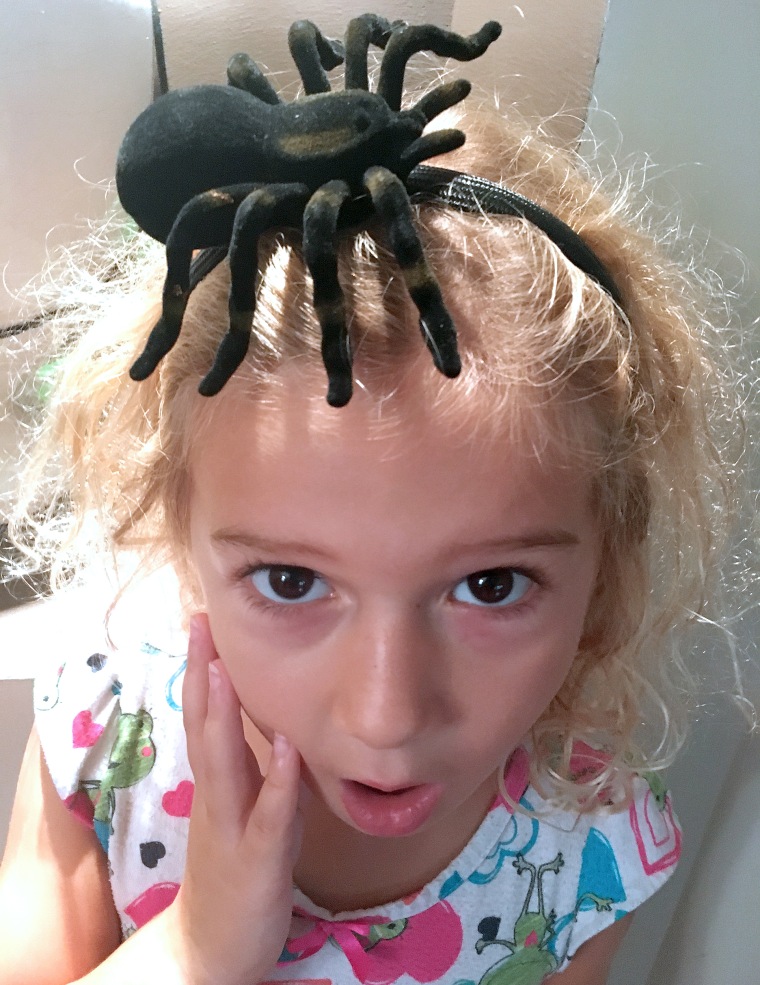 Wicked Mini-Witch Hats
Create a witchy garland or hang these mini-witch hats from the ceiling for an instant haunted house. With a little hot glue, attach paper party hats to small, upside-down paper plates. Spray-paint them black and sprinkle with black glitter to give them a little shimmer.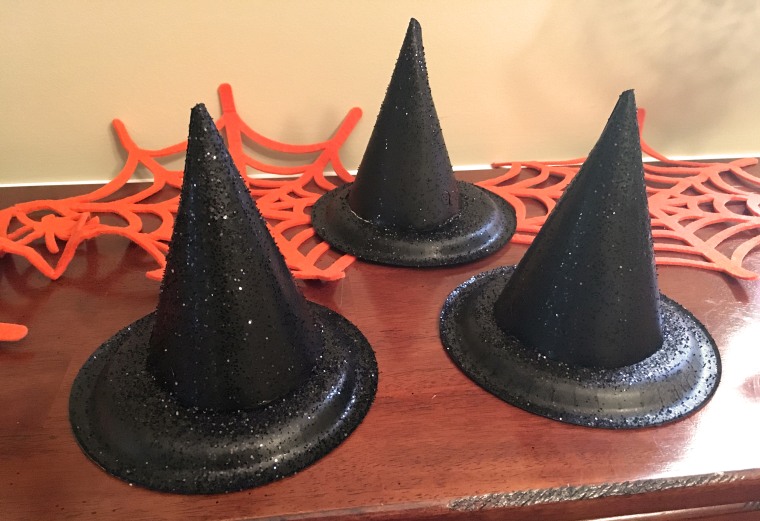 Gruesome Bleeding Candles
To create these blood-curdling candles in just a few minutes, light a red candle and drip its melting wax down the sides of white ones.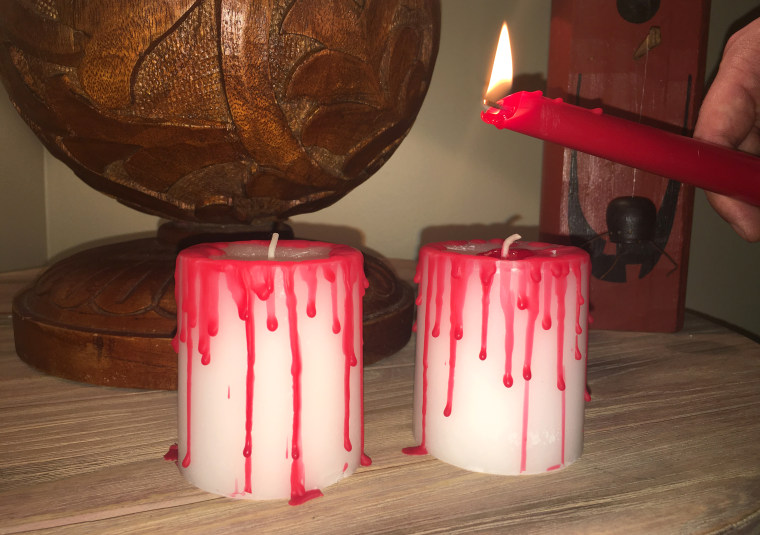 Eerie Mad Scientist Containers
Grab different-sized glass jars from the dollar store and fill them with mad scientist-approved items like eyeballs, glowing slime and spiders.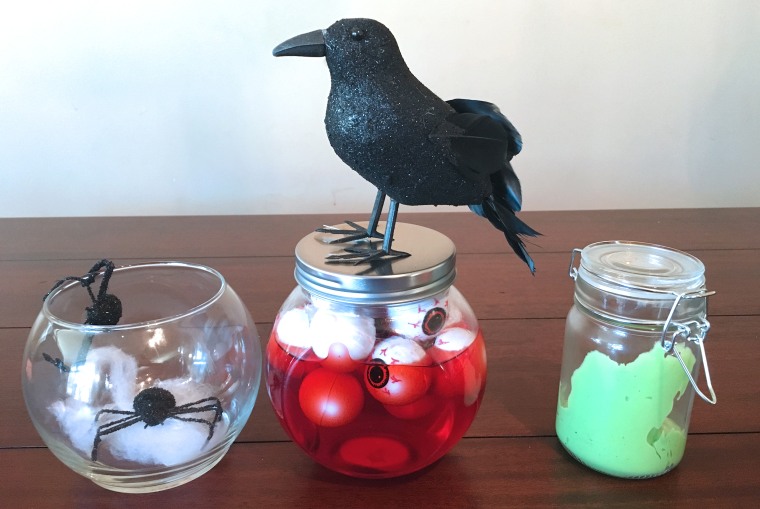 Mischievous Porch Pumpkin
If you're heading out with your kids to trick-or-treat and you want to leave candy for any ghosts and goblins that stop by, skip the bowl and make this porch pumpkin. Spray-paint two aluminum roasting pans a bright orange. Glue large googly eyes and a construction paper stem to the top pan. Secure the pans together by placing duct tape inside and use a pencil to prop open the pumpkin's mouth. Fill the mouth with candy and leave it on your porch for trick-or-treaters.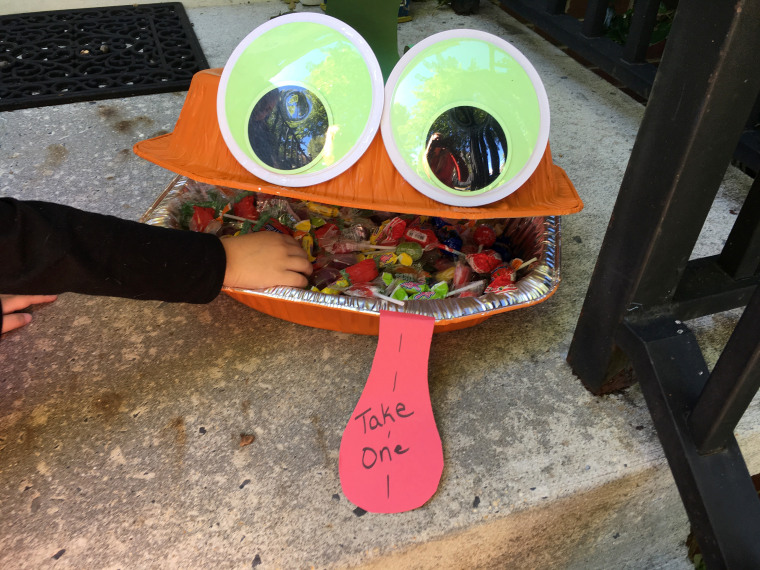 Startling Skeleton Wreath
Visitors might think twice about knocking on your door when they see this frightening wreath. Start with a large plastic plate and spray-paint it black. Using a hot-glue gun, attach skeleton hands in a circle. Attach wire to the back of the plate and hang it from your door to give trick-or-treaters a fright.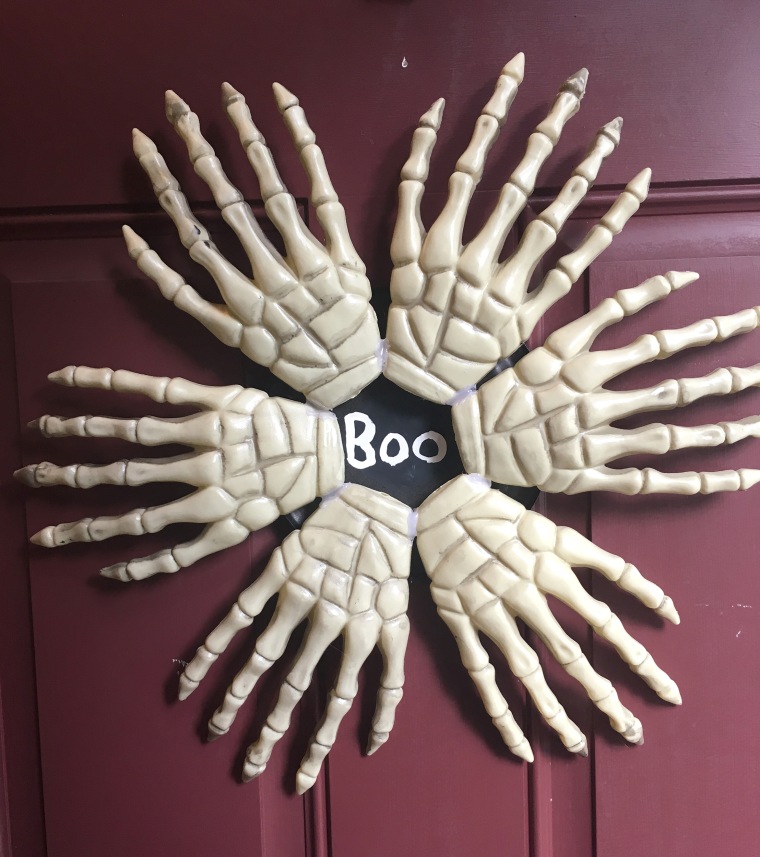 Spooktacular Candles
Attach construction paper eyes and mouths to tall white pillar candles to create these spooky ghosts.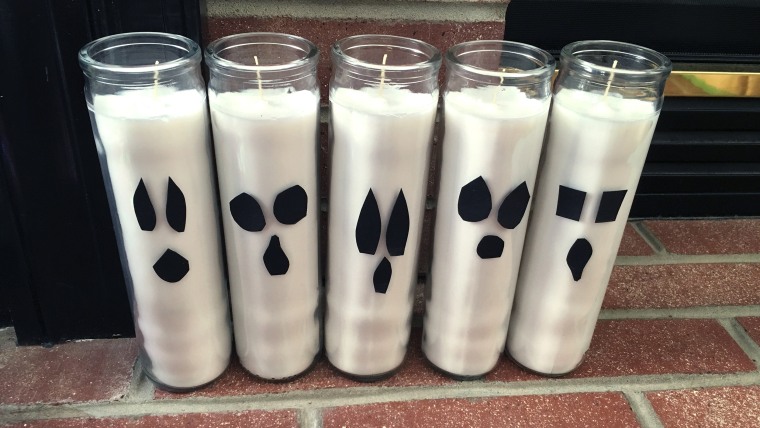 Boo-tiful Hanging Frames
Take three dollar-store frames and remove the backing, so all that remains is the glass. Cut out Halloween-inspired images or words and attach them to the inside of the glass. Place the glass back into the frame and use small hooks and Halloween ribbon to connect and hang the frames with a removable hook for boo-tiful wall décor.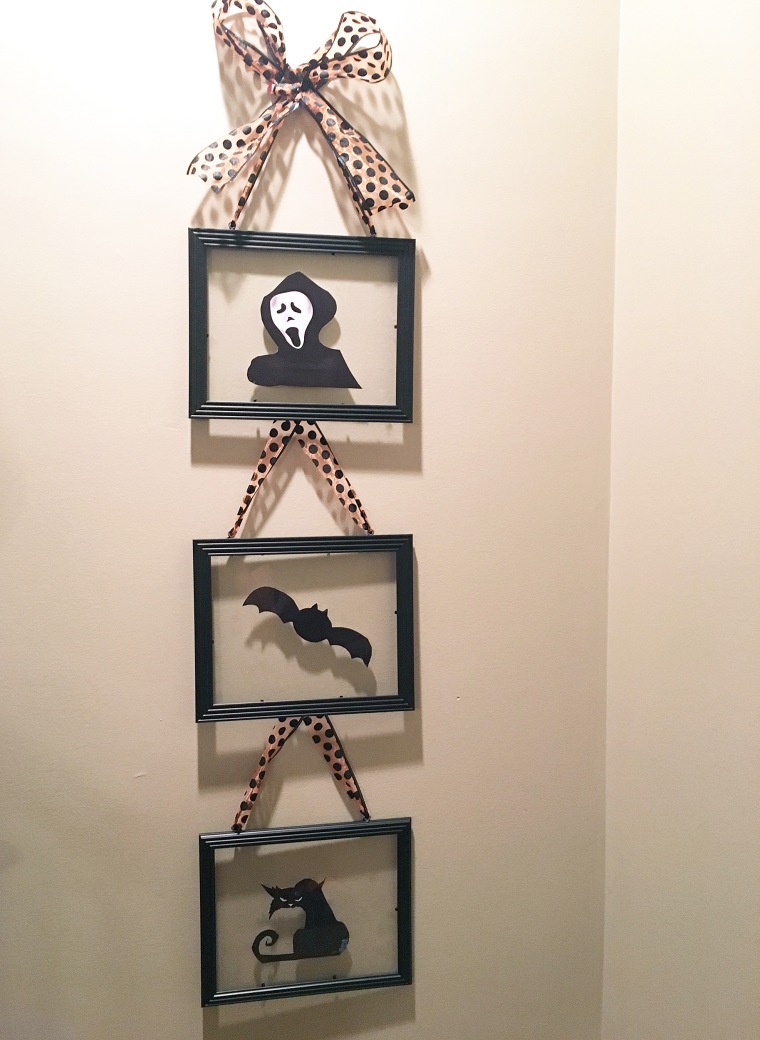 Ghoulish Candleholder
No one will believe it cost you just a few dollars to make this haunting candleholder. Stack plastic skulls on top of a small candleholder and attach another candleholder to the top skull. Spray paint the tower with stone-textured spray paint. When it dries, you'll have a candleholder even the undead will love.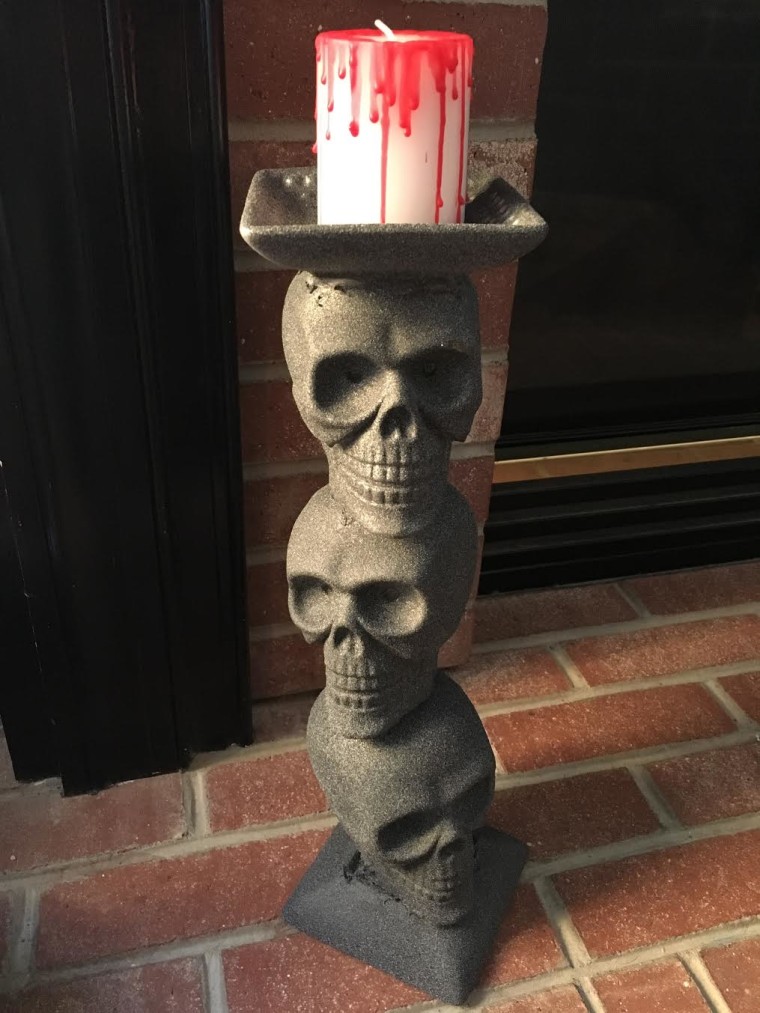 Giant Hair-Raising Spider
If you don't have arachnophobia already, you will soon with this simple Halloween project. To make this giant spider for your home, spray a plastic jack-o-lantern bucket black. Attach googly eyes to the bottom of the bucket and paint white spider fangs. Use a removable hook to hang the bucket high on a wall, in a corner or on your ceiling. Then create eight crepe paper legs that are outstretched or hanging down.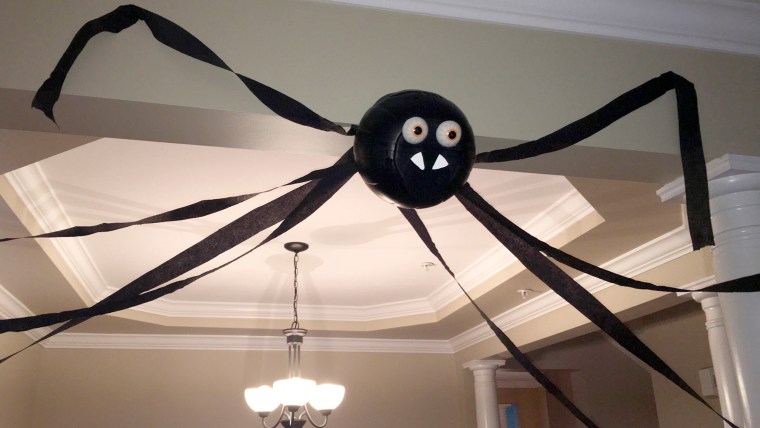 Frightful Candy Dish
Give your Halloween candy the presentation it deserves. Spray-paint a tall dollar-store candleholder and a Halloween-inspired bowl black, and use hot glue to attach the candlestick to the candy dish.