Bode and Morgan Miller have welcomed a baby boy, who has brought "joy, inspiration and hope," just four months after the drowning death of their 1-year-old daughter.
The Olympic skier and his wife welcomed the boy on Friday, exactly one month ahead of what would have been daughter Emeline's second birthday. The midwife who helped deliver the boy shared a photo of their new son exclusively with TODAY.
The little one — the couple hadn't decided on a name yet — was born at home in a birth pool, just like Emmy was nearly two years ago, according to midwife Lindsey Meehleis.
"Exactly one month before Emmy's 2nd birthday...the sun rose and they knew this day would be different,'' Meehleis told TODAY. "An overwhelming feeling of joy started to fill a valley of deep grief and sadness.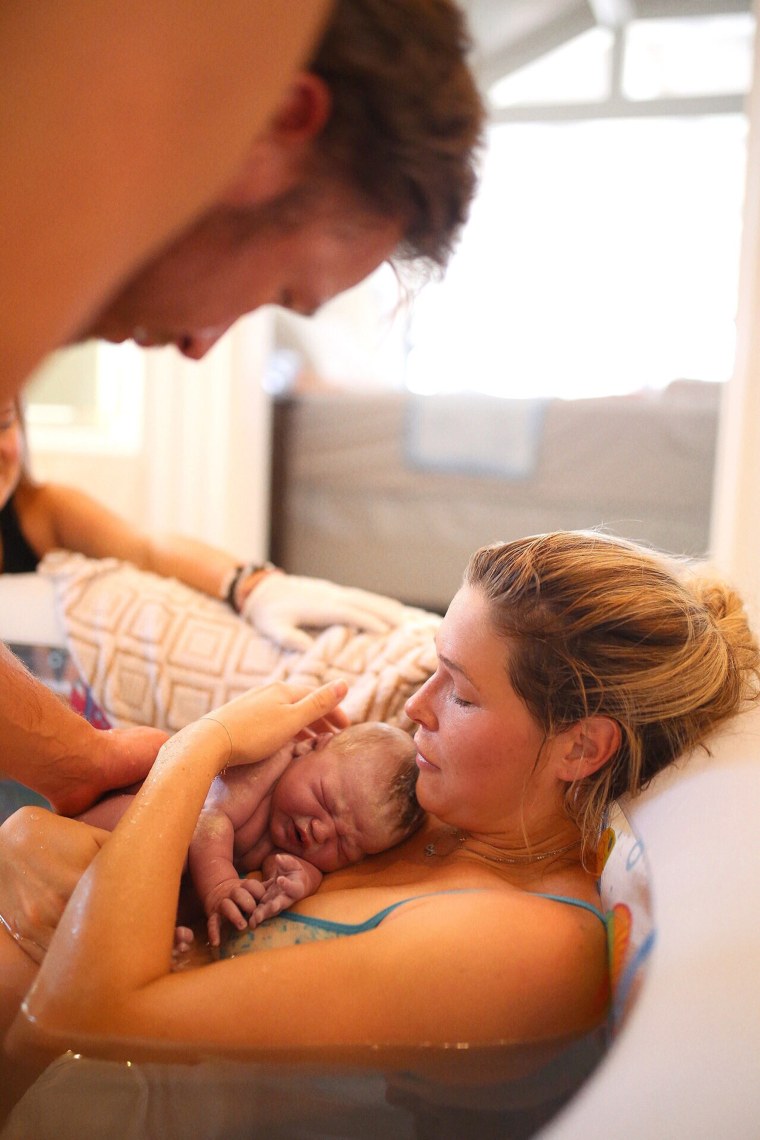 "While nothing will ever replace the feeling of aching arms to hold Emmy again, this baby provided something new this day: joy, inspiration and hope."
Meehleis described the joyous moment when the couple first held their baby boy.
"As Morgan pushed, his head filled Bode's hands, with one more push, he removed the bag of water that veiled him and caught their baby boy,'' she said. "Morgan's fingers grasped onto their son, who filled such empty arms."
The uplifting news comes in the wake of Emmy's tragic death in June. The little girl drowned in a pool at a neighbor's home the family was visiting.
Morgan, 31, opened up to Savannah Guthrie on TODAY in July about being pregnant with their son while grieving the loss.
"That was my first concern, besides the fact of never being able to see my daughter again,'' she said. "It was, how am I supposed to bring a new baby into this world, with just losing my baby? Emmy was so excited to be a big sister. She walked around all the time with her baby. And now we have the opportunity to get to love that baby not only for ourselves but for Emmy."
Morgan shared a heartbreaking photo on Instagram last month of Emmy's final moments with a moving message to her daughter.
"I wish I could have one more day to hold you, but until that day comes, continue to work through me and give me the strength to bring awareness, my love,'' she wrote.
The couple also hopes to bring awareness to other families about the dangers of children drowning, as well as the importance of drowning prevention classes and protective barriers around pools.
"There's not a day that goes by that I don't pray for the opportunity to go back to that day and make it different, but now we have this opportunity to make other parents' days different,'' Morgan told TODAY in July.