Bode Miller has revealed the name for his new baby boy: Easton Vaughn Rek Miller!
The Olympic downhill skier admitted it took a while before he and his wife, Morgan, settled on a name for their son — and the couple took all sorts of heat for it, he told TODAY in an interview Tuesday.
"We just called him baby brother and everyone thought we were just crazy," he said. "It took us three weeks, but once you got to know him it was really clear."
Miller, who grew up in Easton, New Hampshire, and his family welcomed their new addition on Oct. 5, weighing in at a robust 9 pounds and 9 ounces.
Of the baby's middle names, Miller noted his wife was not pleased about including Rek.
"She's nuts about it not being his name, but I pushed it through," Miller said. "But I think we have a good compromise system."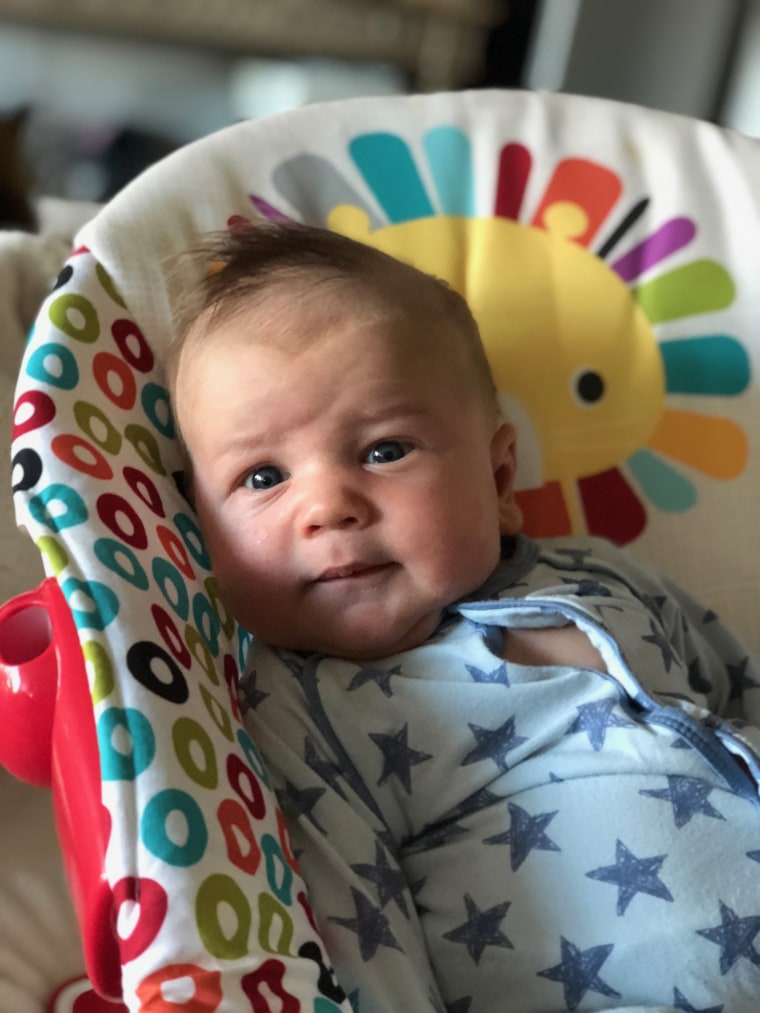 Had Easton been born in a hospital, his parents wouldn't have been able to leave without providing the facility a name, Miller said. But since he had been born at home in a birthing pool, "you can do whatever you want," giving his parents as much time as they needed to come up with a name.
Easton's arrival came just four months after the family's devastating loss of 19-month-old daughter, Emmy. The toddler died June 10 after falling into the pool of a neighbor's home the family had been visiting.
"If there's one thing that can kind of help to heal and fill that spot in your heart, it's a baby and he's a special one," Miller said. "Besides the lack of sleep, it's been a really nice process to be able to go through."
The couple also have a 3-year-old son, and Miller has a daughter and son from a previous relationship.
"There's a blessing to being so busy," he said. "We see the path forward a little bit. It's just kind of, keep it going and trying to stay positive, but it's not easy. I don't think it gets that much easier."
Miller said his other children talk about Emmy "all the time," which has been a mixed blessing.
"You feel the loss, but she's still a part of our family," he said.
Over the summer, Miller and his wife opened up to TODAY about their heart break to help warn other parents about how quickly tragedy can strike.
"A child under 30 pounds can drown in 30 seconds," Morgan Miller said at the time. "And I just keep counting to 30 in my head. That was all I needed."
Both have become vocal advocates for pool safety and have helped raise money for charities that focus on water safety education.
Bode Miller said he hopes they've helped raise awareness and change. He especially urged parents to speak to their pediatrician about water safety, something he wishes he was encouraged to do.
"No one wants to be negligent. I don't think we were," he said. "It's really one of those things — it's more about directing some energy into areas where it could affect change."
Miller's nonprofit charity, Turtle Ridge Foundation, mainly helps young people with disabilities get sports equipment but he said the organization also has donated funds to charities that work on water safety, primarily through swim lessons for youngsters. The foundation is hosting a #GivingTuesday Poker Night event on November 27.