Update: Girl or boy? Find out the latest news in Bobbie's pregnancy, including the gender reveal.
She's pregnant!
TODAY Style editor Bobbie Thomas, who has publicly shared her battle with infertility and her struggles to have a child through IVF, shared her happy news with Kathie Lee and Hoda on Wednesday. 

"It's so hard to still believe," Thomas said as she sat next to her husband Michael and the happy tears flowed all around. "I'm nervous because anything could happen."
"It's very exciting, of course, and we're just trying to stay positive," Michael added. "It's been a challenge, it's not for the faint of heart."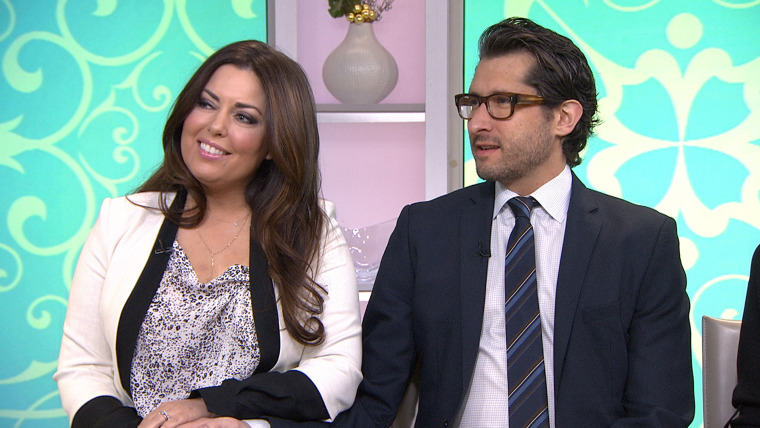 To be clear, she's very, very early in her pregnancy -- about five weeks along -- but said that since she's been chronicling her IVF journey, she wanted to share this news with the world as well.

Bobbie passed a big hurdle with the positive pregnancy test, said Dr. Sheeva Talebian, her infertility specialist. The next goal: Making it through a couple of weeks without any problems and getting a good fetal heart beat, Talebian noted.
"So far the news has been great," Michael said, while Bobbie revealed she's been sick in the mornings. She thanked her "amazing" husband for his support.
"I have been so emotional with the hormones… he's let me cry and scream," Thomas said.
In late November, following four rounds of in vitro fertilization, she underwent an embryo transfer that she yearned would finally result in a viable pregnancy, or a "BFP" —Big Fat Positive— in IVF abbreviation lingo. After months of hormone shots, doctor's appointments, waiting and constant hope, she welcomed prayers the week before Thanksgiving, as she was waiting to find out whether her latest transfer would result in a pregnancy.

"It means the world to me, that people have been so kind to offer advice, tips, tricks and ideas," she said last month.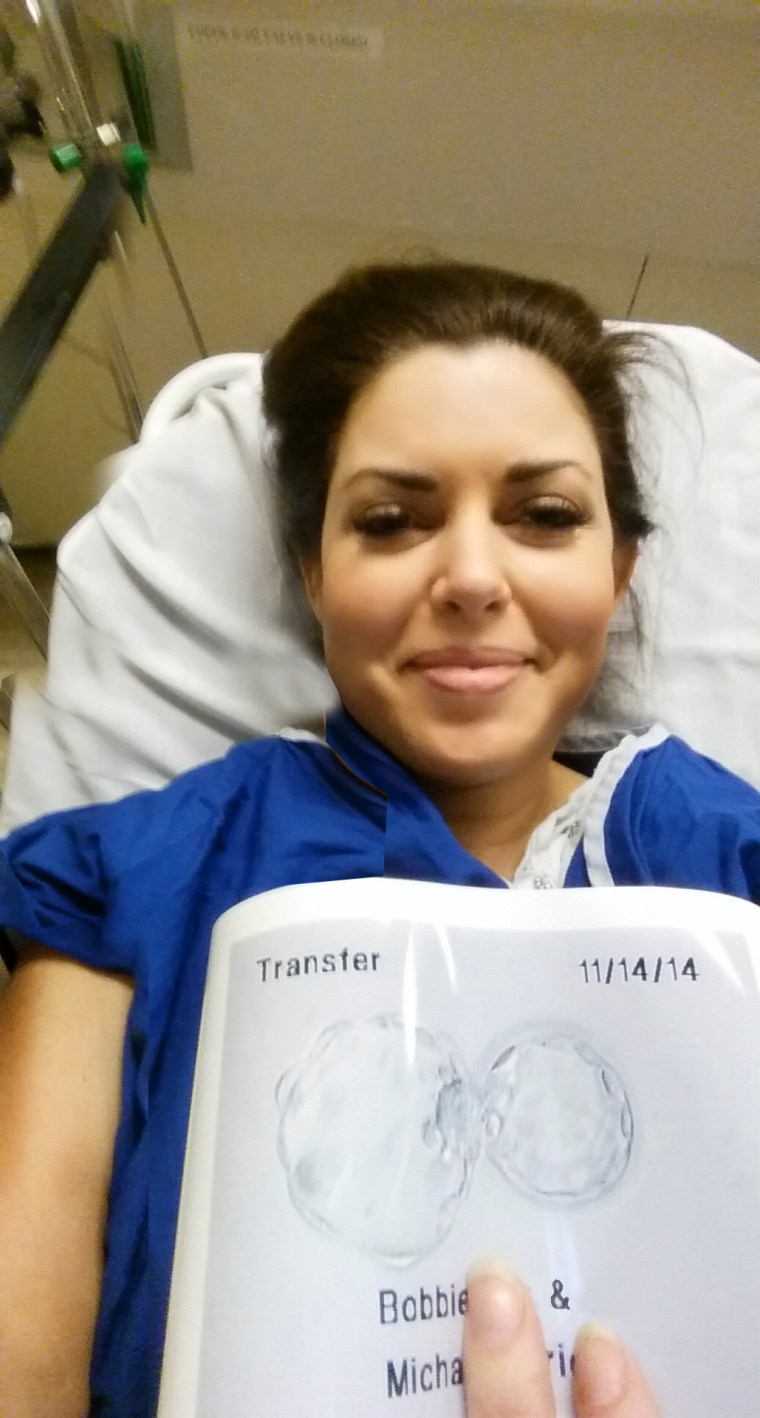 She opened up about her struggle with infertility and her decision to turn to IVF — a process in which doctors remove a woman's eggs, fertilize them with sperm in a lab and place the resulting embryos in her womb — last summer.
"While starting a family is something my husband, Michael, and I are excited about, the journey to get there has, so far, been a little different than what we anticipated," she wrote. "When it became clear that IVF was our best bet for conceiving, I went through a number of emotional reactions — scared, sad, optimistic, overwhelmed, eager, nervous, and then through all of them all over again. (And this was before I actually started taking hormones!)"
The first several IVF attempts did not work and in an update last month, Thomas was trying to put another setback behind her: She ended up with two frozen embryos available to transfer, but one of them did not survive the thawing process.

Thomas was also dealing with the effects of a "heavy dose of meds" designed to get her body ready for the transfer, including more weight gain. She has already endured injections of hormones to "super ovulate the ovaries," blood tests, and vaginal ultrasounds. The many shots left her belly and her self-esteem bruised.
"It's consuming," she said. "If you know someone, or if you've gone through IVF, it does consume a big chunk of your life."
Bobbie wrote about overcoming her fear of needles (of which there are many in the IVF process) and dealing with public speculation about her weight gain before she went public with her IVF efforts.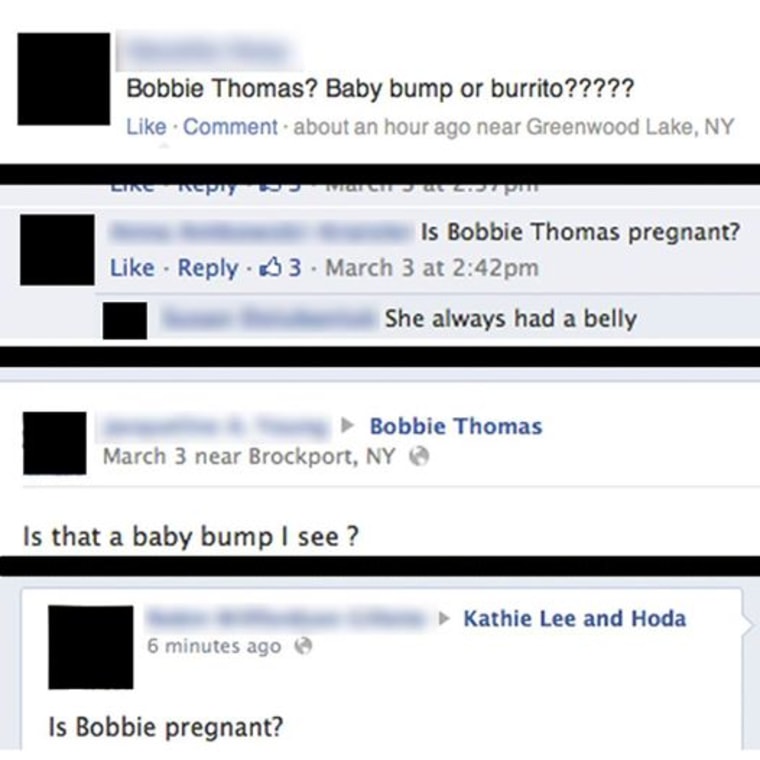 "There are so many kind, strong women out there who have gone through what I'm going through, and many more who will one day. I hope that by talking about it as something we're proud of, we can lean on and learn from each other," she said this summer, explaining her decision to talk about IVF publicly.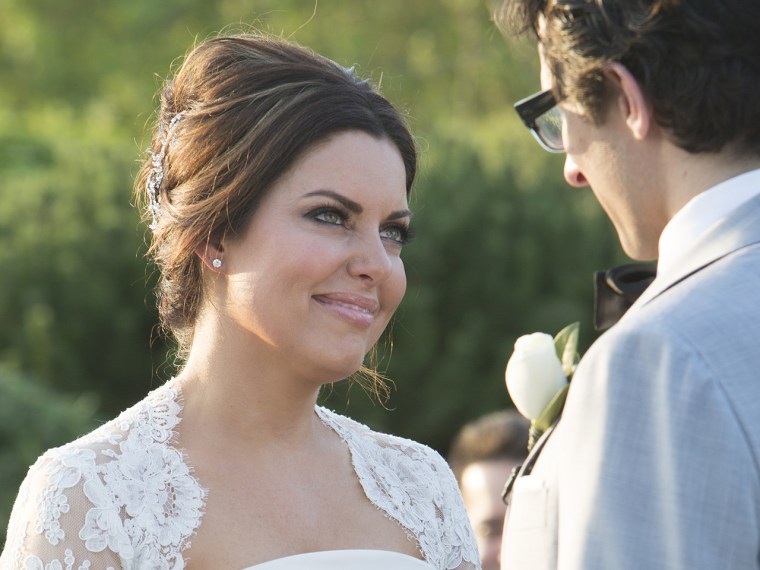 Earlier in the fall, she incorporated Eastern medicine to her routine, including cupping and acupuncture, in the hopes that it would ease the stress of the IVF process and improve her odds of becoming pregnant.

"It would be really exciting if this works," she said.

To find out more about Thomas' personal journey, visit Bobbie.com or interact with her on Facebook.