When I announced that I was pregnant on TODAY, it was super-early in my pregnancy. After months and months of trying to manage my own hopes and expectations through the IVF process, it was hard for me to believe it was real.

Now, as I approach the 12-week mark, I'm a mixture of incredibly grateful, cautious, nervous, and also hyper-aware of my body (which has been through the wringer these past few weeks, thanks to what I call morning-noon-and-night sickness).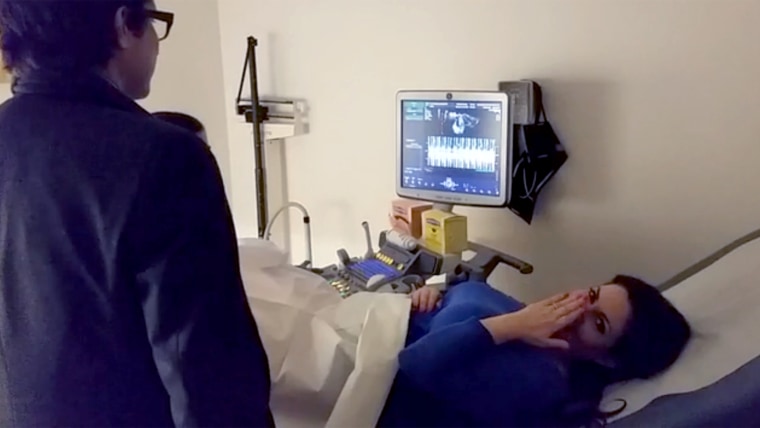 Last week, I'm pretty sure my heart stopped beating for a moment when we heard a heartbeat thumping from the ultrasound monitor. While I had skimmed baby blogs and read about the weekly developments taking place, from fingernail formation to tiny tooth buds, it became very clear at this moment that life really is a miracle.

I feel relieved, excited… and a little guilty. Guilty for crying when I'm sick all day, for the weight gain, for complaining when I'm mentally and physically exhausted, and for feeling overwhelmed by previously mundane tasks like checking my emails after we struggled through four rounds of IVF and more to get here. A little guilty, too, because I have so many friends who are still struggling with infertility, who have yet to get the positive they are hoping for. I feel a responsibility to remember my gratitude even when I have trouble getting from my bed to the bathroom, because I know how blessed I am.
After almost a year of hormone shots and a constant regimen of medications, I did manage to rouse enough energy to burst into a little happy dance in my fertility doctor's office when I learned that I could begin to taper off my IVF hormones. After the confusing cocktails of shots, pills, and patches that come with the IVF process, the thought of taking one prenatal vitamin a day feels like a vacation. It was heartwarming to see Sheeva (aka Dr. Talebian) as excited as we were to reach this point, but ironically a little bittersweet because it is now time to transition from her care over to an OB-GYN doctor.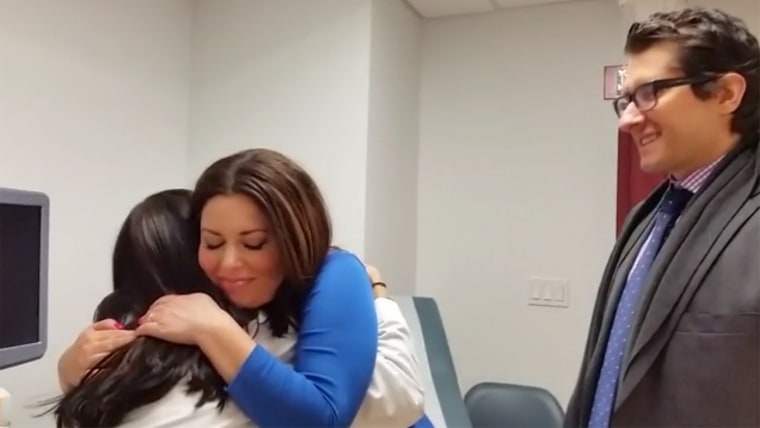 And although we've crossed a pregnancy threshold after hearing that heartbeat, I'm still cautious. Every cold I get, every time I have a cramp or any spotting, I panic and run to Dr. Google, which is hardly ever reassuring. After all the ups and downs of IVF, I don't think that part of me will ever go away. But I also have an underlying layer of deep thankfulness and joy pointing the way forward. It's this that makes every shot, every pill, every setback, and all of the tears worth it. I want every woman out there going through infertility to know that I remember. I know how strong you are and what you're going through. I hope you are surrounded by love and support as you fight for your BFP or "big fat positive." Until then, let's continue to lean on each other. 
I've said it before and I'll keep saying it: I feel incredibly lucky for all of the love, advice, encouragement, and tips I've received throughout my IVF process and pregnancy thus far. It's with this in mind that I want to keep the support going and pass it forward to all of the other parents, soon-to-be parents, and want-to-be parents out there. I am so grateful for all of the information our TODAY community has shared with me and with each other. If you have any ideas for how to combat pregnancy nausea, how to keep energy levels up, or any other IVF or pregnancy-related advice (for example, if you know of some kind of magic bra perfect for containing crazy growing boobs?!) please let me (and all of us) know! Leave comments on my Facebook page or Kathie Lee & Hoda's Facebook page. I am all ears and beyond thankful for this community.
Please share your support for Bobbie and your own IVF stories on our Facebook page.
Bobbie Thomas is TODAY's resident style editor and author of "The Power of Style." Follow her on Twitter, Facebook & Instagram.