Easter Sunday was quite the lovely day for Beyoncé and her family. The singer is giving her fans a rare look into her private life via an Instagram post full of adorable Easter photos from last weekend.
In the sweet photo montage, set to the tune of Bill Withers' "Lovely Day," Beyoncé shares the spotlight with her mini-me daughter, Blue Ivy. The 5-year-old, sporting braids like her famous mama, is shown striking a pose, greeting the Easter Bunny and modeling her Easter outfit.
In one of the most adorable shots, Beyoncé, who is pregnant with twins, gets her baby bump kissed by Blue Ivy. The 35-year-old "Formation" singer, dressed in a skintight white dress, also proudly shows off her growing belly in a series of solo shots.
RELATED: Pregnant Beyonce looked amazing at Easter celebration with family
The photos, which were taken last weekend on Easter Sunday, also show Beyoncé's mother, Tina Knowles, as well as Beyoncé's former Destiny's Child bandmate Kelly Rowland and Rowland's young son Titan. Beyoncé's husband, Jay Z, does not make an appearance in the Easter photo montage. (Perhaps that was him in the Easter Bunny costume?)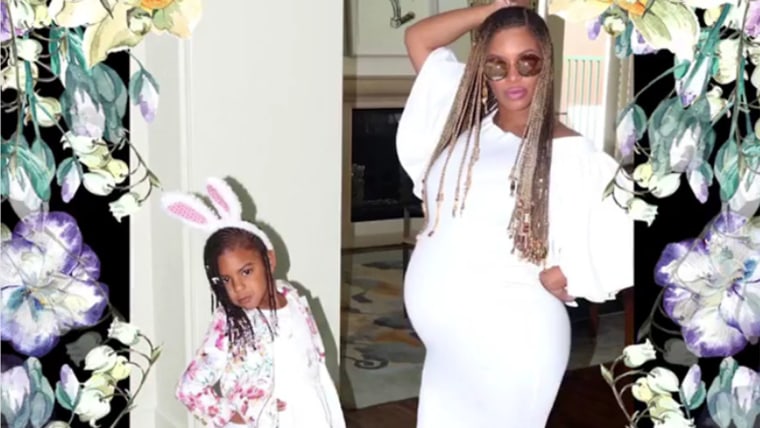 The photos were also posted on the singer's official website.
Beyoncé announced her pregnancy in a February 1 Instagram post that showed the singer wearing lingerie and holding her bare belly.
RELATED: Beyonce and Jay Z celebrate 9th wedding anniversary with moving video montage
"We would like to share our love and happiness," Beyoncé told her 100 million Instagram followers in the photo's caption. "We have been blessed two times over. We are incredibly grateful that our family will be growing by two, and we thank you for your well wishes."
Beyoncé and Jay Z have not yet announced when their twins are due to arrive, but it's evident from the Easter snaps that Blue Ivy is excited to become a big sister.